We're kicking off a new series here on the D Home blog wherein we ask some of our favorite design-minded peeps five questions (as you may have guessed from the post title). However, as we like to keep things fresh around here, they won't always be the same five questions. We're crazy like that.
For our first installment, I visited with the lovely and talented (and incredibly sweet) Kelly Wearstler. In a world obsessed with tasteful, safe design moments, the lady is a master of straddling the line between pretty and "What the hell??!". The result: totally interesting (not to mention utterly memorable) rooms. Clearly she's the perfect person to kick things off, yes?
Of course there's also the fact that I have quite the design crush on KW. (Note the photo above… Let's just say I was embarrassingly happy in that moment and leave it at that. Deal?)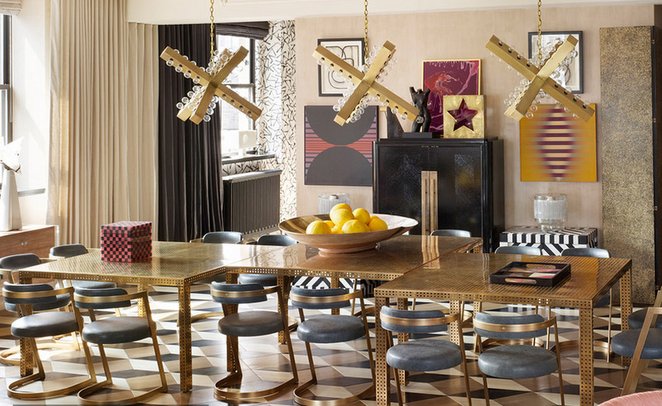 I sat down with Kelly at The Joule when she was in town for an event supporting The Salvation Army a few months ago and peppered her with questions.
Herewith five from our conversation.
JT: I recently read about your diet in Bon Appétit and was seriously impressed by how healthy you are. Can you tell us a little more about your daily routine?
KW: I think it's really important to take care of yourself. I've done Barry's Bootcamp at 5 a.m. every morning for years. I also do Bikram yoga. For breakfast, after I work out, I'll have some eggs and dark toast and my Miracle Reds and Miracle Greens. I'll also have a little coffee in the morning and then juice the rest of the day.
JT: Any guilty pleasures?
KW: I love a good red wine like a Amarone della Valpolicella on the weekends. I also like super dark chocolate and I  dip mint leaves and berries in chocolate and keep them in my freezer for when I'm craving something sweet.
JT: Who among your contemporaries is inspiring you of late?
KW: I love everything that Maison Martin Margiela does. I also recently went to an exhibit of Shelia Hicks' tapestries and was blown away. I ordered a huge one for a client. It's amazing.
JT: With Pinterest and the massive proliferation of design blogs, I find myself getting frequent design fatigue. You always seem to stay ahead of the curve. Do you think about trends when you're designing a space?  Is there anything that you're tired of?
KW: You know I don't really think about it. I don't like the idea of a designer making proclamations, telling people to do something. I think it's good to be aware of what's going on in the design world, but ultimately don't worry about what someone else is saying about something. Just follow your heart. 
JT: What are you reading?
KW: I so wish I had time to read. When I do have a spare moment to flip through something, I love to look at Auction catalogs and Art in America. I also subscribe to almost every magazine. I just don't have time to read them…
Get the AtHome Newsletter
Enjoy Dallas' best trends, hot properties, and tips from local designers to help you nest in style delivered weekly.