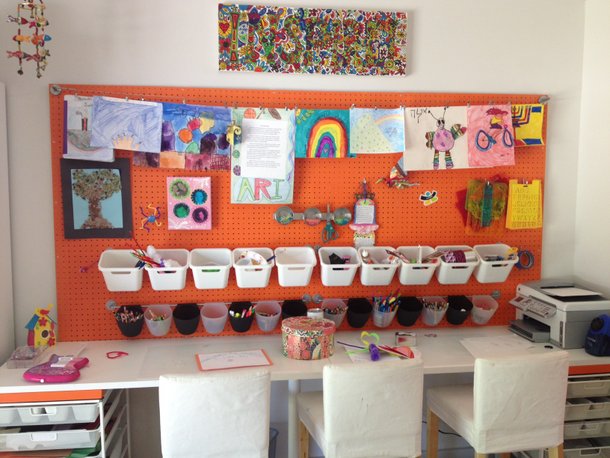 I had lunch at my friend artist, mom, and Chooze Shoes founder Sharon Blumberg's house earlier this week and left with a serious case of playroom envy, specifically "incredibly awesome art space/playroom envy." I snapped a pic with my trusty iPhone and asked Sharon to give us a little background on the space. Here's the 411.
"My husband and I wanted to create a space stocked with many different materials, where our kids are free to be creative. I was inspired by an art center I saw on houzz, and my husband helped me realize the vision for the space. I painted a very inexpensive piece of peg board, and we attached it to the wall. All of the containers and rods were purchased at IKEA. We fill the containers with everything from crayons, markers, and paints, to glue, scraps of random fabrics, and pieces of old toys that can be used for art projects.

I strongly believe that all kids are born creative and their creative minds flourish when they are provided with opportunities to express their imagination. My kids love the space, as my 11-year-old son notes, 'It's just awesome because everything we need is right where we can see it.' The kids like to sit at the table and make giant messes that lead to amazing projects!"
Get Sharon's Awesome Art Space:
Get the D Brief Newsletter
Dallas' most important news stories of the week, delivered to your inbox each Sunday.