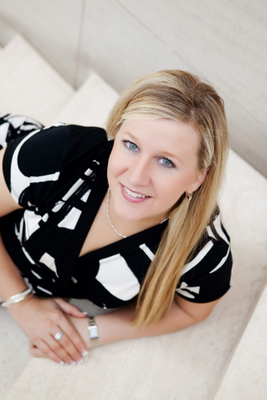 Laura admits that her desk is a disaster. So I didn't feel bad when I sent a picture of her cluttered workspace to organizing guru Lorraine Brock and asked for help. Lorraine took a look and replied with a laundry list of tips LK could use to revamp her cubicle. She also had this to say: "Seeing this photo makes me want to get in my car and drive straight to the location of this desk and give it the makeover it deserves." Well, Lorraine, I'm happy to report that Laura took your advice to heart and has made great strides in de-cluttering her desk. It's a work in progress, of course, but we'll get there. I just know it.
To see Lorraine's tips and some before and after pics of the desk that dare not speak its name, please jump. And check out Lorraine live and in person when she speaks at this weekend's Great Big Texas Home Show.
While I don't have the luxury of finding out intimate details of what this employee does or discussing their work habits, there are some basic rules and products for organizing an office space.

—Clear the clutter! Find some boxes and categorize them into items that need to be taken home, returned, office supplies, etc, and sort similar items into each box. Throw away any obvious trash during this step. Once everything is sorted and desktop is clear, wipe the top with disinfectant.

—Now take the time to go through each box addressing the purpose of each item, such as take home, giveaway, keep or purge.  It's faster to purge based on seeing all the same items together rather than addressing each one as you place it in its sort box.

—Assigning a home for your items is the next step. If you use an item daily, it should be at your fingertips, but if you use something once a month, it can be further away from your work circle.

—Here's the part that turns the clutter to calm: containerizing. It's a chance to find fun and functional organizing tools that will help you maximize your space and give items an easy to reach home. There are two great options for containing CDs: a stylish CD storage box or a CD binder that holds more than 100 CDs and takes up far less space than the CD cases. Magazines, catalogs, or booklets that are kept for reference or for future use can be stored in magazine holders that sit on top of the desk. This example is an XL size and offers a better value and more storage space. If you prefer something more stylish, take a look at this trendy spring magazine holder. Every cubicle needs a drawer or two for snack foods and personal items. If drawer space is limited, then create some with a set of cute, stackable drawers to sit on top of the desk. You can still keep personal items down below but use the Landscape Paper Drawer and place the Large Desktop Station on top to hold pencils, pens, sticky notes, and other supplies.

—We cannot leave out one of the most important parts of organizing a desk: PAPER CLUTTER. All papers are not created equal, so it often takes different systems to keep paper clutter under control. Remember to file, file, file.

Before

After
Get the AtHome Newsletter
Enjoy Dallas' best trends, hot properties, and tips from local designers to help you nest in style delivered weekly.