Halloween may have come and gone, but magic can always found if you know where to look. The history of Dallas is no exception.
The below photograph, titled The Magic of North Dallas, was taken on August 3, 1982 by Butch Hale Photography. It is one of several images taken as part of the cover design by Unigraphics, Incorporated for the inaugural issue of the North Dallas-focused Parkway Magazine, which was published in October of 1982.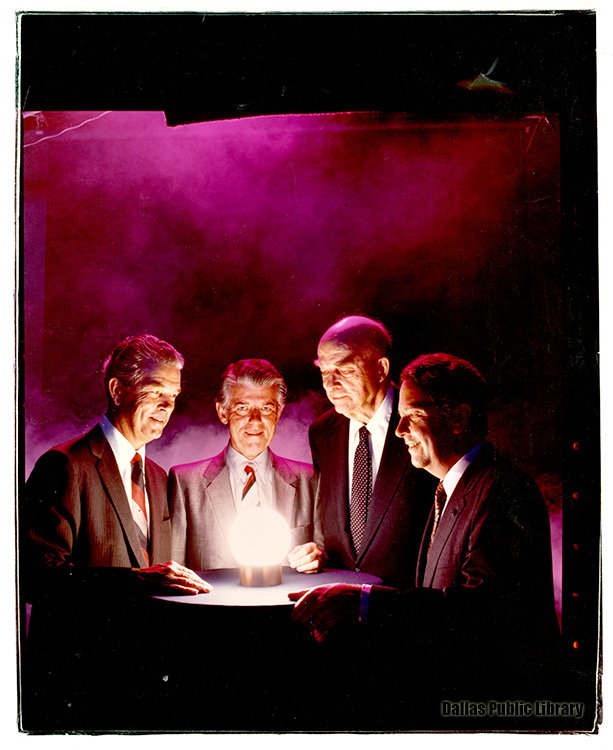 Featured in the photograph series are former Dallas mayors: from left, Bob Folsom, Jack Evans, J. Erik Jonsson, and Wes Wise. Jack Evans was serving as mayor when these photos were taken. The men are standing around a crystal ball, imagery meant to invoke the idea of these city leaders gazing into the future and steering Dallas toward a specific vision through their actions while in office.
In addition, there are several alternate shots of The Magic of North Dallas photograph series that were not used in the final publication, such as this image.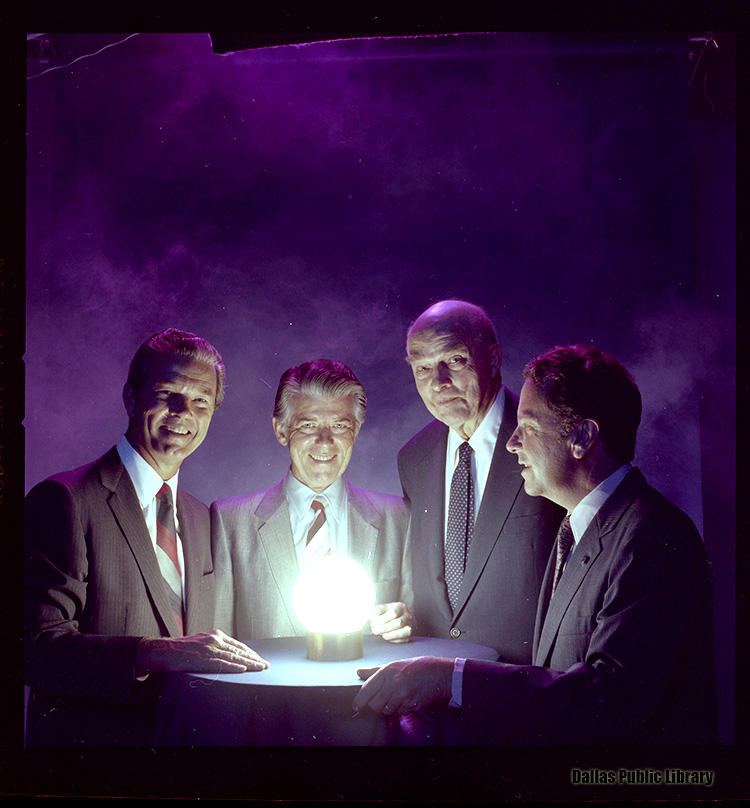 The 16 images that comprise the Parkway Magazine Collection of photographs are part of the Dallas Public Library's Dallas History & Archives Division holdings. (The various collections within the Archives Division include a number of historic photographs, some of which are available to view in the library's online catalog.)
Those interested in learning about North Dallas in the early 1980s might enjoy reading the October 1982 issue of Parkway Magazine. On its cover is the phrase, "The magazine for new North Dallas." In the publication's Editor's Note, Editor-in-Chief Hugh G. Aynesworth welcomes readers to the magazine's first issue.
"Parkway will grow and prosper," Aynesworth writes, "because far North Dallas seems to represent a dynamics and verve that few, if any, areas in this nation have. … Not everything is perfect in this exuberant locale, but the same leadership and entrepreneurial strengths that built this 'Golden Corridor' stand ready to take on the resulting challenges."
The term "Golden Corridor" refers to an area north of the LBJ freeway that included North Dallas, Plano, and parts of Denton County, according to Dallas Morning News articles of the period.
An article in the same issue of Parkway Magazine called "North Dallas: Now that we know about it, let's see what we can do about it," Al Harting gives an overview to the development of North Dallas that led up to the economic vision as it existed in 1982 with "an estimated $2 billion-plus in eye-popping structures and inestimable millions more in amenities, supplies, payroll, and promotions."
Robert Dedman, chairman of the Texas Highway & Public Transportation Commission at the time of Harting's article, notes that half a million people lived north of the LBJ Freeway and the 200,000 cars that traveled on that freeway every day.
An important quality about historical research is the wide variety of topics that can be pursued using historical photographs.
Interested in images related to the LBJ Freeway? The Doug Tomlinson Collection contains this image from 1970 titled Looking north along Central Expressway to the I-635 (LBJ Freeway) exits. A sign for Restland Cemetery is visible to the right.
Perhaps the idea of economic development brings to mind images of construction projects in Dallas over the decades, such as this 1976 photograph of Thanks-Giving Square under construction from the Dallas Morning News Collection. Photographed in 1967 is the image titled Dallas North Tollway bridge over Harry Hines Boulevard during construction, part of the Dallas Chamber of Commerce Collection. Let's look below.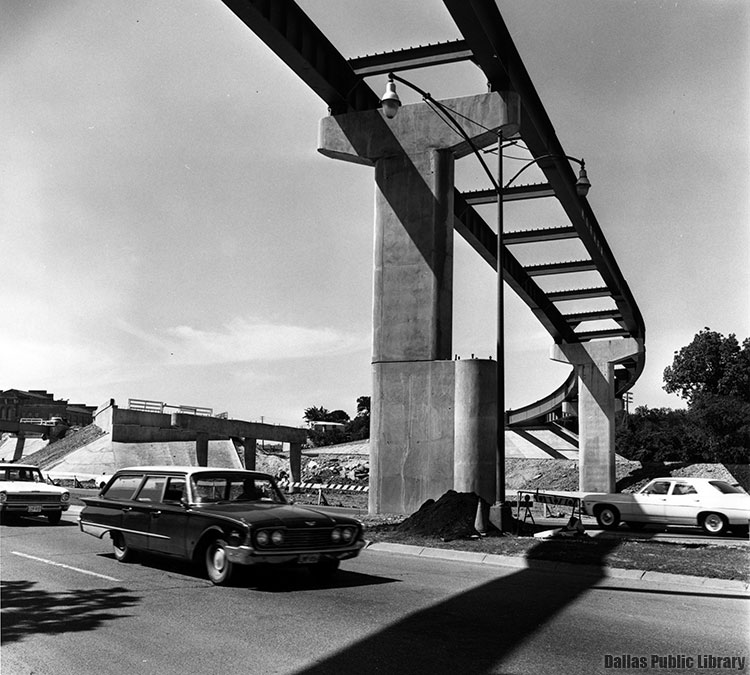 If the whimsy of the Parkway Magazine images caught your interest, there are many humorous photographs with the scope of Dallas History. This July 1, 1950 photograph of Dallas Mayor Wallace Savage riding in a soap box derby racer with a boy at his side is part of the Hayes Collection. The soap box derby racer is named "Spit Fire."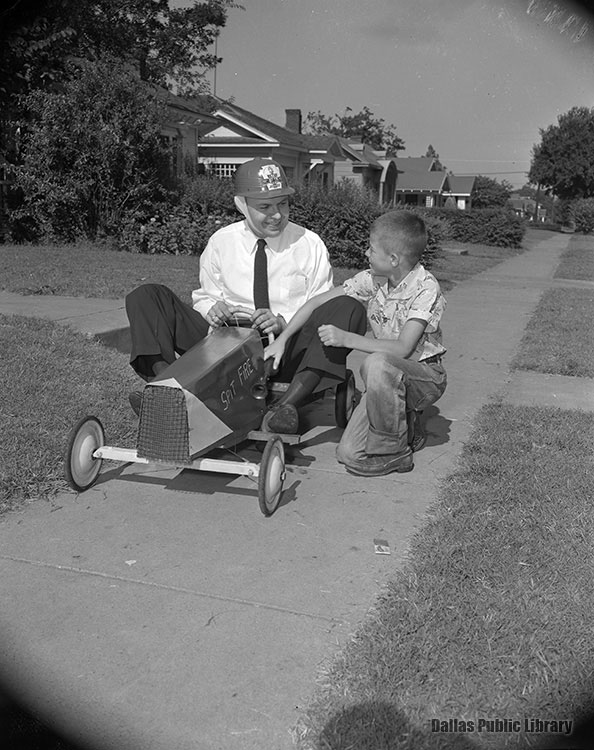 Another "magically whimsical" photograph in the Hayes Collection is this 1951 image titled Trick or Treat Halloween Cat dressed in a hat.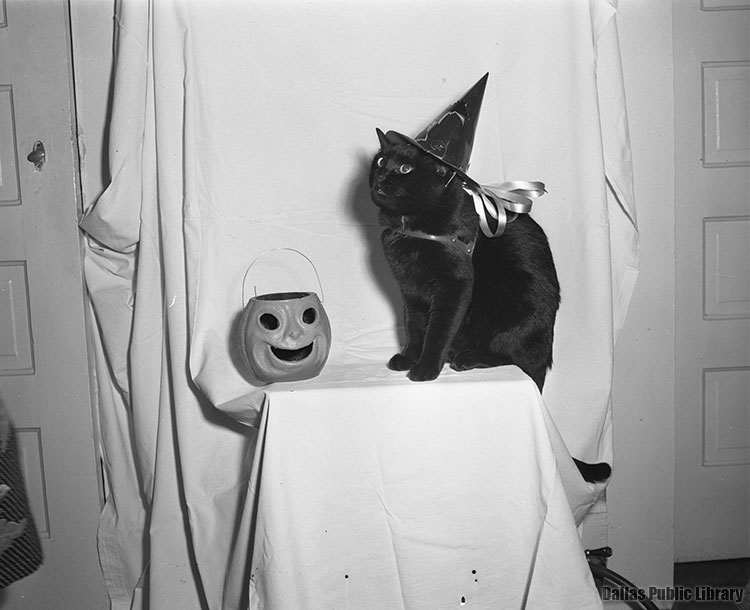 Want to learn more? Try searching online in the catalog. Go to "Advanced" and use the "Limit By" option to select "Digital Archive" then type in your topic.
Contact Dallas History & Archives Division, Dallas Public Library at (214) 670-1435 or email [email protected] with questions about the many fascinating photographic resources available.
---
Brandon Murray, a librarian and archivist in the Dallas Public Library's Dallas History & Archives Division, writes about North Texas history for D Magazine. See more of this series here. 
Get the D Brief Newsletter
Dallas' most important news stories of the week, delivered to your inbox each Sunday.