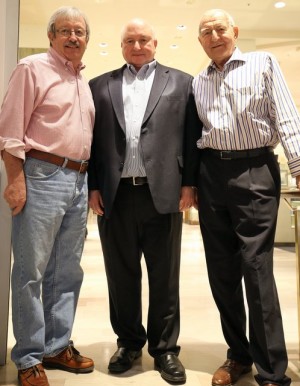 Chef Willy Rossel lost his battle with pancreatic cancer on September 14, 2015 at his home in Edinburgh, Texas. He was 94.
Rossel is considered by many to be the founding father of classical cuisine in Dallas.
He was born in Tramelan, Switzerland to a family of watch makers. When he was five or six years old, he went into the forest to pick berries and mushrooms. He fell in love with cooking and when the depression hit, he decided to cook instead of repair watches. After he completed school, he moved to Germany to learn baking and, at 17, he moved to Paris to apprentice under at least five different chefs.
During WWII, he was a cook in the Swiss Army. After the war he moved from jobs in St. Moritz, London, Florence, Venice, and Jamaica.
He moved to Dallas from New York in 1958 to open the Southland Life Building (now the Sheraton) downtown. He was the executive chef of the eight restaurants on the property including Ports o' Call and Chaparral Club.
"I met him in 1952 and we stayed in touch until I moved to New York in 1955," says chef Ewald Scholz, chef/owner of Dallas' Ewald's (1968-1999). "He hired me to be his sous chef at the New Yorker Hotel. He was always getting people jobs in hotels all over the world."
In 1962 he became the president of the American Culinary Federation. In 1963, he was the president of the Texas Chef's Association which was struggling with financial problems until Rossel took charge and turned the organization around. Rossel started the Escoffier Society and was the historian for the National Chefs Association.
Rossel made headlines when he was hired as the executive chef of Braniff International Airlines where he worked for 16 years. Braniff was the first airline to offer gourmet cuisine served on china and wine in crystal glasses. Rossel traveled the world, picking up ingredients (truffles from France; wine from Chile). Rossel made international headlines when he revealed his signature Branwich Sandwich cake.
"Willy was a classical chef. I'm talking about an Escoffier chef. It was what he taught," says local chef Andre Bedouret, a longtime friend of Rossel's. "It's different today. Some of the most famous chefs today lack this classical foundation."
Rossel retired in 1991, but continued to be active the many chef organizations and, of course, didn't hesitate to help fellow chefs in their kitchens. "Willy was instrumental in getting the Department of Labor to acknowledge the work of a chef as a real occupation," says Sharon Van Meter, proprietor of 3015 Trinity Grove and president of the Texas Restaurant Association. "Up until then they were considered domestic cooks."
Rossel's son Cary lives in Dallas and has organized a memorial service which will take place on Thursday, October 1, 2015 at 11:00AM at Temple Emanu-El (8500 Hillcrest Rd.) The family has asked all chef to wear their best chef whites for the occasion. "No stains or rips," says Bedouret. "Willy wouldn't like that!"
Get the SideDish Newsletter
Dallas' hottest dining news, recipes, and reviews served up fresh to your inbox each week.