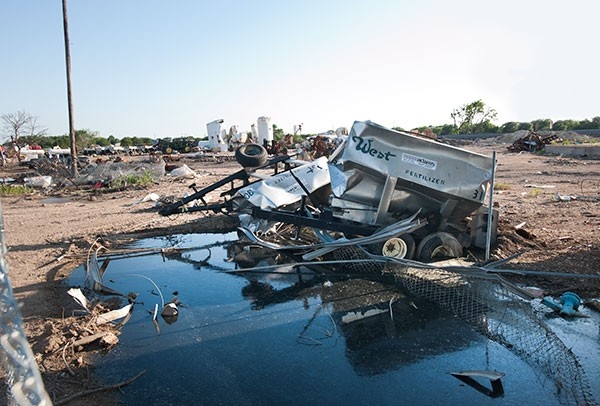 I doubt there are many — if any — of our regular FrontBurner readers who aren't familiar with what occurred in West, Texas, in April 2013. The fire and subsequent explosion of West Fertilizer Co. left physical and emotional scars on the tiny community that most of us know only as a highway rest stop at which we pick up kolaches while driving between Dallas and Austin.
For our own Zac Crain, what happened there was far more personal because West is his hometown. In writing about the aftermath of the tragedy in the July 2013 issue of D Magazine — one of the 40 greatest stories we've ever published — Zac painted a portrait of a town that refused to dwell on its losses. I asked Zac for his take on what's happened since his article was published:
The only way to recognize the address where I grew up is the electrical tower in the corner of the front yard. I say address and not house because the house was torn down, along with all the other houses on the block, and all the houses on the blocks surrounding it. The last memory I will have of it is a pile of bricks waiting to be hauled off.

That house and all the others have been replaced by new ones. But the people who lived there before live there now. A few  — like Lucille and Jerome Lednicky — were able to make it back by last Christmas, some — like the Kolars — not until months later, but they've all settled back in. This fall, instead of trying to find a contractor or just a tiny hint of normalcy, the topic on everyone's minds is the hot start of the West Trojans football team. After winning only a game last season, the team was undefeated until last Friday, and it's still coached by David Woodard, who was one of the many to lose his home in the aftermath of the explosion.

I doubt anyone will forget what happened any time soon, but the rhythm of small-town life is returning.
Get the D Brief Newsletter
Dallas' most important news stories of the week, delivered to your inbox each Sunday.