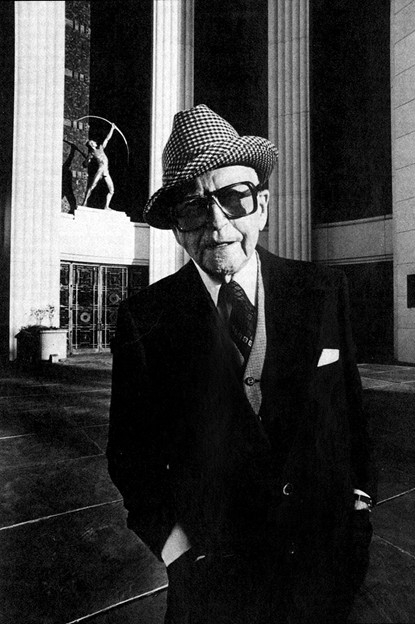 It's fitting that we're posting this story during the annual run of the State Fair of Texas, since it concerns the later years of George Dahl, the architect who deserves much of the credit for the acclaimed Art Deco buildings at Fair Park. Unfortunately, the article doesn't focus on the legacy of Dahl's work but instead the unhappy family saga that consumed much of the final decade-plus of his life.
The facts, as presented in David Bauer's article in the April 1979 issue of D Magazine (one of the 40 greatest stories we've ever published), are that Dahl's daughter Gloria and her husband, Ted Akin, filed for guardianship of the then-83-year-old Dahl in April 1978. They said they'd done it because of their concerns about Dahl's failing mental competency in business matters. Dahl believed they were motivated by greed, looking to take control of the millions of dollars in the trust that had been established in the name of his late wife, Lillie, of which Dahl himself was the sole trustee. They also were seeking to prevent him from marrying Joan Renfro, a much-younger woman whom they suspected of being only after Dahl's money.
Bauer finishes the story with the outcome of a probate court hearing to judge Dahl's competence, followed by the information that six months later Dahl married Renfro (without his family in attendance) and that the Akins and Dahl had filed subsequent suits sure to keep their fight in the courts for years.
Ultimately, in October 1983, the Supreme Court of Texas handed one victory to the Akins, requiring Dahl to pay up on a promissory note of more than $274,000. That gain was negated, however, when the court also ruled against the Akins' request that Dahl be removed as trustee for the Lillie E. Dahl Trust and affirmed the lower courts' judgment that the Akins were guilty of malicious prosecution in attempting to have Dahl declared mentally incompetent and to be granted guardianship.
"To me, it's one of the most tragic miscarriages of justice," said Ted Akin, a longtime Dallas lawyer and judge, when I spoke with him on Wednesday. The malicious prosecution judgment resulted in the Akins facing punitive damages that could only be paid by a settlement that dissolved the Lillie E. Dahl Trust and turned its millions back over directly to Dahl. The court's findings in their case, Akin says, had more to do with a Supreme Court interested in making things easier for plaintiff's lawyers bringing similar suits in future than in the true merits of the case. In the ruling, "They changed precedent that dated back to 1750 in England."
George Dahl died in July 1987, at age 93. Ted Akin says Dahl's new wife Joan isolated him in the years before his death — especially after he suffered a second stroke that left him ailing and in a wheelchair — so that there was never any reconciliation. "You can't patch things up if the person is held where you can't get to them or even see them," Akin says. The family was tipped off to the fact that Dahl was being hospitalized at Methodist just days before he passed away, and Gloria and their son, George, were able to get to Dahl there, the first time they'd seen him in ages. During that visit, he mistook his daughter Gloria for his granddaughter Laurel.
Akin presents a starkly different view of the events depicted in Bauer's story. He still insists that Renfro was merely after Dahl for his money and that in the end, she got it all. The Akins received only family photographs as their inheritance. (Renfro died in 1996.) He's convinced that the jurors in Dahl's mental competency hearing had been paid off. And he's certain that after Dahl's first stroke in 1966 the famed architect became a different person, which led to their disagreements over the tax liability on funds withdrawn from the family trust and Dahl's later suspicions of his family's motives.
"It was a tragedy," Akin says. "We lost all the way."
Get the D Brief Newsletter
Dallas' most important news stories of the week, delivered to your inbox each Sunday.