Generational Group CEO and Create Church pastor Ryan Binkley found himself sharing a stage with the top presidential candidates this summer at the Republican Party of Iowa's 2023 Lincoln Dinner. Though Binkley has never run for political office, he spoke to influential Iowa voters who paid between $1,500 and $10,000 to get time with potential Republican nominees. Things had gotten real.
Binkley is the CEO of mergers and acquisition advisory firm Generational Group, which has 300 employees and focuses on bringing financial services to main street businesses throughout the country. His background in finance motivated his run for national office.
National debt, inflation, healthcare spending, rising interest rates, and downgraded debt ratings are central to his message. Despite what he sees as a bleak economic outlook for the country if things don't change, he is confident that his seven-year economic rescue plan can put the nation back on the path to prosperity for all. But he says the country will need to come together to make that happen.
"Because of our reckless spending, we're on this pathway to a recession," he says. "I believe we can navigate through this, and I believe we can have incredible prosperity."
Notably, he doesn't spend much time speaking about the cultural issues many of his fellow candidates have leveraged to motivate the voting base and make headlines. He aims to grow the party's appeal rather than focus on fringe issues that motivate the base. His message is one of making tough decisions, growing the tent of the Republican party, and speaking to the whole country—not just the far-right base.
"It's going to take us unifying our country. The Republican narrative has been very divisive as well, not just the Democrats. I seek not to speak to the 49 percent of America," he says. "We can balance the budget in a compassionate way; we can have a plan for immigrants with a secure border; we can revive education. And we can do this while still bringing a message of unity, because it's going to take both parties to come together."
Healthcare spend is a significant target for spending, Binkley says. He wants to find a middle ground, de-socialize, and de-monopolize the healthcare system. He believes the government is spending too much on healthcare without seeing quality results, there isn't enough competition in the insurance market, and healthcare costs are too opaque.
He is critical of the power of big pharma and wants to stop giving longer patent extensions to companies. These changes, he says, are essential to the financial stability of the country. "Once we do that, we'll be able to balance the budget. Healthcare inflation is 40 percent higher than regular inflation in the last 20 years, so this is the area we have to stop."
In August, the U.S. credit rating was downgraded for only the second time in the nation's history. Private credit rating firm Fith bumped the country down from AAA to AA+, a sign that spending and debt are unsustainable and that the country could be heading for a recession. The recent bank failures compound the situation, and Binkley wants to bring attention to a looming recession or worse. "I see a financial storm coming, and I am warning America about it. We are on the precipice, and I don't know when it will hit, but you never know until it's too late."
Binkley still finds time to preach many Sundays at Create Church with his wife and co-pastor Ellie, when he isn't bouncing between campaign events in Iowa and New Hampshire, where he is focusing much of his time right now.
September 27th is the next Republican debate, and Binkley is focused on growing his polling numbers to qualify. He has already satisfied the requirement of 50,000 campaign donors but needs to be polling at three percent to qualify. Trump is still dominating the polls, with DeSantis a distant second. Binkley is polling at zero percent, along with several of the other candidates.
Despite low numbers at the polls, Binkley is committed to sticking to his message of unity and fiscal responsibility without devolving into divisive narratives. "If I wanted to be on the news more every day, I would say crazy stuff like we should get rid of every corrupt department and that we should fire everyone in the CIA," he says. "There is corruption, and we need to get new leaders that share our values and have integrity, but not everyone is corrupt. I don't want to say things to gather the attention of the conspiracy crowd."
Binkley says his campaign is about solving America's big problems and hopes his unique vision for the country resonates with those turned off by the division in politics as usual. Republicans or Democrats can't resolve these issues in a vacuum, he says. "We have to come together. Abraham Lincoln said it this way. "At what point then is the approach of danger to be expected? I answer, if it ever reaches us, it must spring up amongst us. It cannot come from abroad. If destruction be our lot, we must ourselves be its author and finisher.' We're in this place of division, and we have to start seeing the good in each other again."
Get the D CEO Newsletter
Stay up to speed on DFW's fast-moving business community with weekly news reports, interviews, and insights.
Author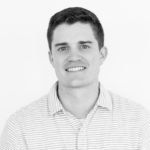 Will is the senior editor for D CEO magazine and the editor of D CEO Healthcare. He's written about healthcare…