Hubert Zajieck made the transition from physician to entrepreneur when he saw a niche for an accelerator focused on the healthcare industry. He co-founded Health Wildcatters founded in 2013 and has since grown to launch 99 startups that have raised $250 million. Biopharmaceutical company Lantern Pharma went public in 2020 with a product focused on oncology, which raised $26.3 million with a market capitalization of $55 million.
The Austrian native met his Texan wife while on a study abroad trip and the two spent the first several years of their relationship long distance, exchanging letters and visiting each other when they could. Below he shares a pivotal moment, walk-up song, and his future thoughts on the industry.
Education: University of Vienna (MD), Southern Methodist University (MBA)
Birthplace: Vienna, Austria 
Biggest Success: "We are very excited about our last two exits, Medibookr and Lantern Pharma. In addition, we are about to move to our new HQ at Pegasus Park, cant wait to invite you to visit us there."
Pivotal Moment: "When I visited Texas (as part of a Rotary Club summer exchange program) for the first time at age 18, I met a girl here. 7 years later we would get married, and 8 years later we would finally live in the same town, namely Dallas."
Destinations of Choice: "Upper Austria for the mountains, Vienna at any time of year."
Key Strategies: "Talk the talk AND walk the walk… there is no faking it."
Walk-Up Song: "'Rock me, Amadeus', by Falco! This is my walk-on song when we do pitch days."
Alternate Reality: "I studied medicine, so I'd be practicing it. Specifically Internal Medicine/Nephrology."
Industry Change: "I'd love to be able to share the unbiased top and latest insights with anyone. There is so much knowledge out there, but for so many reasons the best information does not reach each patient."
Go-to Advisors: "I have so many mentors, but no single source. I am blessed to have the support of so many wonderful entrepreneurs & investors who are as passionate as I am about advancing health innovation."
First car: "Audi 100, known here as Audi 2000. Drove it from Austria to Greece and camped out of it…legendary car."
Future Forecast: "The opportunities in healthcare to heal early and prevent disease are numerous. Very excited about the startups we get to work with every year and be a part of their journey to reduce human suffering."
Get the D CEO Healthcare Newsletter
Stay informed with a detailed weekly report on DFW's evolving healthcare industry.
Author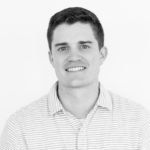 Will is the senior editor for D CEO magazine and the editor of D CEO Healthcare. He's written about healthcare…