Last week, a fully functional hospital built onboard an MD-10 cargo aircraft spent several days at Fort Worth's Alliance Airport to give Caribbean eye doctors the tools they need to better treat their patients.
Although it may sound like a Mad Libs lede, it's the truth. The Orbis Flying Eye Hospital has been traveling the world for 40 years, treating patients and training healthcare professionals to improve their care. The FedEx-donated plane is a fully accredited ophthalmic teaching equipped with an operating room, a pre-op and post-op room, and a classroom that can watch operations on a live feed. It has landed in 95 countries, where it treats patients and serves as a teaching facility for local practitioners.
Orbis International is a nonprofit committed to eye care that runs health education, training, and service programs worldwide in addition to the flying hospital. In fact, 80 percent of Orbis' work is long-term projects around the world. The goal is to return sight to 1.1. billion people worldwide living with vision loss. Much of that loss can be corrected with a fifteen-minute surgery. So what was the plane doing in North Texas?
Eye care device giant Alcon, based in Fort Worth, is a longtime sponsor of Orbis and donated much of the equipment on board the aircraft. The plane came to North Texas to train around 50 Caribbean healthcare professionals on the aircraft and at the Alcon Experience Center, a training facility where ophthalmologists train on new equipment. The event is the first in-person training since the beginning of the pandemic. A mix of Alcon and Orbis staff are teaching students, including nurses, ophthalmology residents, and biomedical engineers.
The Fort Worth training focused on cataract removal, the leading cause of blindness worldwide. But after a fifteen-minute procedure, cataracts can be corrected and sight restored. These healthcare workers will take what they learned back to their home clinics to multiply the organization's impact.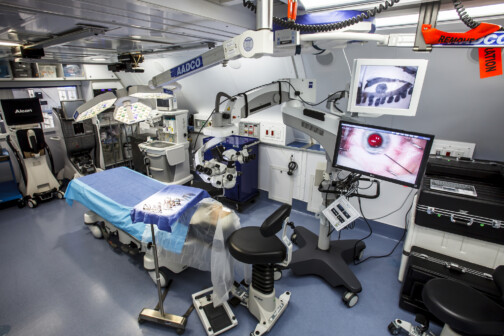 When the plane lands in a location, many of which are in Africa and Asia, physicians see their regular patients on board. This provides consistency for patients if they need follow-up for their care. Providers see between 200 and 400 patients each stop. The treatment and training are free to patients and healthcare workers, respectively.
The eye exams during these stops can impact more than just eye health. "There are over 275 different health conditions that can be detected with an eye exam," says Rick Weisbarth, who is on the Alcon Foundation Board of Trustees. "If an individual has high blood pressure, diabetes, multiple sclerosis, or even a brain tumor, all of those things can be detected with an eye exam."
The plane itself is an engineering marvel. The aircraft sections were built modularly and rolled into place on board. They include a 40-seat classroom, an administrative office, a fully-equipped operating room, and a patient waiting area. It is equipped with everything you might expect in a standard hospital, including negative air pressure capabilities and water purification systems. As a result, the plane is much heavier and can only carry enough fuel for an eight-hour flight.
The hospital includes the latest medical equipment and an advanced audio system that allows students in the classroom to watch a 3D video of operations in the operating room. Students can ask questions during the surgery, and the surgeon can answer. In a typical teaching hospital, only a handful of students can have such a detailed look at the surgery, but 40 students get a similar experience on Orbis' plane.
When I visited, some trainees were doing virtual training, others were practicing cataract correction on a prosthetic eye, and others were working with a high-fidelity mannequin. Medical societies choose the individuals to participate in the training and help with the costs of attendance.
The pandemic forced the Flying Eye Hospital to rely on virtual education for the last two years, but it is now back to traveling the world for in-person training and treatment. "While the plane has continued its mission virtually over the past two years, this is an unmistakable sign of hope, a chance to pick up where we left off, and an opportunity to apply new innovations to our fight against avoidable blindness," said Derek Hodkey, President and CEO of Orbis International via release.
Get the D CEO Healthcare Newsletter
Stay informed with a detailed weekly report on DFW's evolving healthcare industry.
Author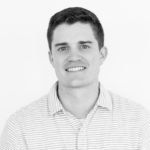 Will is the senior editor for D CEO magazine and the editor of D CEO Healthcare. He's written about healthcare…