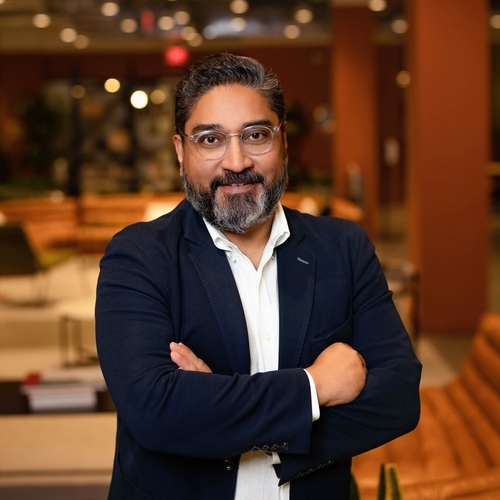 Panna Sharma thinks it shouldn't take 10-12 years and $1-3 billion to develop a new cancer drug, and he is doing everything he can to change the paradigm. He is CEO of Dallas-based Lantern Pharma, which is leveraging oncology data to take years off the development of precision cancer medicine. 
Lantern is a clinical-stage oncology company that uses artificial intelligence, machine learning, and genomics to develop targeted cancer therapies that identify patient groups likely to respond to specific therapies. Much like data analysis and targeted ads have transformed retail, Lantern uses the same philosophy to develop cancer drugs, creating treatments that react well with specific patient groups with unique biomarkers. The company has already made an impact, developing drug programs in 3-4 months rather than the standard 2-3 years. The key is to mine the data provided by cancer patients about how their particular biology will respond to specific treatments. 
Last year, the company went public with three-drug programs and raised $96 million via the initial public offering. It has already developed five additional programs, spending less than $10 million in the past year. "That's unheard of in a big biopharma company," Sharma says. "Launching five programs and putting them in your pipeline would have cost at least $50 to $100 million and taken probably 2-5 years. We're already seeing that our data-driven approach is smashing the development pipelines for early-stage development."
The Health Wildcatters alum is finding its niche by targeting underserved cancer patients who lack effective therapy and speeding up the process by which they are created. Innovative pharmaceuticals are costly, and there have been plenty of headline-worthy abuses of power, but not every company is trying to gouge consumers. Some of these companies are trying to keep their lights on, and when therapies take several years and billions to launch, the companies need to make those costs back to continue to be a viable business. 
"If you want to mandate drug pricing and drug reform, the number one thing that can be done is to adopt new methods of doing it," Sharma says. "There's no way we can continue doing it the old way and then expect that we're going to make something for a billion dollars and not make the billion dollars back. It's just not in the spirit of innovation."
Finding more efficient ways to develop drugs would make those that are abusing their power even more apparent. "This is critical because I believe in drug pricing reform. I think there are a lot of drugs that are abused," Sharma says. "There are drugs where they're not innovative. They jack up pricing year after year because of rarity, and those things should be smashed from a regulatory and legal perspective."
By targeting certain patients with unique genomic markers, Lantern has developed cancer drugs in less than 10 percent of the time typically needed. "When you're trying to find everything under the sun, you're going to want to be exhaustive and try to pull every book off the shelf," Sharma says. "We have a data-driven approach with targeted experiments. The experiments are cheaper, and the targets are more accurate."
Sharma has loads of experience taking biotech companies public and sees the potential of this process beyond cancer therapies. While cancer is a great place to start because of all the funding and many cancer patients have their genes sequenced (giving researchers data to work with), he sees future targets for this approach, such as diabetes and inherited diseases. 
"The next big one is going to be in neurodegenerative disorders like Alzheimer's, Parkinson's, other neurological disorders," he says. "Those are also heavily data-driven, and there's a lot of mystery on how to create a compelling drug."
The company is launching its first human trials in the next year, which will serve as a litmus test for the technology. The treatments focus on metastatic castration-resistant prostate cancer, glioblastoma (an aggressive brain cancer), pancreatic cancer, and non-small cell lung cancer that occur with non-smokers, which make up around a fifth of all new lung cancer patients. 
Sharma is leaning into the independent spirit of Texas and says it is a good fit for the leading edge of oncology innovation. "I think Texas is a good place to do it because it's not stuck in the same old big biotech or big pharma mindset in Boston or San Francisco," he says. "There's a streak of independent thinking about a lot of topics."
Get the D CEO Healthcare Newsletter
Stay informed with a detailed weekly report on DFW's evolving healthcare industry.