Historically low rates of RSV and flu in the area's hospitals this fall and winter have been upended as RSV cases have returned with a vengeance this summer. Patients are filling up hospital space as pediatric providers also deal with higher COVID-19 numbers than they have ever seen.
A combination of masking, social distancing, and kids staying home from school and childcare meant that RSV was almost non-existent through the end of fall and winter when children's hospitals usually fill up with the RSV cases. The respiratory infection primarily impacts infants during cold and flu season and isn't often deadly but can develop into bronchiolitis and airway irritation.
Dr. Jeffrey Kahn, the director of pediatric infectious diseases at Children's Health, says this summer's surge in RSV was greater than he has seen in the last four to five years. As cases began rising in April, the hospital prepared for more as people started venturing out into the world. For Kahn, it is clear that reduced masking and increased gathering are the culprits. "As as we started to open up during the springtime, RSV and other viruses were out there working," he says. "What we experience with RSP very closely tracks with social behaviors."
Also, there was an entire RSV season's worth of children who didn't get the virus and never developed any immunity. That left them vulnerable when the virus did make its way into their lives. The result is a summer RSV season unlike any other. At Cook Children's, RSV hospitalizations have been hovering around 200 for several weeks. Typically, there are almost no RSV hospitalizations in the hospital at this time of year, but this summer is one of the worst RSV seasons in recent memory.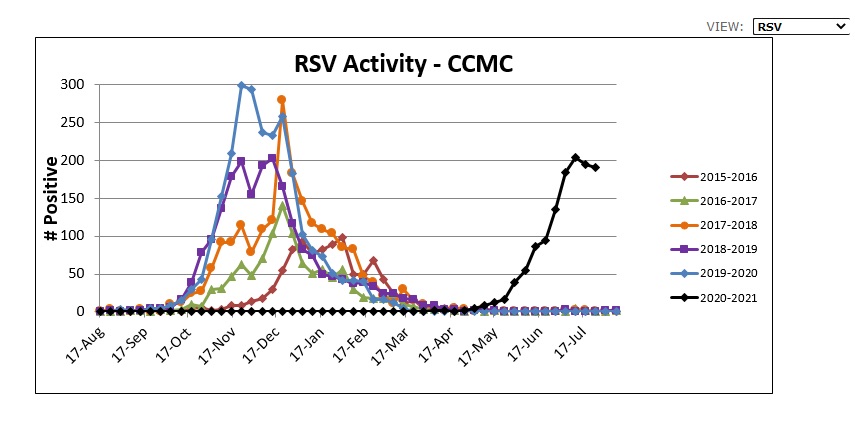 Experts aren't sure how this summer's RSV spike will impact the fall and winter when cases usually spike with such unprecedented conditions. Will the surge bleed into the fall and stay high, or will this summer's infections mean the virus has nowhere to go when it gets colder and we head back inside? Human behavior such as masking, social distancing, and other precautions will likely determine if RSV returns to its typical season or continues rogue.
With schools out, summer is usually slower at children's hospitals, a nice reprieve from battling cold and flu season and the associated infections. But this summer, there has been no rest for the weary, as RSV and COVID-19 are combining to fill up pediatric hospitals.
In an average year, immunity to RSV fades throughout the year, and by the time fall rolls around and people back inside to breathe the same air, children can be infected again. "You have a new population of kids who've been born, so they can be exposed," says Dr. Nicholas Rister, an infectious disease expert at Cook Children's in Fort Worth. "It'll be interesting going into the winter if we still see our normal peaks of RSV again in January, or if it will be delayed. I imagine over time, it'll turn back to its typical seasonality unless we change our behaviors, but that's just sort of the nature of the beast."
An RSV peak isn't news for most hospitals, but one in the summer is rare. Combining it with the delta variant spiking pediatric COVID-19 cases makes for a long summer for healthcare workers and systems who have been under stress for 18 months now. "The difficulty we're having right now is that the number of COVID cases in children is increasing. The combination of RSV and COVID in children is putting a lot of stress on the system."
Get the D CEO Healthcare Newsletter
Stay informed with a detailed weekly report on DFW's evolving healthcare industry.