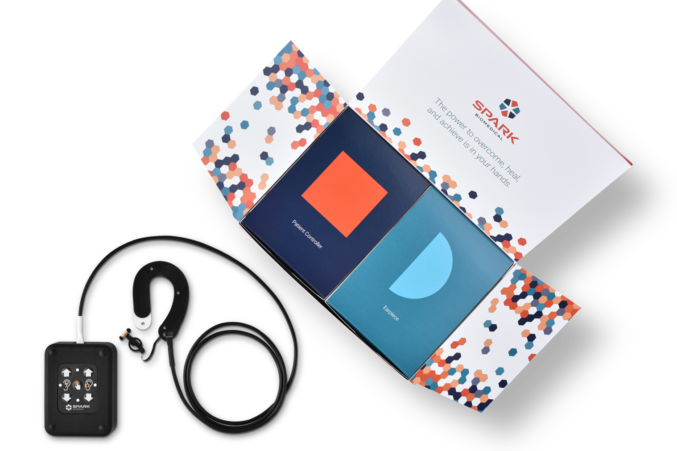 Spark Biomedical's Drug-Free Solution to Opioid Withdrawal
The neurostimulation device causes the brain to produce its own endorphins and reduce and prevent withdrawal symptoms.
Spark Biomedical has developed a device that avoids using drugs to help opioid addicts work through withdrawal symptoms. Called Sparrow Therapy System, the device is placed in the ear. It uses low doses of electricity to stimulate the brain to produce endorphins and manage the fear and pain patients experience during withdrawal. 
Opioids were often prescribed as a long-term solution for pain, which led to increased addiction nationwide. Now, 10 to 11 million Americans use them for pain. The COVID-19 pandemic has caused an uptick in opioid abuse in the United States, with at least 40 states reporting an increase in opioid-related deaths since the pandemic began. In an analysis of 500,000 urine drug tests from the national laboratory service Millennium Health, there was a 32 percent increase in the amount of non-prescribed fentanyl, a 20 percent increase in methamphetamine, and a 10 percent increase in cocaine from mid-March to May of 2020. Economic anxiety, loss of jobs and associated health insurance, and anxiety about the virus have all been factors for the increase. 
When a patient is in addiction withdrawal, the brain is rewired to make them believe they will die if they cannot satisfy their craving. "It's not about willpower or logic," says Spark Biomedical CEO Daniel Powell."This is about fight or flight and is not a logical process."
The device's development was guided in part by acupuncture. It recently received FDA approval to reduce opioid dependence.
A small earpiece releases electric stimulation that has an immediate impact on how the brain processes withdrawal. It was tested on patients dealing with serious heroin addiction and was used for five to seven days. During the clinical trials, 89 percent of participants experience mild to no symptoms within 60 minutes of the therapy, and one-third had no symptoms following one day of treatment. After the second day, all participants showed a meaningful reduction in withdrawal symptoms. "Because it's not an opioid-based solution, you're not introducing more opioids," Powell says. "Methadone, which is used for recovery, is still an opioid and potentially abusable."
Moving forward, Spark has plans to see if the device can be used to prevent withdrawal completely. "Ideally, you'd put this on before you ever go into withdrawal, keep the symptoms as low as possible, and never have them go into moderate withdrawal," Powell says. "That's how we are going to test it in our next clinical study, is to just put it on right away."
Powell sees potential in the device for longer-term use to address other mental health issues often connected to opioid-use disorder."We saw both PTSD and depression scores go down in a positive way in our clinical study. They're all tied into the same core networks in the brain," he said.
The company is targeting rehab centers where patients are going through acute detox. Right now, they are focusing on cash-pay detox centers as they work to get reimbursement from the Centers for Medicaid and Medicare Services and other commercial insurance questions. They are also meeting with providers and clinicians to spread the word about the technology and increase its reach. 
Part of the conversation is a value proposition for healthcare payers. Keeping a patient in a detox center costs about $1,000 per day, according to Powell. If the device can ensure detox is successful the first time and help avoid readmissions or continued addiction, healthcare payers, such as employers and federal and state governments, will pay less to treat those patients. 
The company was founded in Houston, but moved its headquarters to Dallas, and focuses its efforts on the state. It is also looking to expand in states where opioids are especially harmful, such as Ohio and West Virginia, and states that have expanded Medicaid, as those states usually have more funding for behavioral health. 
"
If we can bend the curve of addiction recovery by removing the neurological barriers, while you focus on the psychological side of the patient, then that will just pay off in spades because there's nothing out there truly helping with that process at a neurological level,

" 
Powell says.