COVID-19 began taking hold of the headlines and the economy about a year ago in Dallas. While it will forever impact almost all industries, the healthcare sector was the front line of fighting the disease and had to be more agile, innovative, and resilient than ever.
D CEO Healthcare is sitting down with health system CEOs to reflect on how the last year changed them, their health systems, and the industry forever. Read on for insights, take-aways, and silver linings surrounding fighting the pandemic from Robert Earley, CEO of JPS Health Network in Fort Worth.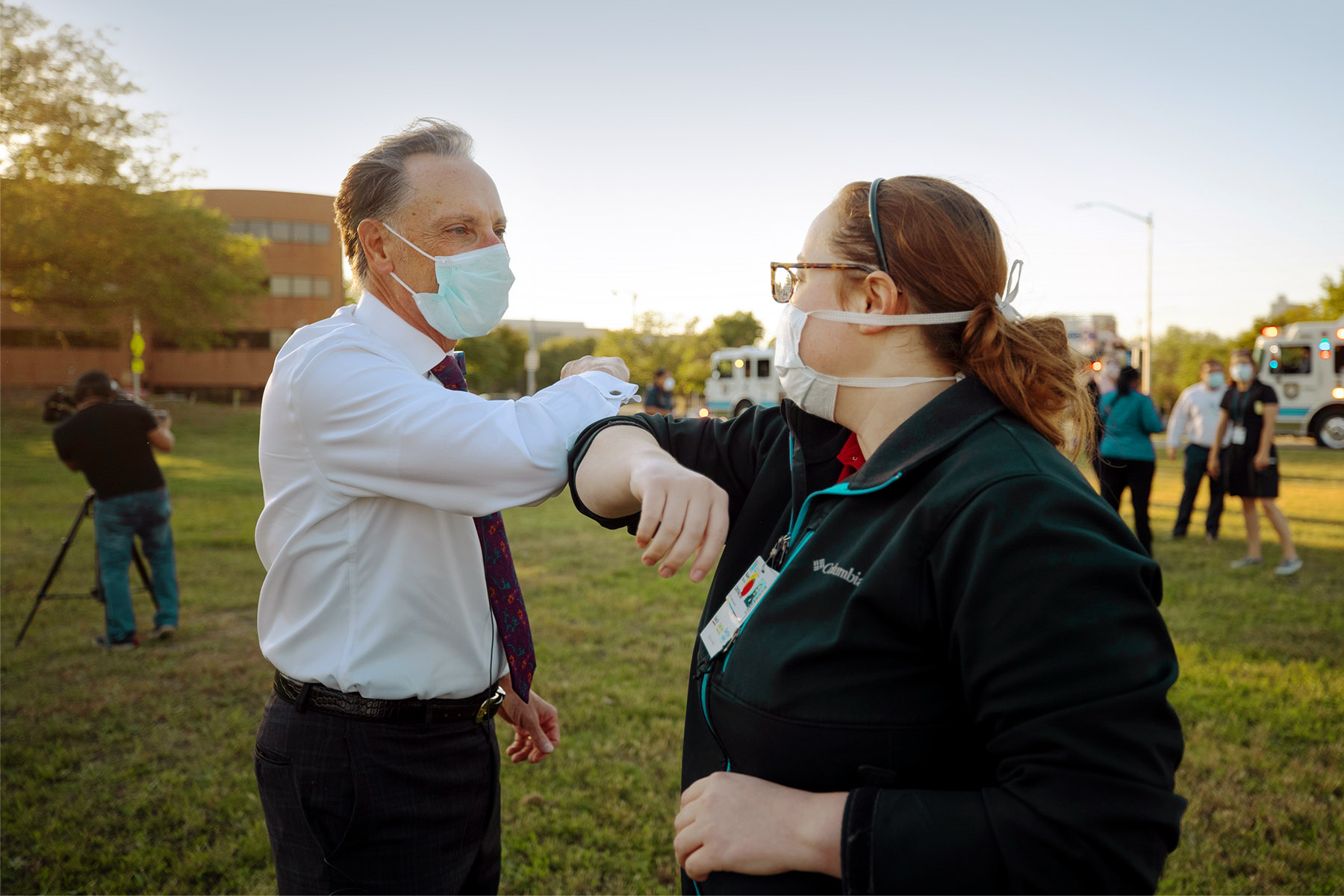 What is top of mind for you when you think about the last year at JPS?
"I'd start with the positive of the resiliency of people that are here at JPS. When COVID first hit, we had no idea about the impact of it. None of us did. And I think it's amazing, as you look back at a year, what the 7200 people who work here have been through. If you consider that people were wondering, 'I don't know what this virus is, I don't know the effects of the virus; I need to go into the workplace where it's probably going to exist, and I'm not sure how I get it, or how I prevent myself from getting it, and then I'm going to go home and be with my family.' That valor, that strain is pretty amazing to look back over a year. The strength of your fellow worker and the human resiliency is just impressive to me, and to see it every day at JPS overwhelms me."
How did the pandemic change how the health system delivered care?
"How do you interact with a patient base that no longer wants to come to your facility because they're nervous about the virus? We, like many, saw a 33 to 35 percent reduction in patient volume when it first hit. How do you get out to where people live instead of turning on the lights, opening the doors, and saying, 'OK, y'all come on in.' Figuring out how to get health care to people in their homes or who are not at our location is a great go forward of healthcare delivery. That can apply to not only a pandemic, but it can also apply to an area that is transportation challenged, because you don't have a system to get people from places very quickly, or it could apply to families who don't have a vehicle themselves and can't transport themselves."
What else did the pandemic reveal about care delivery?
"You have to balance technology. There's a huge portion of healthcare that is the feel, touch, and trust. If you're all technology, it's harder to have that feel and touch; it's harder to have that level of trust you have with a caregiver. Where healthcare is going to be in the future is balancing the technology, the care, and the comfort that people need for recovery. For us here at JPS, it's even more important because we have bond expansion. And everybody's like, 'Well, where are the new buildings from the bond package? Where is that? There may be some new structures, and buildings may look a little bit different in a post COVID world because we learned how to get to people, and we learned how to get out to people."
What did the pandemic teach us about the healthcare industry?
"How quickly you can react to a pandemic. I would argue that, for the most part, healthcare reacted as quickly as it could. But how do you react to people who literally don't want to follow what we think are the best medical answers, such as the politicizing of a mask or the fear of a vaccine? Health disparity came more to light. Health disparities make me scratch my head because I don't think there should be any. I don't want to be naive about the world. There's prejudice, and there's hate, and there are challenges, but in healthcare, it just should be a delivery system for all, and we try desperately hard to operate that way at JPS. But I think COVID does point to some of those things and the frailties of the human, and then that points to the frailties in healthcare."
How are social determinants of health continuing to impact care?
"How do you create a preliminary telehealth visit with the homeless population, or the most vulnerable populations, or a community that doesn't have the fiber optics and capabilities that technology affords them? COVID was almost a discriminatory virus in the sense that it hit the weakest, so if you had challenges going into COVID, your chances of adverse or difficult outcomes were far greater. It amplified the challenges we have in communities where we're not offering the healthcare that's readily available. It made us at JPS look at issues that are corollary to healthcare, such as these people living in a food desert where they have no vehicle to transport them. COVID said, 'OK, I'm going to show you your societal problems.' If we don't learn our proper lessons from COVID, then that's a huge mistake."
How are mindsets changing in healthcare because of COVID-19?
"I always tell the team here, whether they're at the executive level or any level of management here at JPS, if the answer is 'No,' then it better be the right 'No.' You better have a researched 'No,' because healthcare generally tends to be more in the 'No' category than the 'We're going to try that' category. COVID didn't allow us to just present 'Nos' anymore. COVID said, 'Your Monday is going to look different than your Tuesday, and your Tuesday is different than your Wednesday.' Be methodical, be pragmatic, but don't have no as your first answer. Sometimes in healthcare, we tend to say 'No,' first, because that probably is the least risk. Then we become complacent in it. COVID said, 'I won't accept complacency, and I won't accept procrastination.' You had to act quickly."
What has been the silver lining in running the health system over the last year?
"I always try to figure out where is the better part of that bad without being silly…about it. I have seen the best in people I've ever seen, and I think this place is phenomenal. This place has made me a better person. When I get to see how people reacted in a pandemic, delivering food, and dealing with the challenges of death, that is amazing to me. Hopefully, I can pass that on to my daughter, and she can pass that on to her children. The world is a challenging place, and the world is a gifted, wonderful place. That's what I saw at JPS. I'm sure it's in other places, too. I'm not saying we own that. But it was pretty miraculous for me to be able to work beside people who rose above levels that they ever thought they could rise above."
Get the D CEO Healthcare Newsletter
Stay informed with a detailed weekly report on DFW's evolving healthcare industry.