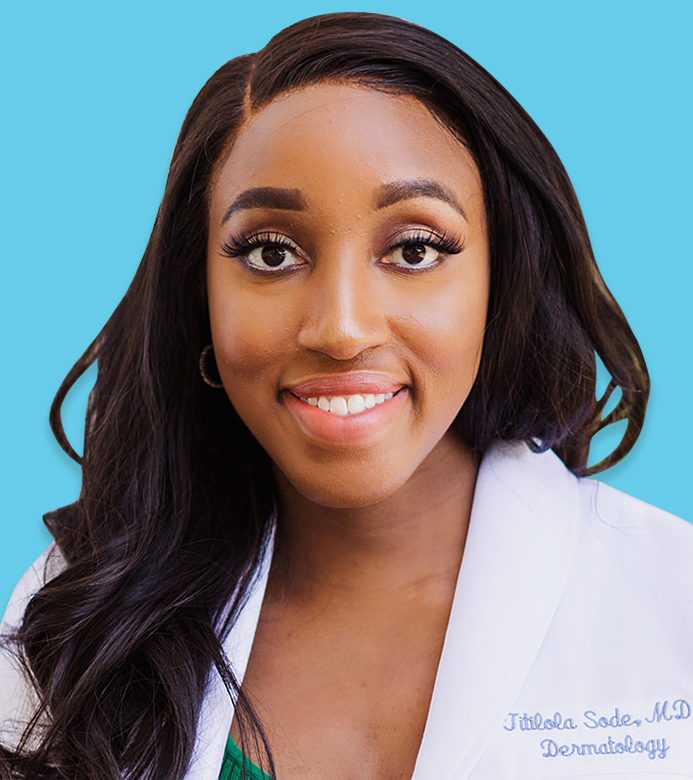 Healthcare is not immune to the systemic racism that plagues the country's business and social worlds, but one local dermatologist is working to advance cultural competency and avoid misdiagnosis and poor management of conditions due to race. Dr. Titilola Sode works to ensure patients of color have better outcomes by helping other physicians address systemic issues. 
Texas has one of the worst maternal mortality rates in the country for Black women, who die at twice the rate that White women do during childbirth. A 2016 study by Proceedings of the National Academies of Science found that half of all medical trainees believe one of the following statements: 
"

Black people's nerve endings are less sensitive than White people's.

"
"Black people's skin is thicker than white people's."
"Black people's blood coagulates more quickly than white people's."
Trainees who held these beliefs were less likely to treat Black people's pain appropriately. The biases and prejudices that lead to these outcomes are not limited to certain specialties. 
Sode's experience as a medical patient helped her see the inequity firsthand. She developed vitiligo—a condition where skin cells lose pigment—the year she was accepted into medical school, and her primary care physician told her there was nothing to be done about it and that it shouldn't bother her. The physician didn't even refer Sode to a dermatologist. Sode and her family weren't happy with the approach taken by the White primary care doctor.
The condition worsened, and Sode went to see a dermatologist at Georgetown, where she was attending medical school at the time. She learned about the pathophysiology of vitiligo and its treatments, and her condition improved. The experience sparked an interest in pursuing dermatology as a specialty for Sode, knowing that cultural competency would be a large part of dealing with diverse patients with unique skin tones and dermatological issues. 
Sode grew up in a diverse area of Miami, learning to speak Spanish with friends from South America and surrounded by various cultures and nationalities through friends from the Caribbean and other immigrant families like her own: Her parents are Nigerian. But in undergrad, at Florida Atlantic University, she experienced a less diverse environment. "It was very jarring and shocking," she says. "Some of the people there had never interacted with a Black person before. They asked me what I thought were strange questions about my hair and the way I talk. They were expecting something they've heard on the radio or TV."
Sode found that low expectations from professors followed her throughout her education, often because of her race. Nevertheless, she continued to work toward her goal of dermatology, which is one of the most competitive specialties in medicine. What's more, less than 2 percent of dermatologists are Black, and less than half of those Black dermatologists are women. Especially in a field that deals with skin tone, Sode knew that diverse minds and backgrounds were essential.
"
For people of the same race or same background, there's a higher rate of satisfaction for the patient, there's more compliance, and there's a better overall outcome,
" 
she says. 
Sode's struggles with not being heard by a physician who lacked cultural competency help her empathize with patients who come to her with the same problems, and Sode has appreciated developing relationships with them and treating a diverse patient load. And while she feels fortunate that she trained at Parkland with a diverse patient base, she knows that often isn't the case for her peers. She has found that people of color seek her out as a physician because of differences in skin related to race.
"
Unfortunately, a lot of my peers are being trained only on white skin,"
she says. 
"
There are things that are more specific or look a different way on skin of color. Patients seek me out because there are things that other physicians might not feel as comfortable treating or recognizing in their skin types.
"
Sode goes beyond just treating her patients and providing an empathetic ear. She has taken an active role in recruiting students of color into medicine and mentoring medical students of color. She knows that change will come by impacting students at a younger age.
"
I think it's important to start as young as possible and let kids know that there are people who look like you in various fields, and you're not limited,
" 
she says.
"
There are possibilities in whatever you're interested in.
"
She also plays a role in educating the support staff at her clinic, who appreciate the diverse patients Sode attracts. Not only do they get a chance to learn about how to interact and treat diverse patients, but they are also exposed to issues they may not have experienced in a clinic full of White patients. "In that role, I just encourage them to continue to be curious and continue to ask questions," Sode says. 
Still early in her career, Sode embraces her role in addressing systemic inequity and hopes to be a catalyst for change amongst her patients and the community. "We have data to support the fact that when you're born in a certain ZIP code, there are certain negative outcomes that are more likely," she says. "It'd be great if we could help these kids in these ZIP codes by letting them know there's another way and there's a light at the end of the tunnel and that people need them."
D CEO Healthcare Newsletter
Stay informed with a detailed weekly report on DFW's evolving healthcare industry.