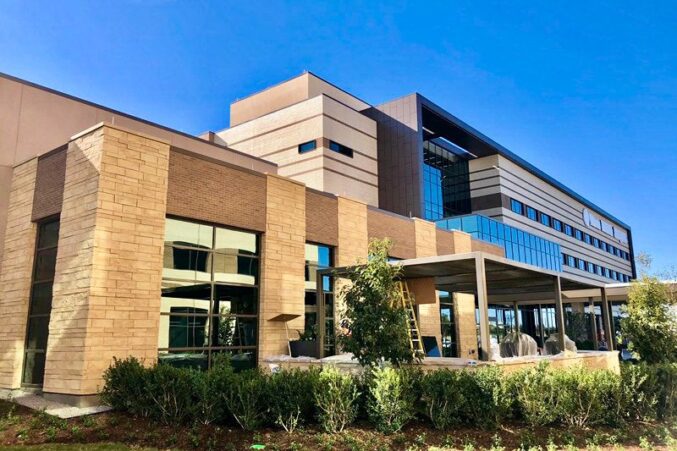 Texas Health Mansfield Became More Than a Hospital During the Storm
Staff converted space across the campus to provide space to stay warm, charge up, or sleep as needed.
Texas Health Mansfield expanded its role during last week's historic winter storm, which left millions of Texans out in the cold. Staff converted sections of the on-campus office building into warming stations and recharge zones for staff, their families, and even their pets. 
"It really wasn't even a question of whether or not we would do it. It was just figuring out how we're going to get it done," says Kenneth Rose, President and CEO of Texas Health Mansfield. "So for us, in seeing the need with a lack of power and water, we quickly realized we were going to have to use this as a time to step up for our team and get them in the building and get them taken care of so that they and their families were safe." 
Most hospitals in North Texas kept their power on during the winter storm thanks to bargaining on behalf of the hospitals with local utility providers, allowing them to provide for those in need. Restaurants have been serving free food to those in need, and mutual aid groups sprang into action to help meet needs where they could. Texas Health Mansfield was part of a larger movement around the state of communities coming together to help those in need. 
The use of warming stations at hospitals is nothing new around the county. Warming centers see frequent use during the winter, especially in the midwest and northeast, for those seeking warmth in inclement weather. However, ice, snow, and freezing temperatures are not something most southern states like Texas can handle. 
Texas Health Hospital Mansfield is a relatively new campus, having just opened in December 2020. With days' notice to prepare, the Mansfield staff worked fast to convert all the unused space at the hospital into areas that supported employees working in the hospital during the storm. Additionally, an entire wing of the hospital was given to clinical staff for sleeping quarters to continue to safely care for patients while avoiding risky travel. 
"What we realized was we're going to need to convert [the hospital] into space for our team and their family members to come in and get warmed up and get charged up," Rose says. "It was just a matter of us getting that space ready and inviting people in and then convincing them to actually come in." 
The quick thinking and adaptability of Rose and his team were crucial in supporting his staff and providing adequate care to patients in the Mansfield community during an unprecedented climate crisis. "For us didn't feel like anything too unique," Rose says. "It is just part of who we are taking great care of people. So we were happy to do it."