Fear of catching coronavirus has caused people to avoid interaction, but putting off needed medical care out of fear of catching coronavirus may be increasing more serious medical issues, according to 911 data.
According to North Texas ambulance service MedStar, patients who call with cardiac arrest were up 12 percent in March compared to last year, and they are up 38 percent in April relative to 2019. Of those who are found to be in cardiac arrest, 54 percent more patients were pronounced dead on arrival in April 2020 relative to April 2019. And all of this while overall responses are down 19 percent from January while ambulance transport is down 30 percent.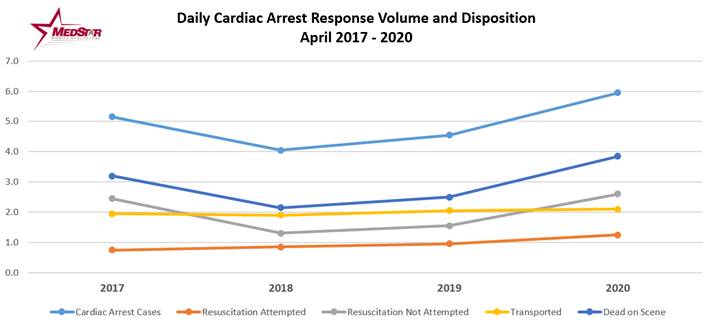 "Our crews are concerned that some patients may be waiting too long to call, and, even when they do, many patients are reluctant to go to the hospital out of fear of contracting coronavirus, or because of the restricted visitor policies enacted by many hospitals to help flatten the curve of the coronavirus," Medstar said via statement.
Texas Health Resources has seen a decline in emergencies as well."To control the spread of COVID-19, millions of North Texans have embraced the idea that we're safer at home – but not if you're having a serious medical condition," said Dr. Mary Robinson, Reliable Health chief nursing officer of Texas Health via release. "People should not hesitate to go to the ER or call 911 if they're having what they think is an emergency. ERs have the supplies, staff and expertise to care for people and do it safely during this pandemic."
While traumatic injury decreases in ER visits make sense because fewer people are driving and doing other risky activities, a drop off in other medical conditions doesn't add up unless patients are avoiding needed care. Healthcare systems are worried that residents aren't picking up their medications and seeking other necessary treatment, which could have disastrous effects. Practices are taking every precaution to make sure their clinics are as safe as they can be and ready to provide care to those who need it.
At Intuitive Health, which runs several emergency and urgent care clinics around DFW and the country, they have strict protocols about protective equipment, taking temperatures at the door, and other measures. Even when the patient is in the clinic, physicians interview them from another room for their own and the patient's protection.
Intuitive Health CEO Thom Hermann says that clinics would expect decreases in volume due to less driving and interaction, but the drop off has been significantly greater than the expected impact of staying at home. "Our data shows that other things such as chest pain and other chronic conditions are being exacerbated," he says.
"Patients are scared and hunkered up at home," he says. "But we are putting protocols in place to keep patients safe."
"Many people are now hesitant to call 911 because of fears of contracting the new coronavirus at the hospital and this is leading to higher death rates at home.  We want the community to know that we have the supplies, equipment and expertise to care for them through their medical crisis while protecting them from the new corona virus," says Dr. Kami Banks, a cardiologist at Texas Health Presbyterian Hospital Plano via release. "I can't stress enough how important it is to not ignore chest pain, shortness of breath, or one-sided weakness, especially if you have a pre-existing cardiac condition."
Get the D CEO Healthcare Newsletter
Stay informed with a detailed weekly report on DFW's evolving healthcare industry.