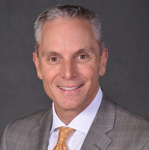 The Dallas County Medical Society has named Jon Roth as its executive vice president and chief executive officer, becoming just the fourth EVP in the 143-year history of the organization. He replaces Michael J. Darrouzet, who was named as executive vice president and chief executive officer for the Texas Medical Association earlier this year, and will start in early 2020.
"Jon impressed everyone with his expertise, his leadership ability, and his clear and thoughtful communication style. He is personable, enthusiastic, and eager to get to know our organization and members. We feel Jon will be an excellent fit with DCMS, and we are delighted he will be joining the DCMS family," said DCMS Board Chair/Immediate Past President Dr. Ruben L. Velez via release.
Jon has extensive medical association advocacy experience, and most recently served as the CEO for the California Pharmacists Association, the largest statewide pharmacists society in the country. He has also been the president in the National Alliance of State National Alliance of State Pharmacy Associations and California Society of Association Executives.
"It is my honor and privilege to join DCMS in serving the incredible physician members of Dallas County," he said via release. "As an association professional who has worked with several allied health professions that collaborate with physicians, I am excited to now work directly with physicians as the head of the healthcare team. This opportunity is a wonderful mix, allowing me to bring forward my two decades of health care association experience with the opportunity to support physicians in their practices for the betterment of the patients they serve."
Get the D CEO Healthcare Newsletter
Stay informed with a detailed weekly report on DFW's evolving healthcare industry.