Cancer patients and their caregivers who come to North Texas for treatment will now have a place to stay while being treated at any of the area's medical centers. The Gene and Jerry Jones Family Hope Lodge will be built on property donated by Baylor Scott and White Health near its Baylor University Medical Center campus.
The lodge will help serve the thousands of cancer patients who travel to the region for cancer treatment they can't get in their home town, often spending weeks or months away from home. In addition to the inconveniences of being stuck in a hotel or imposing on friends and family, the costs of dining out, hotel rooms are only compounded by the medical bills that accompany cancer treatment.
The Perkins and Will designed 40,000 square-foot lodge will open its doors in 2021, providing more than 18,000 nights of free lodging each year amongst its 50 private guest suites, which contain two beds and a private bathroom. The facility will also have common living areas, dining room laundry facilities, library, medication room and outdoor garden. The facility will also house the American Cancer Society's South Region headquarters, and guests will have access to the group's programs and services.
"The American Cancer Society is committed to removing the emotional, physical and financial burdens that many cancer patients must face when they travel away from home for treatment," said Jeff Fehlis, executive vice president for the American Cancer Society's South Region, via release. "Thanks to the generosity of partners and individuals who have stepped up to help with this project, we will soon be able to provide a home away from home for cancer patients allowing them to focus on what's important – getting well."
The Hope Lodge surpassed its fundraising goal of $25 million with the help of the Jones Family, who donated $7.5 million, Baylor Scott and White Dallas Foundation, and many other generous individuals and organizations, raising a total of $32 million so far.
"Facing a cancer diagnosis and enduring treatment is already daunting enough, but worrying about travel, lodging and other necessities can be a huge burden," said Jerry Jones. "Our family is grateful for the opportunity to help those who are in need of these types of services and exceptionally proud of what the Hope Lodge will bring to our community."
"This project, the first of its kind in North Texas, is a natural extension of our mission and deep commitment to patients," said Jim Hinton, CEO, Baylor Scott & White Health. "The Gene and Jerry Jones Family Hope Lodge will be a haven for healing on patients' journeys; its impact will be exponential, as it will not only help those fighting cancer, but those fighting alongside them."
Fresh off the NFL draft, Jerry Jones was accompanied by his wife Gene as well as his children to the groundbreaking Tuesday. Baylor Scott and White Foundation President Rowland Robinson led the proceedings, which included words from Gene and Jerry Jones, American Cancer Society CEO Gary Reedy, former Chairman, President and CEO of Dr Pepper and Seven Up Jim Turner, Baylor Scott and White President and CEO Jim Hinton, and others.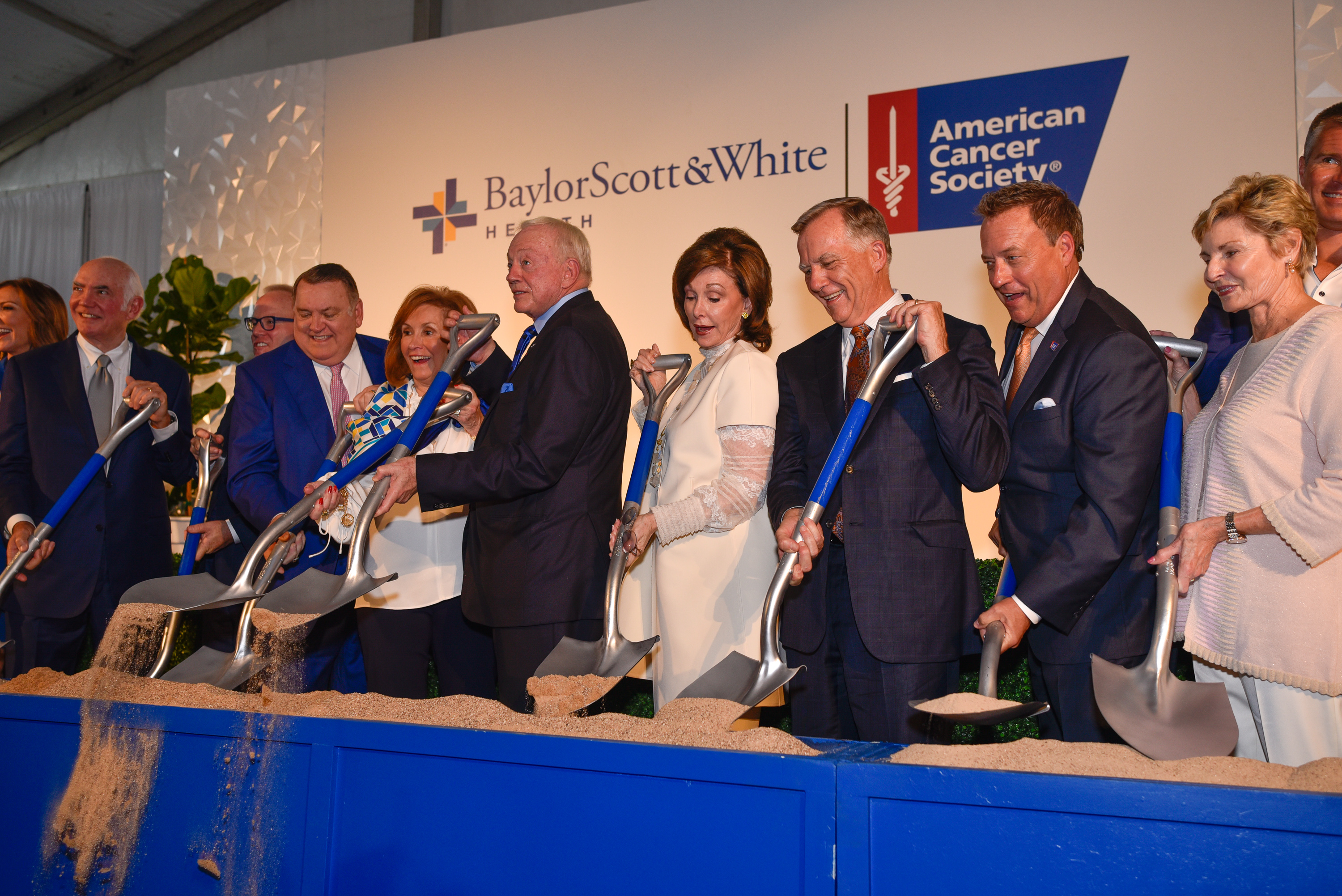 Major donor Jeff York shared his story of being diagnosed with cancer and given less than two years to live. He received treatment at the Baylor Scott and White Sammons Cancer Center and is now cancer free. He descirbed how the facility will provide not only free lodging saving $3 million for patients and their families annually, but also a community of support focused on healing.
Jones described how he always looks to partner with a quality brand, as well as the importance of his family in supporting this endeavor. "Most of what I get credit for are their ideas and execution," he said, describing his family's contribution to their philanthropy.
"The sky is the limit," said Hinton. "We are going to do great things here. The best is yet to come for you and your families."
The American Cancer Society operates 30 Hope Lodge facilities across the country, and has provided 5.6 million nights of lodging for patients and their families since 1984. Other donors include the Don and Trudy Steen Charitable Foundation, Carmen and Jeff York, Moody Foundation, The Horner Family, Mabee Foundation and Susan and Bob Shapard.
Get the D CEO Healthcare Newsletter
Stay informed with a detailed weekly report on DFW's evolving healthcare industry.