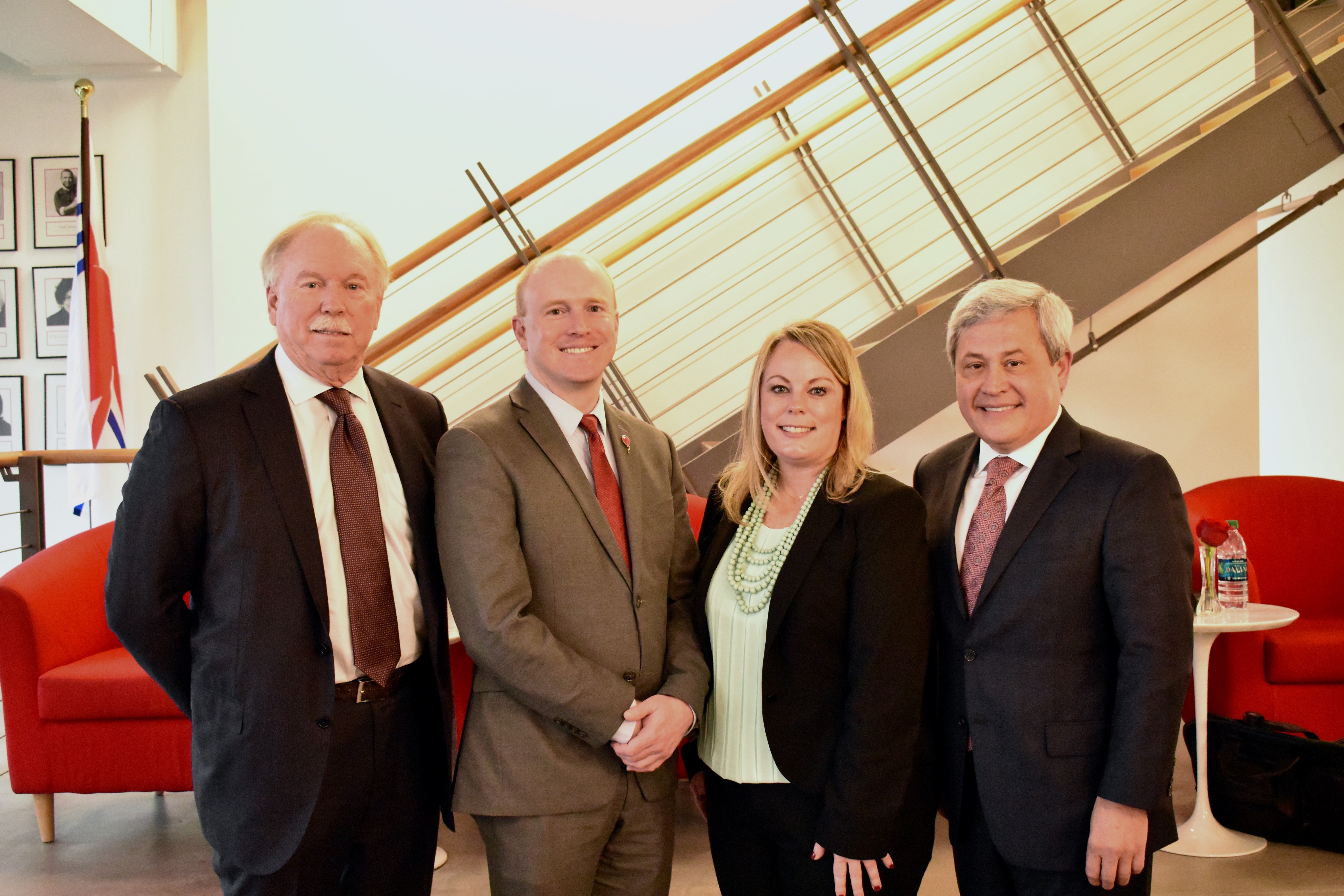 Last Thursday, D CEO Healthcare hosted a packed house full of healthcare professionals to discuss the future of cancer care in North Texas. We had four panelists who elaborated on everything from immunotherapy to how big data is impacting cancer care. With a view from the 21st floor of 750 North St. Paul and several varieties of quiche, it made for a cozy and informative breakfast panel.
Our panelists were Dr. Carlos Arteaga, Director, Simmons Comprehensive Cancer Center at UT Southwestern; Dr. Ted Laetsch, Associate Professor at UT Southwestern, and Director of Experimental Therapeutics Program, Gill Center for Cancer and Blood Disorders at Children's Health; Dr. Steven Paulson, President, Texas Oncology; Melissa Threlkeld, Regional VP of Oncology Services, Medical City Healthcare.
Below are remarks from panelists over the first part of the panel, and have been edited for length and clarity.
Arteaga on the most important development in cancer treatment for his institution:
"The recent discovery of a gene in kidney cancer that is critical for the growth of the kidney cancer cells. Scientists at the Harold Simmons Cancer discovered a drug that inhibits that gene and in doing so kills the cancer cells. It is showing remarkable anti-cancer activity in the absence of any side effects."
Paulson:
"For years in cancer treatment, all we had a was a hammer, and everything looked like a nail. The development of cancer care has led to the ability to aggregate patient information in a large database, allowing us to target therapies and the genetic changes of mutations in the tumor, optimizing the clinical trial for new therapies. The most exciting thing at this point in time is the ability to sequence the tumor tissues and differentiate it from normal tissue and target the therapy based on those changes."
Threlkeld:
"We bring high quality care into the community setting so that patients don't have to leave their home. Also, being able to harness data to treat patients and identify opportunities around trials. We have partnered with a company called Genospace, which allows us to take data out of patients' information system and use that info to identify the most targeted clinical trial for you. The ability to tailor that is something new and exciting."
Laetsch:
"The ability to use the immune system to attack cancer through the use of Car T cells and engineering them in the lab to specifically attack your type of cancer. It was approved by the FDA for the treatment of leukemia, revolutionizing how we think about the care of children of leukemia. Moving to a more targeted immunotherapy is really what the future holds."
Arteaga on justifying the costs of cancer care:
"Some of these treatments we are talking about are curative. You go back in time, there is a disease called chronic myeloid leukemia, and it is now cured by a couple of pills. That has to be put in context of the cost conversation. With competition, those costs are down to the point that we call it affordable. Cost has to put in the context of the value that it has, and that value is a cure."
Paulson on cancer treatment pathways:
"Pathways says that many cancers are similar or behave the same. We try to use this as a basis for treating the patient the same and it justifies the most effective therapies. We use a modification that further stratifies the pathways. First it is about the effectiveness, second, the toxicity, and third we look at the cost to patient of the payer. If anything is curative it is put at the top of the list."
Threlkeld on pathways and the importance of nurse navigators:
Lets take a look at these pathways, and say, 'Are there any modifications that make them more specific?' We can look at how pathways are being implemented across the system and where we may have gaps. We are tying it to outcome data to make sure that we are getting the best treatment possible. We have a robust navigation program with 200 nurse navigators across the country. They are a partner to the patient. Patients are too busy thinking about all the things they will miss, and most patients jump to, 'This is a death sentence.' They can be a resource that can help you in the days that come. They can be that partner along the journey. Pathways are helping collect that data for us. We are always looking at ways to use data to improve patient care that makes a difference in the outcome of the patient."
Laetsch on how Cart-T cell therapy is changing cancer care and how it is different for patients:
"Car T cells are different way of turning on the immune system. They tell the immune system exactly what to attack. We tell the immune system to attack every cell with a certain protein on its surface. We had another 11-year-old girl who had b-cell ALL, the most common childhood cancer. She got standard chemotherapy, and 98 percent of patients respond, but she didn't. She got another month of therapy in the hospital, because it makes risk of infection high, and still didn't respond, so she signed up for Car-T cell therapy.
We give the Car-T cells back, and there are many side effects. The immune system thinks your leukemia is an infection, so patients get high fevers, some can get confused as the immune system attacks the cancer in the brain, and some need to be on a breathing machine. There are real side effects, but they are short term. After a month over 80 percent of patients are in remission. When the leukemia is gone the side effects go away. We haven't had to give any more therapy after that. The standard of care would be two and a half years in therapy, so people ask because it is short. The side effects are different, but better tolerated than the standard of care."
Paulson on the impact of immunotherapy on patients:
"In general, for the average patient comes to the clinic on a regular basis, the side effect profile is pretty different. But hair loss nausea, vomiting, are not expected in that group of patients. We are still learning what that toxicity profile is as we turn on the immune system and crank it up. It may confuse good guys with bad guys, but generally speaking, it is much better tolerated."
Arteaga on how data accumulation can lead to better care:
We are trying to identify patterns. We can be looking at a group of breast cancer patients treated with taxol who happen to be alive 20 years later.  This is a unique situation that points to a phenomenon. Looking at big data is going to allow us to create a new universe that we can interrogate to identify patterns that don't make sense right now. It may point to a genetic alteration."
Threlkeld on how they use data to better serve patients:
"We have over 2 million patients that connect the electronic medical records with a metric system that houses all of our cancer data. We are leveraging to match patents to a clinical trial. Trying to find the right trial for the right patient at the right time. We have a number of pilots across the country, and ask 'how do you leverage tech form a safety perspective?' We have a pilot where the physician can see the patient data from anywhere and can be part of the care team. We have another pilot with transplant patients, where they input data that is sent to physicians on a daily basis and shows them their levels. Physicians have a heads up in case they become ill, and it alerts the physician so that they can intervene.
Healthcare is easy to get if you live in DFW, but is a lot harder to get if you live in a rural area. We can intervene sooner rather than later if a patient becomes ill."
Get the D CEO Healthcare Newsletter
Stay informed with a detailed weekly report on DFW's evolving healthcare industry.