Dr. Ruben Velez began his involvement with the Dallas County Medical Society through its Project Access program, a free clinic that the organization discontinued due to a lack of funding in 2013. So it should come at no surprise that, as DCMS' president, Velez has made improving access to care for underserved communities a priority.
A graduate of the University of Puerto Rico School of Medicine, Velez moved to Dallas for residency in 1978 and did a fellowship in nephrology at UT Southwestern Medical Center thereafter. By now, he's a 40-year veteran of Dallas-Fort Worth's medical scene. He's also the 135th president of DCMS.
On the latter half of the one-year term he started in January, Velez and I sat down in his DCMS office to talk about his priorities and how things are going.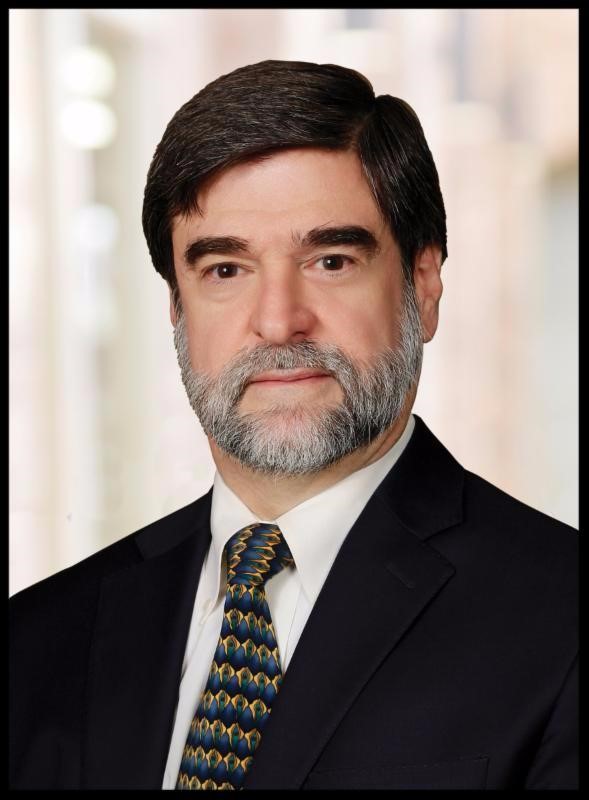 I have not had the pleasure of talking to a nephrologist yet. What got you interested in that area?
Nephrology was one of those topics—renal, the kidneys—was one of those topics that I disliked the most in medical school. I hated it. If you would have told me in medical school I was going to be a nephrologist, I would have laughed so hard. But when you start doing your residency, you get hooked by wonderful mentors. You admire some people tremendously. Nephrology was one of my worst rotations—getting home at 9 and 10 in the evening almost daily—but I loved every minute of it. The mentors I had made it even better.
Do you think your pursuit had something to do with the fact that you struggled with the area in med school—that it was a challenge?
I don't know if God was playing a trick on me. At that time, and I think still now, nephrologists were looked at as some of the brightest people working in the hospitals. Even CMS recognizes that nephrology patients are some of the most complicated patients in the medical system.
In my nephrology world, almost every single system is effected. It's not like I only do kidneys. I do internal medicine, because every single system in my patient is complicated or damaged. I think that attracted me. I wanted to do internal medicine, but I wanted to do something more than internal medicine. And nephrology took me to what I call "super internal medicine."
We usually do these interviews with the new DCMS president at the beginning of the term, but you're about halfway through. Is it going fast for you?
It's going fast. My predecessors have battled some major things, whether it's a hurricane or Ebola or Zika or whatever. So far this year—I'm not going to say what I don't want to say.
A little more even keel.
Exactly.
What's been occupying your time?
Improving the services for our underserved populations, especially in the area. That is still a huge problem. That's how I got hooked with the Dallas County Medical Society. They used to have a Project Access program, which lasted for 11 years and served the underserved population. It was all free. I would go to a clinic once a week or every two weeks, and I would see patients in the clinic. It's a way to give back to the community and people that need it. That has been a major topic, and from there you can start expanding: How do we make our fractionated Medicaid system better?
The other thing—let's call it healthcare workers well-being.
I saw the piece you wrote on physician burnout.
Exactly. At that point, I just talked about physicians. But the same thing is happening to nurses. This healthcare burnout is an epidemic. On the physician side, there is one to two suicides a day in the nation because of physician burnout. I say, what's different now from 40 years ago when I started? We were working hard. I wasn't playing golf. I still work hard, but it's different because now, as physicians, there are so many regulations that you spend most of your day trying to respond to whoever—the government, the payers, whatever—and you take it away from your patients. They're now calculating the time that residents are spending face-to-face with a patient at maybe 30 or 35 percent, and 70 percent in a computer. It should be the opposite.
All these toys what we've developed that are supposed to help us take care of patients better have pulled us away.
Those are some of the factors that are driving independent practices and physician groups to be bought up, as well.
That's exactly it. Too many good physicians, independent practices and small practices, are saying they can't keep up with this. You're increasing regulations, which costs more money, and the reimbursement is going down. Not a good formula. That's where you now have so many people say, 'Forget it, I'm going to retire or I'm going to sell to a hospital or to a huge clinic, because I just can't keep up with this.'
Do you see any recent proposals as encouraging initiatives that could reverse those trends?
The government and CMS are well aware of physician burnout, but also healthcare burnout. Healthcare is a team sport. As a physician, I'm as good as my team is. I'm no better than my team is. We have fractionated healthcare in many ways, and despite all the tools we have, I've never seen healthcare as fractionated as it is today, and it's sad.
But I think Washington and CMS understand this. There's already talks about decreasing all these regulations, especially the unnecessary regulations. They're beginning to think of deregulating so that people can spend more time taking care of patients.
What do you mean by fractionating?
Thirty years ago, you had a primary care physician or an internist or a family practitioner, and he was the one who would contact me and say, 'I need to refer Shawn for an evaluation.' He was the same guy who would admit you to the hospital, and take care of you at the hospital, and take care of you when you leave the hospital and go back to his office. This was a nice nucleus.
Today, completely different. That primary care physician does not take care of you at the hospital; a hospitalist takes care of you. That hospitalist calls whoever they want. They don't call your primary care who has been taking care of you for the last 10 years. Suddenly, you have two or three kidney specialists. You have several primary care physicians. And when you leave, although some hospitals do it better than others, some of that information may get there or may not.
Another part that's fractionated—and this may change in the future—all of the electronic systems don't talk to each other. It's speaking French, talking to a German, talking to an Italian. There's no communication.
What are your impressions from your trips to Washington to talk to lawmakers and leaders?
They don't have this concept of team play. I don't think any lawmaker, leader is there to cause harm. And they come with good ideas. The problem I have seen is that if you don't have the right people at the table at the beginning, a good idea becomes a bad idea because they did not think of the consequences. … Communication should flow down and up. The people in the trenches have many of the answers to your problems. If you don't listen to them, you're going to get further apart.
That's what's happening in Washington, and it's happening in Austin. What we're trying to tell the politicians is, hey, it sounds like a great idea. But let's just have the patients at the table, the nurses at the table, the physicians at the table, and let's see if we can answer all the issues before we push this through.
Get the D CEO Healthcare Newsletter
Stay informed with a detailed weekly report on DFW's evolving healthcare industry.