This Has Been A Very Bad Flu Season, and Texas Appears To Be Ground Zero
On Friday, Dallas County Health and Human Services confirmed flu-related death numbers 53 and 54 on the season. The patients were 61 and 84 years old. As is often the case, both were already afflicted with high-risk health conditions, and died of complications related to the seasonal flu.
This year's fatality total is higher than the last three seasons combined, and one less than the 2013-2014 season, when 55 people died. The deaths are only one metric of a torrid flu season, however, and there's another that might better show just how bad it's been here in Dallas-Fort Worth and Texas at large.
Let's turn to the Walgreens Flu Index, which is based on retail prescription data related to antiviral medication used to treat the flu. It's meant to measure the number of incidents, not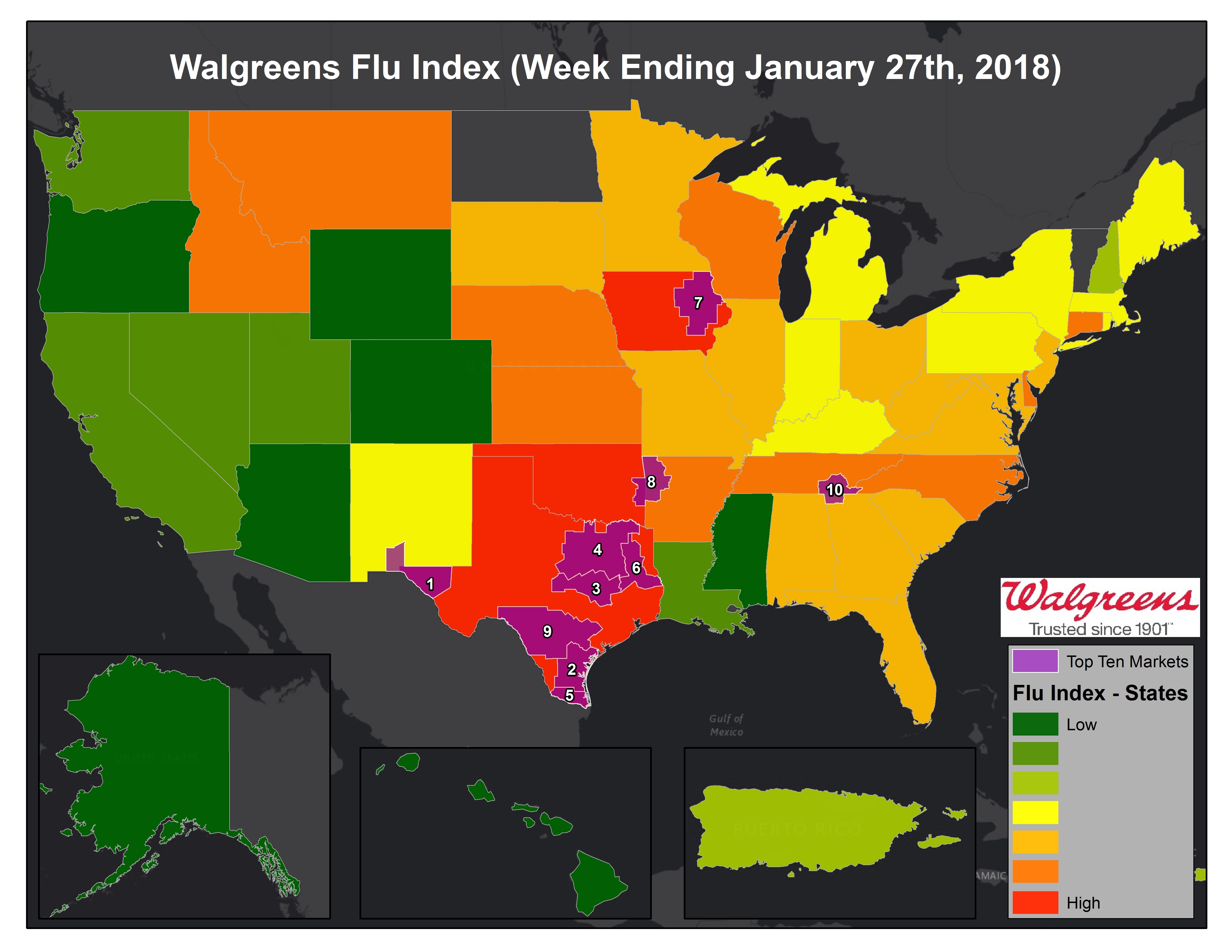 necessarily the severity. Last week, Dallas-Fort Worth registered as the market with the fourth-highest flu activity, topped only by El Paso, Corpus Christi, and Waco-Temple-Bryan. To be clear, this is a national index. Yet of the top 10 markets, seven are here in Texas. (The index does not include markets in which there are less than 10 Walgreens locations, but that doesn't rule out much, according to this map.)
Not surprisingly, when broken down by state, Texas has the highest flu activity, followed by Oklahoma and Iowa.
At a weekly briefing Friday, Center for Disease Control and Prevention acting director Anne Schuchat told reporters that across the country, flu hospitalizations are the highest they've ever been in less than a decade of tracking. The spread of the illness, she said, as of yet shows no signs of slowing down. We're only about halfway through the flu season, which typically peaks between December and February but can continue as late as May.
Walgreens' index says DFW activity hasn't slowed, either; the market was also ranked fourth last week among the markets with the highest gains in flu activity. Meanwhile, the ambulance service MedStar says flu-related call volumes are still considerably up from two months ago. The service saw 1.8 flu cases a day in November, 6.5 cases a day in December, and 17.5 cases a day in January. Mercifully, however, the service said in an update over the weekend that the daily volume "appears to be leveling off." Let's hope so.