Medical City Healthcare Participates in March of Dimes' March for Babies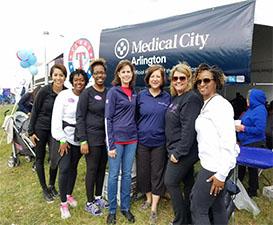 Medical City Healthcare hospital caregivers and patients' families walked at the March of Dimes' March for Babies around North Texas this past weekend. Separate walks were held in Dallas and Fort Worth to raise funds for research and programs to battle premature birth and birth defects.
According to Medical City Healthcare, premature birth occurs when a child is born before 37 weeks of pregnancy. It is the leading cause of death of babies in the U.S., and affects around 15 million babies globally each year. Research shows that those who are able to survive suffer lifelong health issues such as chronic lung disease, poor vision, hearing impairment, cerebral palsy, and neuro-developmental disabilities.
Medical City Healthcare partnered with the March of Dimes, a nonprofit organization geared toward improving the health of premature and ill babies, on a nationwide research project that focused on preventing early elective deliveries (before 39 weeks) to improve survival outcomes. Medical City Healthcare's parent company, Hospital Corp. of America, was also involved. These findings and other HCA research led the hospital provider to develop a pioneering clinical protocol to reduce early elective deliveries.
Medical City Healthcare has seven hospitals—Medical City Dallas, Medical City Alliance, Medical City Arlington, Medical City Las Colinas, Medical City Lewisville, Medical City McKinney, and Medical City Plano—with high-level neonatal intensive units installed to help premature babies overcome medical challenges. Medical City Dallas is currently its only hospital to have the highest level designation of a Level IV NICU.
The 2017 Dallas walk raised around $800,000 of its $1.5 million goal, while the Fort Worth walk raised around $650,000 of its $1 million goal to-date. As part of the partnership, HCA will give $1.5 million to the March of Dimes over three years.
Zach Mueller, incoming chief nursing executive of Medical City Healthcare and current Medical City Dallas chief nursing officer, says the hospital system supports the March of Dimes initiative to improve the health of babies and mothers. "Last year, caregivers in our NICUs provided vital medical care to more than 2,000 babies in North Texas," Mueller told D CEO Healthcare. "We look forward to our continued partnership with the March of Dimes to help ensure that more babies get a healthy start in life."