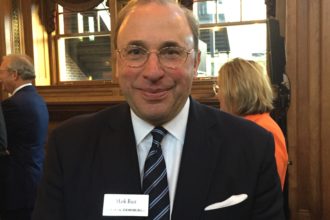 There's no plan in place yet to replace the Affordable Care Act, a legal expert on the law said in Dallas. But once it happens—and it will—the replacement law is very likely to include insurance protections for people with pre-existing conditions, a block-grant-like procedure for Medicaid expansion, and some sort of mechanism, such as tax credits, to subsidize premiums.
Those were some of the predictions of Mark E. Rust, an attorney specializing in the ACA with the Chicago office of Barnes & Thornburg LLP. Rust, the firm's Chicago managing partner, participated in a Jan. 26 panel discussion titled "What to Watch For in the First 100 Days of the New Administration and Congress." The discussion at Old Parkland was presented by Barnes & Thornburg, which has an office in Dallas, and also featured Robert Grand, the firm's Indianapolis-based managing partner. Grand was on the executive committee of Vice President Mike Pence's Indiana gubernatorial campaign and served on President Donald Trump's inaugural committee.
Rust, a past chair of the law firm's national healthcare department, also said that under the Obamacare replacement law, the measure's mandate provision "will probably go by the wayside." In addition, he said, the replacement is "undeniably going to" include a provision allowing insurers to sell healthcare policies across state lines.
The lawyer said that for the last eight years he's been "dealing with the slings and arrows" of Obamacare, which he described as an incredibly complicated, 2,400-page law that was laden "like a Christmas tree" with special provisions for favored interests. "When the train starts leaving the station, that's when it's important to have a friend in Washington," Rust said. Under President Trump, he concluded, "We're still going to be able to get healthcare, and the whole world will not go down in flames."
The panel discussion at Old Parkland also featured Dallas business people Ray Washburne of Charter Holdings and Roy Bailey of Giuliani Deason Capital Interests LLC, both of whom were active in the Trump campaign.
Get the D CEO Newsletter
Stay up to speed on DFW's fast-moving business community with weekly news reports, interviews, and insights.