Dallas Regional Chamber Honors Texas Health Resources Presbyterian For Ebola Response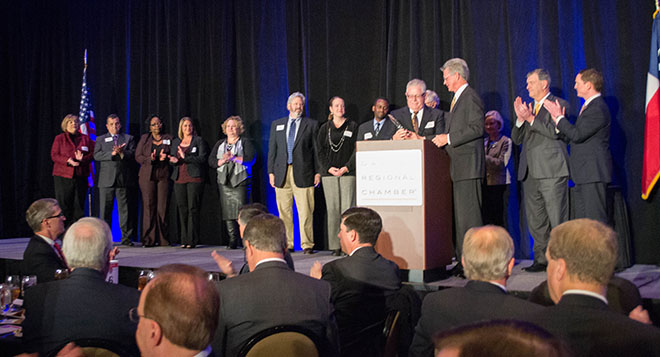 About a half hour before Mayor Mike Rawlings announced plans to run for reelection, Barclay Berdan, CEO of Texas Health Resources, was center-stage on Tuesday at the Sheraton downtown, flanked by more than a dozen staffers representing the 100-plus caregivers who helped treat the three Ebola patients in October.
The Dallas Regional Chamber presented the caregivers of Texas Health Presbyterian Dallas with the Courage of Public Service Award, an annual recognition that honors groups or officials who "demonstrated significant leadership on important issues." The award was presented during the Chamber's annual State of the City address, which is given by the mayor each year.
"The medical staff, the nursing staff, the ancillary staff, and the support staff of that hospital performed heroically," said Dr. Stephen Mansfield, CEO of Methodist Health System, who presented the award. "Many of their stories, we'll never know. But I can imagine. And I know that you can too as well, with the things that they went through the things, the challenges that they had, being the first hospital in America to deal with an Ebola patient."
Thomas Eric Duncan, the nation's first Ebola patient, was treated at Texas Health Presbyterian. He was initially discharged, his symptoms misdiagnosed as sinusitis. He returned three days later in the throes of the virus and was diagnosed and isolated. He would be treated at Presbyterian until he died.
Two nurses who treated him, Nina Pham and Amber Vinson, were also infected with the virus. They were initially treated at Presbyterian and later taken to a National Institutes of Health facility in Baltimore and the Emory University Hospital in Atlanta, respectively.
"'I'd like to really recognize the well over 100 caregivers who were involved in the care of our three patients who were infected with the Ebola virus," Berdan said. "And really the hundreds of others throughout Texas Health Resources particularly at Texas Health Presbyterian hospital Dallas who assisted those caregivers."
He then asked representatives for nearly every segment of the hospital to join him onstage. Texas Health Resources Board Chair Anne Bass and Presbyterian Hospital Board Chair Stan Rabin walked up first, followed by physician representatives all the way to nurses to hospital security.
Berdan thanked Mayor Rawlings, County Judge Clay Jenkins, the Dallas County Medical Society, and the other hospital systems throughout North Texas, including Baylor Scott & White Health, Methodist, and Parkland Health and Hospital System.
"They all offered their support publicly and privately and we appreciate it very much," Berdan said. "There were many early mornings, late nights, and a lot of sleepless times and we all shared those together. And we're closer to one another as a part of that process."