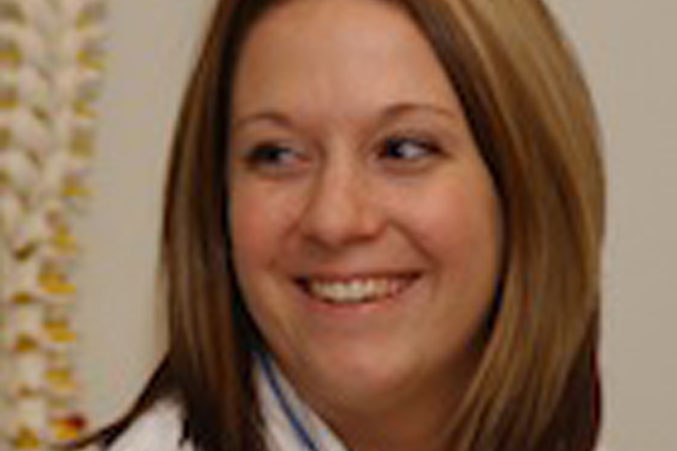 UNTHSC Master's Program 'a Hoop of Fire' to Med School

Kristen Taylor McCormick, who is graduating from the Texas College of Medicine (TCOM), landed her top choice of graduate medical residency this month at Northwestern Memorial Hospital in Chicago.
She has the Master of Science in medical sciences (Med Sci) program at the University of North Texas Health Science Center (UNTHSC) in Fort Worth to thank for that.
Since 1999, UNTHSC has built an academic bridge between undergraduate education and medical school. Med Sci has graduated more than 600. The rigorous 12-month program is designed to bolster credentials to win acceptance to medical schools. Students take classes in biochemistry, cell biology, physiology and pharmacology.
"I expected it to be like undergraduate school (at the University of North Texas-Denton), but it wasn't. It was like medical school. We were asked to jump through a hoop of fire."
McCormick said she was "devastated" after being turned down for entry to medical school. An adviser told her about Med Sci and she applied the same day. She said the program was harder than the first year of medical school and gave her the academic confidence to get involved in extracurricular activities in medical school rather than bury herself in her studies.
"The program has a lot of respect around the United States. They (medical schools) like the way we are prepared and that we take it more seriously. There was a lot of pressure to perform. They like that we know what we're getting into," she said.
Patricia Gwirtz, professor of integrated physiology and Med Sci program director, said it is one of a "handful" of similar programs in the U.S. However, the school's coursework in structural anatomy makes the UNTHSC program distinctive.
"Students are in a cadaver lab. They love it. When they take anatomy (in medical school), other students are asking them questions because they have already been through a lab," she said.
Nearly 3 out of 4 of the program's graduates were accepted to medical school. Of those earning a grade point average of 3.5 or higher, nearly all were admitted. Gwirtz said Med Sci students have to have achieved a competitive score on the Medical College Admission Test (MCAT) to be admitted to the program. The average score for the Med Sci program participants is 25, compared with an average score of 28 for a successful applicant to Texas College of Osteopathic Medicine (TCOM). The program also offers a class that prepares students to achieve higher MCAT scores.
In 2011, more than half of those who went on to Texas medical schools enrolled at TCOM.
Gwirtz said, "They learn more than just the basic sciences. They learn how to be successful as a student, how to study and how to manage time. They learn that medical school and graduate school are different from undergraduate study. They don't have time for extracurricular activities. Changing that mentality is critical to being successful in medical school."
Steve Jacob is editor of D Healthcare Daily and author of the new book Health Care in 2020: Where Uncertain Reform, Bad Habits, Too Few Doctors and Skyrocketing Costs Are Taking Us. He can be reached at [email protected]