It would be difficult to envision a bigger healthcare economic development plum than Christus Health.
The 10th largest nonprofit hospital system in the country decided earlier this year to consolidate its headquarters in Irving. It previously had four corporate offices—two in Houston and one each in San Antonio and Irving. The company has 32 hospitals.
Locally, the Christus Health headcount will skyrocket from 70 employees to more than 1,000 by the second quarter of 2013. The company has held two job fairs locally to hire more than 600 employees to replace those who chose not to relocate.
Ernie Sadau, president and chief executive officer, said he has been impressed by the quality of the local healthcare workforce, and that the interest in Christus has been "humbling."
After taking the reins as CEO in early 2011, Sadau approached the board of directors about consolidating the headquarters locations. He estimates that Christus will save about $60 million over 10 years in leasing expenses, travel costs and from increased productivity.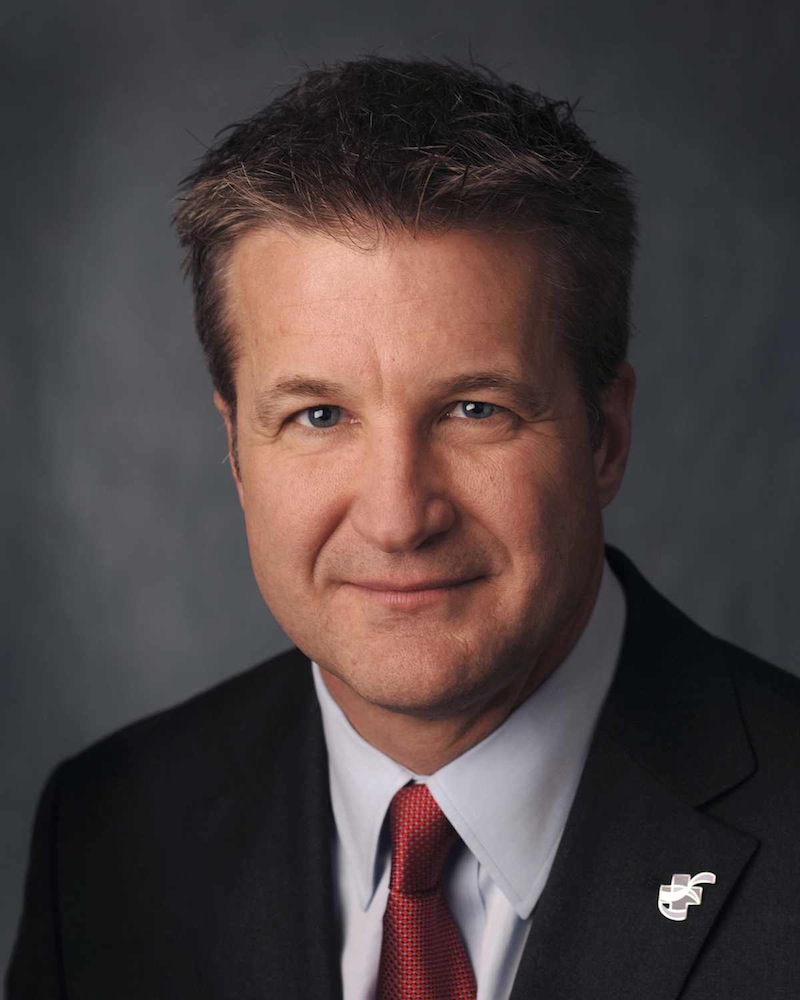 The company also considered Houston, San Antonio, and Austin before selecting Dallas-Fort Worth. Sadau said several factors were considered in the selection, including access to healthcare and information technology workforce, the airport's access to international destinations, quality of life, cost of living, and amenities.
Christus Health is renovating a 210,000-square-foot space in a building previously occupied by Verizon Communications in Las Colinas. The company is moving in three phases. The first phase was what Sadau calls the "backbone" of the company: IT, accounting and finance. The second phase, slated for this month, includes executives, human resources, payroll, and supply-chain management.  The final phase, at year's end, will involve legal counsel, internal auditing and corporate compliance.
"Desination Points" for 2020
Christus Health is the largest non-profit healthcare provider in Texas and the second-largest private healthcare provider in Mexico. The company has annual revenue of about $5 billion and employs 30,000 in seven states and Mexico.
Sadau said Christus has three "destination points" for 2020: greater clinical integration, asset growth, and diversifying the company geographically. He believes the company potentially could add another $2 billion in assets during the decade, and says Christus is exploring expansion opportunities in three or four Latin American nations.
Earlier this week, D Healthcare Daily reported Christus' joint-venture agreement withPontificia Universidad Católica de Chile, Chile's largest medical school and one of that nation's largest health systems.
Growth and ongoing consolidation is consistent with the imperatives with health reform, Sadau said, adding that the Affordable Care Act provides a platform for "the energy and passion for clinical integration" for its 300 physicians and mid-level clinicians.
Steve Jacob is editor of D Healthcare Daily and author of the new book Health Care in 2020: Where Uncertain Reform, Bad Habits, Too Few Doctors and Skyrocketing Costs Are Taking Us. He can be reached at [email protected]
D CEO Healthcare Newsletter
Stay informed with a detailed weekly report on DFW's evolving healthcare industry.