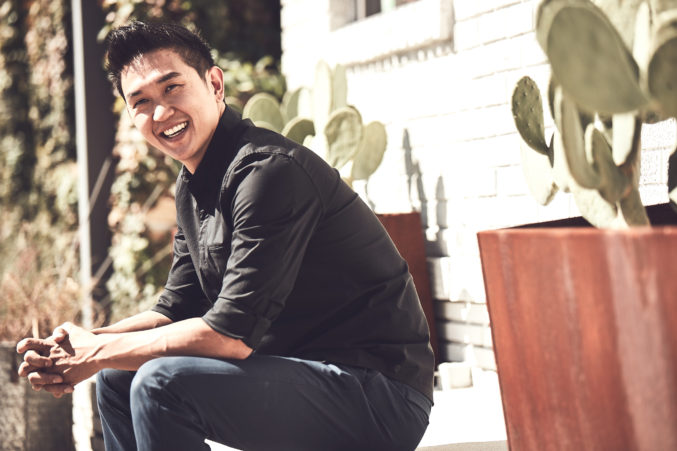 Meet Your Favorite Fitness Instructor's Secret Weapon
Dr. Blake Wu, owner of The Sports Pod, is breaking a common chiropractor stereotype.  
Earlier this month, Doctor Blake Wu was on a mission: to attend as many local fitness classes taught by his fellow NorthPark Lululemon Ambassadors as possible. And though that particular goal was relatively specific, making an effort to hit up a variety of workouts is business as usual for the chiropractor and owner of The Sports Pod, whose clients include some of the top instructors in Dallas.
"One of our core values is giving back to the community. A lot of instructors come see us and support us, so it's like, we're going to come support you," says Wu. "Last night, we went to a fucking ballet class taught by Caroline Berko. It was great."
Fitness instructors and trainers aren't Wu's only clients, but they do make up a solid amount. (Wu believes "patient zero" was a group of Equinox trainers he once gave a talk to.) Ella Leupold, who teaches cycling at Class Studios and Pilates at Session, discovered Dr. Wu through fellow instructors about six months ago. "I knew something was wrong with my shoulder and it was getting progressively worse the more I was working on it," says Leupold, who'd visited several chiropractors in the past. "Dr. Wu did a full body analysis of my motion — they're really movement specialists — and found that my pec muscles were overcompensating and pulling my shoulders forward. Afterward, it was incredible. I've never been able to open up my shoulders like that before."
Unlike the majority of chiropractors, who may make clients feel they'll never be able to stop coming in for visits, Wu wants the opposite. "I want you to get the fuck out of my clinic and be better. I want to educate you as much as possible," says Wu, who typically gives his clients "homework" after a body analysis. "If you work on your own issues, you're going to do more in a month than I can ever do in a session."
That homework includes a variety of things — usually painful. There's "smashing," where you apply pressure by rolling something like a lacrosse ball over muscle tissue. Personally, Wu suggested I lie back on a foam roller and open my shoulders for 90 seconds, which is a lot longer than it sounds.
In addition to athletes or instructors, Wu also sees a good amount of Dallas hairdressers, whose long days on their feet can lead to painful back issues. "I actually had several clients in my chair talk about him," says Beau Bollinger, owner of Hairstory Studio on Henderson Avenue, who had also worked with various chiropractors before Dr. Wu. "He really helped me out with my lower back. I was hooked right away." Bollinger's "homework" includes spinal decompression for five to seven accumulative minutes per day. "I put rings in the back of my salon that I hang from between clients," adds Bollinger.
Wu is hopeful more people — athletes, hairdressers, or not — seek him out. "I think people are more health conscious now. Like, why the hell am I eating this, or how do I exercise correctly?" he says. "We have such little time these days. We need to make the time we do have for fitness as optimal as possible. You can't be effective with a bum shoulder or back."
But like most things worth doing, a Sports Pod visit is far from comfortable. "Anytime anyone asks me fore recommendations, I can't endorse him enough, but I always warn people it's going to be super painful," says Leupold. "If you're serious about fixing something, though, it's the best."