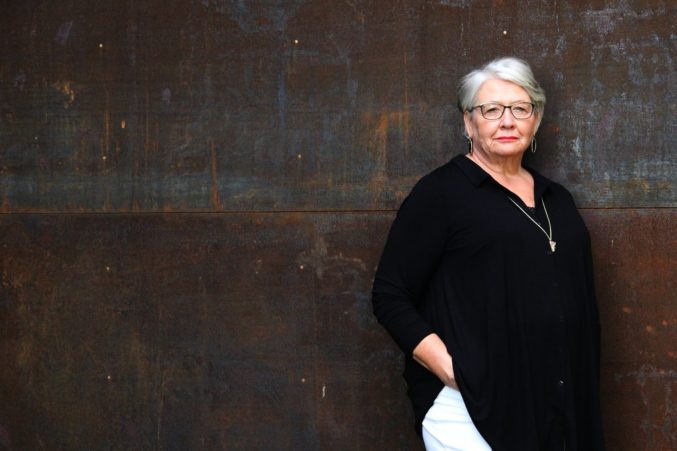 Dallas' Suzanne Stabile Dedicates Her Life to Enneagram Education
Because of her work, the ancient personality indicator has gained international traction.
Pulling off Midway Road, I swung my navy Nissan Pathfinder into the parking lot of the Micah Center. As I turned off my car and the hum of my engine faded out, so did the voice of Suzanne Stabile. Over the last year, Stabile's voice has boomed through my speakers and become the soundtrack to my life. Trademarked by her Texas twang and contagious chuckle, Stabile's podcasts and audiobooks about the Enneagram have been the force guiding my latest bout of self-discovery.
On the surface, the Enneagram is a personality-identification system with nine distinct types, but to its students, the Enneagram is a source of wisdom that helps us understand that we all see the world differently, and, consequently, act from different motivations. This increased awareness makes us more empathetic towards others' behaviors, and helps us to adjust our own.
Each of the nine numbers on the Enneagram has a set of typical behaviors associated with the type's motivations. For example, I'm an Eight on the Enneagram. As an Eight, I'm motivated by the desire to be strong, which leads me to being assertive. While my Eight-ness pushes me to work hard and achieve my goals, it can also cause me to overlook others' feelings, and sometimes even my own. Although I can't change my motivations, the Enneagram has helped me understand where my actions stem from, so now I can check my behavior and control my impulses.
When I arrived to meet Stabile, I was hyper-aware of my behaviors. I was trying to act a bit more mellow than I'm naturally inclined, but my personality was still visible. I power walked over to her and offered a firm handshake.
"Hello, Mrs. Stabile," I said steadily.
Stabile grinned, and with gentleness in her voice said, "It's Suzanne."
Her response was no surprise to me. Stabile openly shares in her books that she's a Two on the Enneagram. Motivated by the desire to be loved, Twos are helpers and have a warm and sincere personality.
Stabile is an internationally acknowledged Enneagram teacher and acclaimed speaker. She first learned about the system from her spiritual mentor, Fr. Richard Rohr, and intuitively understood the tool from the start. She took five years to study the Enneagram before she began teaching others. Now, she travels around the country educating others on the Enneagram (she's taught over 500 classes in the last 25 years), but the SMU grad calls Dallas home. In 2016, Stabile co-authored the Enneagram primer, "The Road Back to You," with fellow master Ian Cron, and in 2017 she started the podcast series The Enneagram Journey. This year Stabile released a second book called "The Path Between Us," which is about using the Enneagram in relationships. The first weekend in June, Stabile traveled to New York City for a book signing for "The Path Between Us." 16,000 Enneagram students and fans came to meet her.
"I still teach basic Enneagram courses, but the work that I love is applying the Enneagram to real life situations," Stabile says. "So now that you know it, what are you going to do with it? Is it just going to be cocktail talk, or is it going to be wisdom to help you have a healthier relationship with yourself and others?"
The Enneagram dates back to the fourth century, and was an oral tradition until the 1970s, when Oscar Ichazo officially coined the "Enneagram of Personality" people work with today. With Stabile's international work, the Enneagram has gained a significant following in the past two years. "If something has lasted for 3,000 years orally, there must be something to it," Stabile says.
Although Stabile sees the value in other personality indicators such as Myers-Briggs, she believes the Enneagram is the most effective tool because it does more than give you a static type. "I'm an ENFJ on the Myers-Briggs. So, E means I'm an extrovert instead of an introvert. I can't do anything about that," Stabile says. "But I'm a Two on the Enneagram, and when I'm stressed as an extrovert, I get too involved in other people's lives, and I set up ways intuitively and without thought for people to depend on me. Once that's named, and once I know that, I know how to do something with that."
Stabile doesn't believe taking a test to learn your Enneagram number produces an accurate result because tests don't have the ability to deeply assess core motivations. Rather, Stabile suggests learning the system in person or through an Enneagram introduction book is the most effective — she also advises students not to overemphasize its significance. "It is dangerous to think that it's more than it is – It's just one piece of wisdom. There's a lot of wisdom out there, and the more wisdom, understanding you have, and the more you can put together, the healthier you are," Stabile says.
When combined with other wisdoms, Stabile believes the language of the Enneagram is so valuable that it could even help to mend our polarized world. "I think we're struggling in the last six, seven or eight years with some more dualistic thinking, and I think that's coming from religion and from politics," Stabile says. "I think the Enneagram can bridge that in small groups, and then I think that spreads. Anytime it works for a small group, it can work for a big group." 
As my time with Stabile drew to a close, we made our way toward the door. The front room of the Micah Center is decorated with books written by Stabile and CDs burned with her teachings. Before I left, Stabile insisted that I take a CD with me. Independent and self-sufficient, Eights, don't feel the need to be helped. I resisted her initial offer. "Oh that's ok," I said slightly awkwardly. But then I remembered: Stabile is Two on the Enneagram and thrives off serving others. I snapped into action and conceded. "Actually, I'll take one." I said. After she handed me the CD, true to form, I reached for a concluding handshake. Stabile ignored my hand, and true to her form, gave me a hug. Because of the wisdom the Enneagram has given me, I knew I needed to let down my guard. I relaxed into her arms, accepting her hospitality, and feeling much happier than if I'd proceeded with my natural tendencies.