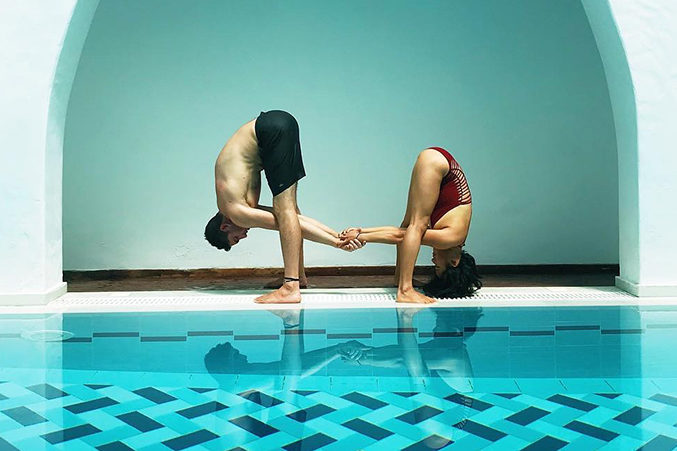 A Conversation with Dallas' Most Flexible Couple
Acroyoga celebs Max and Liz Lowenstein have made a career out of togetherness. Sometimes in matching leggings. Sometimes in the buff.
Max and Liz Lowenstein may have been put on this earth to "spread love and light," but scroll through their Instagram and you will probably do as I did: wonder why your significant other doesn't "fly" you or wear matching patterned leggings or play a crystal sound bowl while you float your legs up into a pencil-straight handstand. Max does all of these for his wife, Liz. (Lord be with you if you're scrolling while single.) 
The couple teaches at The Yoga Movement on Mockingbird when they're in town, though more than half the year they're on the road teaching at festivals around the world. In March, a video of them acroyogaing on an airplane went viral. Hoping to find out more about the couple behind the gravity-defying yoga feats, I spoke with Max about the couple's meet-cute moment, their biggest spats, and what he would do at gunpoint. [Note: I'm not sure why Liz didn't join in on the interview. I heard her in the background a couple times, so I can only imagine she was upside down and unable to hold a phone.] 
D Magazine: How did you get into acro?
Max Lowenstein: I found it in Miami. One of my teachers took me to a studio that wasn't my home studio, and they had acro there. I love being able to support people emotionally but also physically, and this is a really great physical way to support people. Then, someone flew me, and I felt really supported. I was like, "I can give this. Really cool."
D: How did you meet Liz?
Max: I met her on my first weekend in Dallas four and a half years ago. We're both dietitians, and I was doing my Masters in clinical nutrition, and Liz's roommate was the year above me in class. Because I was the only dude in the program, and because I was a yoga instructor—and Liz was really into yoga—her roommate was like, "Hey, there's this yoga instructor that I think you'd really like in my program." We just started doing yoga together, like, we bought a bunch of Groupons.
D: Have you been doing acroyoga together since the beginning?
Max: We have, yes. Just shortly after we started doing yoga together, I asked Liz to be my acro partner. I introduced her to acro, and the rest is kind of history. Now we travel for six to eight months out of the year, and festivals reach out to us to teach. People book us for privates or events.
D: Where was your wedding?
Max: In Maui. We had four of our best friends come with us to assist the festival we were teaching at in Maui, and we were staying with one of my really good friends who lives on Oahu. When we decided to get married, I asked him if he would get ordained and fly over to Maui to marry us, and he said yes. One of my friends lived on Maui, so we had him come as well. Then, there's this random dude that just played a boombox, and like the bongos. He gave us some mangoes, our only wedding gift. That was our wedding.
D: Was it kind of spur-of-the-moment, the wedding?
Max: Technically, Liz asked me to marry her, because a friend was like, "You should get married." Liz was like, "Let's get married," and I was like, "Okay." So, she proposed to me. And it was like from the minute Liz said, "Let's get married," 48 hours later, we were married. This was about a year ago.
D: What did you guys wear for the wedding?
Max: I was trying to find a common denominator, like, what do all of the dudes have? The only thing that all the dudes had that was similar was black swim trunks, and Liz found like a $30 dress. It was on sale at this posh boutique. It had, like, a broken strap. You can still see the pictures on our Instagram. It was absolutely beautiful and the person we were staying with, my friend, he was like, "By the way, my new girlfriend is a wedding planner for celebrities," so she planned our wedding for us. She went around and got the flowers from all over the island, and made flower crowns and bouquets for us. It was really sick.
D: I saw an Instagram post where you wanted to get a crystal sound bowl and Liz didn't, but then she ended up "jamming to it all day." I just imagine that these are the worst fights you have, like, squabbles over singing bowls.
Max: Yeah, kind of. People don't realize, acroyoga is the yoga of trust and communication and connection, so we never really fight—like, ever.
D: I saw another Instagram of you guys on a plane several weeks ago. Was that the first time you've done something on a flight?
Max: Nope.
D: How does that work? Do you just ask the flight attendant if you can acro in the aisle?
Max: We don't ask a whole lot of questions, to be honest. Early on in our acro career we actually asked the flight attendant, and one of them was like, "No, you totally can't do that." That was really the last time that we asked.
D: What are the best airlines to acro on?
Max: There are no best. I would not recommend anyone acro on airplanes. We're professionals. We do this for a living. The stuff we do, like, I could do this if you woke me in the middle of the night and had a gun to my head and were like, "Yo, do this move or your time is up." I could do it, on the spot, no warm up, dazed and confused, with adrenaline pumping. If you're just learning acro, and you feel like you want to try it on an airplane, I mean, it could be dangerous. Even though I'm doing a very easy move, there's people right next to you. You can't fall, and this space is really tight. Even especially for me, a larger base, my shoulders are, like, touching the seats next to me. I'm super careful. We're completely in our comfort zone, but I would not recommend anyone else doing this.
D: Was there a turning point in your career at all or has your following just built over time?
Max: We just really want to spread our love, spread light, show people what this healing practice is. It's very organically building and growing. At first, I finished school, Liz quit her job, and we just started. You know, we just kind of closed our eyes and took the leap. People dig what we're putting out there and we're very honored. We're very blessed. We're very grateful that they continue to invite us places, and just want to receive the message.