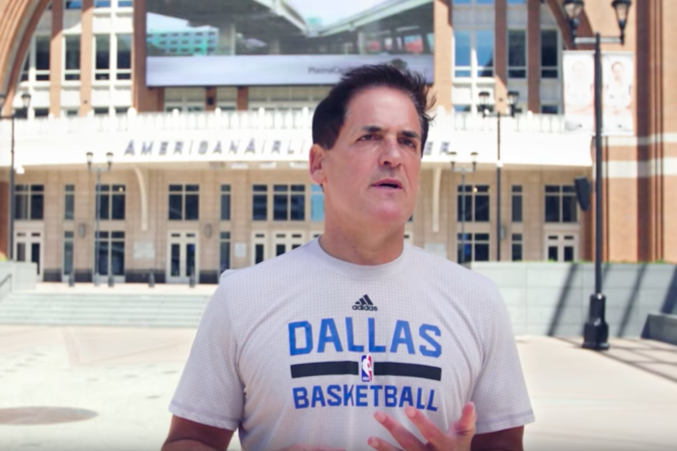 Mark Cuban Has Been Working Out a Lot Lately
And seemingly can't resist a post-workout pic.
With the Dallas Mavericks under investigation and their regular season tank complete (hey, hey! 13.8 percent chance for the No.1 pick!), Mark Cuban may very well want to blow off some steam. And blow off steam he apparently did!
For a girl who doesn't actually follow Mark Cuban on Instagram, the Mavs owner made pretty frequent appearances on my feed and Instagram stories last week. First, he popped up in an Instagram story by Rise Nation, after taking their newly introduced Level 2: The Climb. The team at Rise Nation highly recommends class goers take the Level 1 into to get used to the VersaClimber before proceeding to Level 2, and maybe Cuban did. But given that the first documentation of his affinity for cardio climbing places him squarely within the time frame for the 5:30 p.m. Level 2 with the excellent Mercedes Owens (plus, a coworker also saw Cuban there for the class), I think not! Cuban's just throwing caution to the boutique fitness wind, I guess.
Cuban's second appearance was also Rise Nation-centric, but it came in the form of a much more permanent Instagram repost by the Knox District studio from the man himself. There are a couple of things to note here. The first, is that — if we are to assume that he posted immediately after class — Cuban took the class on Saturday, which he means he could have taken Level 2 with Owens again. Her music choices are exceptional, so I get it! And secondly, any current opinions of the businessman aside, it's kind of endearing how he accidentally screwed up Rise Nation's wall of social media self promotion by taking a selfie. Such a dad move!
Then, last Tuesday, I was bombarded with posts (okay, two posts) of Cuban post-workout from both West Village and Class Studios, where he and Mavs forward Dwight Powell took a class with — you guessed it! — Mercedes Owens. Owens teaches spin at the newly opened West Village studio, so I guess it's nice to know that Cuban mixes up his cardio game.
I guess the takeaway here is that Cuban works out publicly sometimes (and may have replaced the StairMaster with the VersaClimber). If for some reason you wanted to work out alongside him, you now have a pretty good sense of where you might find him. If nothing else, everyone will hopefully go experience the excellent instruction of Mercedes Owens now.