Clean Beauty Pioneer Follain is Coming to Dallas
The OG natural beauty boutique will make its Texas debut on Knox Street.
Earlier this week, we made the hopeful prediction that after Dallas' big year in beauty, even more retailers would expand to the city in 2018. Today, our natural beauty-loving prayers have been answered by Follain, the New England-based clean beauty pioneer, who announced they'll be opening up a shop on Knox Street this fall.
Founded by Tara Foley in 2013, Follain was a way for the beauty junky to make a difference in the industry. "I began researching fitness and nutrition when I started going on my wellness journey back in 2009, and was super surprised by the things I was reading," says Foley. "When I told my friends and family members there were bad thing in their beauty products, they had no idea either." Her first thought was to go back home to DC, and get involved on the policy side, but Foley, who had received degree in public policy from Trinity College, knew the process could take years. She decided a business would be the best way to bring change.
Foley spent years getting up to speed on the natural beauty industry, working on a French lavender farm, followed by an apprenticeship with a private label skincare label, then finally, she returned to school and received her MBA from Babson College. "We opened our first little store in Boston's South End during the summer of 2013," says Foley. "We were really the first of its kind."
This year, Follain will begin opening stores across the country, beginning with Seattle, the DC area, and Dallas. "We carry 75 brands, and the vast majority of those brands don't have a lot of exposure in Dallas," says Foley. "It's one of the most cosmopolitan and educated cities in the country, so Dallas is an easy void to fill."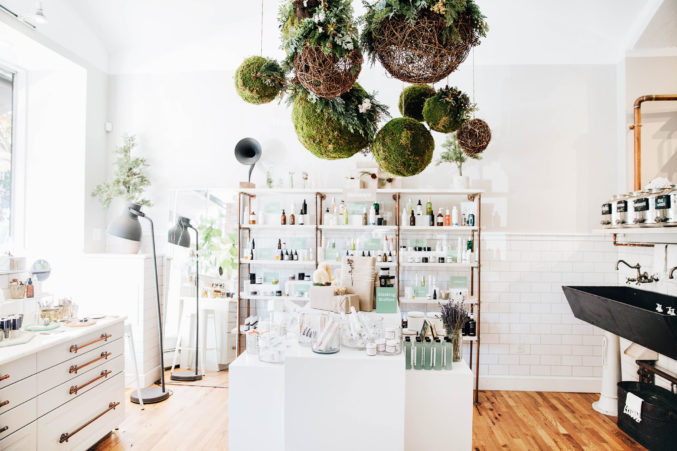 Included in Follain's heavily-vetted lineup of effective, luxurious, and most importantly, nontoxic options are brand such as May Lindstrom, Kjaer Weis, Tata Harper, Earth Tu Face, RMS Beauty, and cult favorite Vintner's Daughter. "When you walk into the stores, it's not set up by brand, it's actually set up by category to make it as customer-centric as possible," says Foley. "What separates Follain is that we're really expert educators. We've been doing this longer than most, and we really have strong relationships with these brands."
Dallas will have to wait until the shop opens early this fall for the full Follain experience, which will look similar to its Boston and Nantucket counterparts, designed to look like a dream bathroom. "People have the perception that these products are crunchy and granola, but they've come so far," says Foley. "We want to remind people that they're luxurious, beautiful products, and they deserve a luxurious, beautiful home."