The Best Places to Meditate in Dallas
A few prime places to alter your brain waves.
Meditation's positive attributes are virtually endless. Regularly practicing meditation can make you happier, and may actually strengthen your brain. Taking a few moments for mindful meditation can lead to better decision making, and allow you to be more present in the here and now. Meditators are also in good company with Stella McCartney and Katy Perry.
But perhaps one of the greatest qualities of meditation is its portability. "I've meditated outside of airports during a giant layover, in libraries, on the bus, and even when waiting in the longest line at the post office," says Jenny Alfia, owner of Eclipse Body Mind, a private yoga and meditation studio in Dallas. "What makes a meditation spot perfect is you."
And though meditation has been around for centuries (evidence of meditation dates back as early as 3,500 BCE), the practice has gained serious popularity as wellness and self-care become more of a priority in people's lives (Pinterest searches for the term "self care" increased by more than 500 percent last year).
Equinox in Highland Park added a meditation class in May of 2017, and ended up adding a second evening class as well after high demand. "That is something that Equinox is really embracing. Meditation is an important part of wellness and health," says Will Amason, education and training manager for Equinox, who also leads the 30-minute meditation classes at the club. Members can also access Headstrong Meditation podcasts through the Equinox app as well to practice on the go.
Here, with the help of Alfia and Amason, we zero in on a few prime places to alter your brain waves in Dallas.
Klyde Warren Park
"There is something so energizing about being in the midst of the action of Downtown Dallas all the while being barefoot in the grass. As you close your eyes and withdraw your senses (Pratyahara) you may still feel the busyness going on around (and underneath!) you," says Alfia. "This is the perfect place to learn stillness."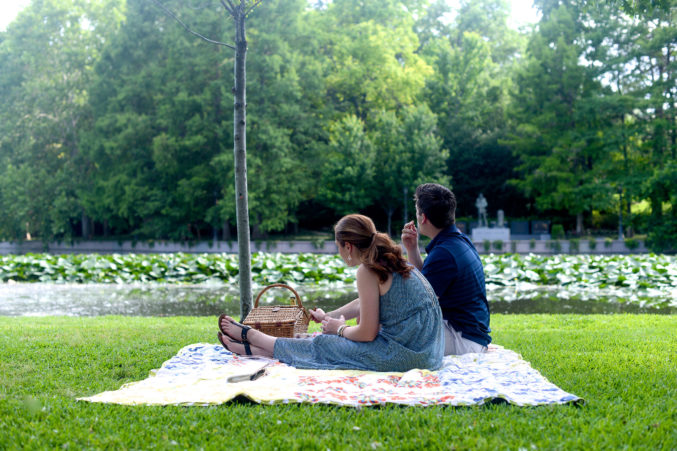 Quiet, calm, and picturesque, the Highland Park locale is perfect for new meditators.
"There's a huge pond with a soothing water feature which draws the ducks, geese and swans. The trees are tall and move dreamily in the wind. There are the occasional fishers, but it is generally very quiet, an easy place to roll out your mat and bask in the beauty of nature," says Alfia. "Parking is free and everywhere, always a plus."
In Your Car
Anyone who's been on a Dallas expressway at 5pm knows this may be the place you need meditation most — just be sure you're not actually driving.
"I'll pull off to the side of the road, and often realign my seat to have it more upright," says Amason. "You want to have a neutral spine and a comfortable position you can hold for three minutes. Three minutes of meditation can lead to six hours of positive neurochemicals."
"Indoors or out, this museum is sublime. Sitting on a bench surrounded by masters' works sets a high vibration for your meditation session. Not to mention, it's quiet and general admission is always free to the public," says Alfia.