Although adults don't heed an official spring break, we often need a glorified one. Especially one that restores and repairs our bodies after long weeks hustling on the job. Here, we've rounded up five adult spring break destinations that may lend you some solace and relaxation, even if it's just for a weekend. And no frets, all these spots are within a five-hour driving radius of Dallas. So gas up the whip and head out of town. It's time for spring break.
New Braunfels, TX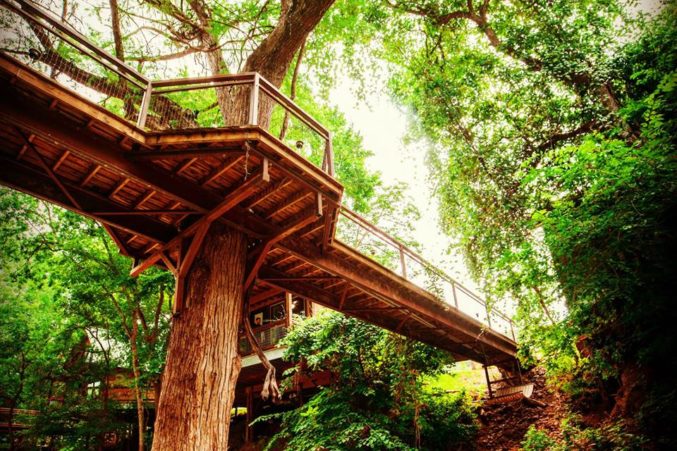 You always wanted to camp out overnight outside in your makeshift treehouse as a kiddo. Now you can — just in the lap of luxury. At River Road Treehouses, a handful of modern treehouses are accessed by way of a 100-foot long pedestrian bridge, attached to centuries old cypress trees. And let's talk about the view. Each little abode is nestled in the trees and overhangs a wet-weather creek that feeds into the Guadalupe River. Guests may access an exclusive 1.5-acre Guadalupe River frontage park before tubing down the river.
Montgomery, TX
A mental health weekend, combined with detoxing of the body, can serve as the perfect reboot to help you get back to reality and feel refreshed. Deer Lake Lodge Resort & Health Spa can serve as a respite for you to relax and let your health stay in the forefront of your mind all weekend. The resort offers all your desirable spa services, as well as daily yoga classes, nutritional classes, cleansing therapies and life enhancement classes. You can even select the type of weekend you really want to enjoy and cater it to your wellness needs.
Mineola, TX
Love yoga? Love wine? Well you'll be in Namaste heaven with this spring break outing. Retreat in the Pines, located in the woods of East Texas offers many getaways through out the year, the most popular one being Yoga, Wine, Laughter. The retreats are women-only so this is ideal for a girls' trip. In addition to multiple yoga and meditation classes during each retreat, wine is offered at dinner. And there are many wineries close by to visit in allotted free time during the retreat. Just like yoga, life is all about balance. This spring break getaway is a perfect blend of splurging and discipline.
Oklahoma City, OK
Okay, so you do have to head north of the Texas border for this one, but it's worth it for the mecca of adventure in Oklahoma City. The Boathouse District is home to an urban whitewater rafting experience. OKC also offers a six-strong Skytrail that allows you to free fall jump 80-feet and then zip line across the Oklahoma River. If you fancy more water activities, wind surfing is a popular pastime at Lake Hefner. You could also explore Stinchcomb Wildlife Refuge via kayak. Feeling tuckered out from all the thrill seeking, Udander is the city's Scandinavian Spa located in downtown OKC. Facials, massages and relaxation are the perfect way to unwind after a day full of adrenaline-inducing activities.
Austin, TX
Paragliding is a bold move, but not nearly as daunting as jumping out of an airplane and free falling. With paragliding, you're simply floating on air via a foot-launched parachute wing. You're clipped into a harness and have a motorized backpack unit with a propeller to give thrust allowing you to climb and fly at your own will. Here's the catch. Although paragliding is a self-regulated sport, you need a few days of proper training. To learn more Austin Paramotor certification and classes, visit here.
Get the AtHome Newsletter
Enjoy Dallas' best trends, hot properties, and tips from local designers to help you nest in style delivered weekly.