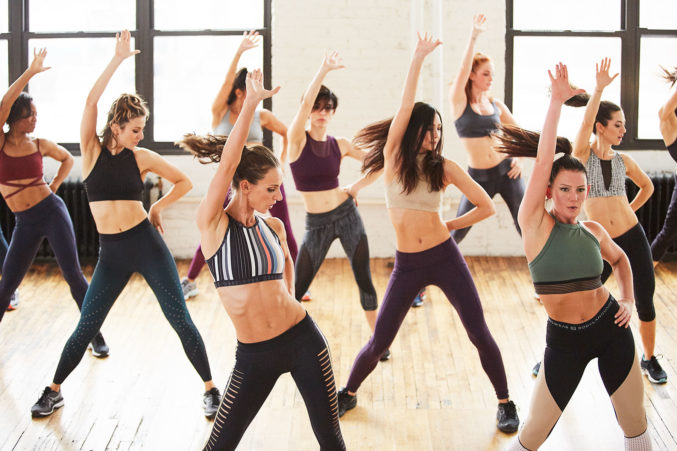 New York-Based DanceBody's Dallas Pop-Up is Worth the Visit
The feel-good dance-cardio class is like no other workout in town.
Dallas has had no shortage of pop-ups from New York-based brands in recent months. There was the Glossier cool girl skincare pop-up. The Lively "leisuree" pop-up. And Thinx's surprisingly chic PMS truck back in November.
But DanceBody's three-day pop-up in Preston Hollow is our very first fitness-focused pop-up from the east coast. I booked a spot in their first 9am class of their three-day stop this morning completely unprepared for what I was stepping into. It was like no other class (even a dance-cardio class) that I've taken in Dallas. It's Zumba on steroids. Founder Katia Pryce and two of her shiny legging-clad instructors (both of which were also professional dancers) were beyond impressive, deftly alternating who led the class with precise choreography and a killer playlist (songs included Bruno Mars' "Finesse" and Kanye's "Fade").
We wore small wrist weights through the hour and used a resistance band at one point, but we were mainly working with our own body weight, and moving non-stop. I had done Barry's Bootcamp the evening before and this workout was harder. Dancers will love it. (Another class goer had driven all the way from Tulsa to be there.) Non-dancers (me) will love it too, but fair warning: a bit of coordination is helpful for the Signature classes they'll be hosting in Dallas.
But I hope that doesn't scare anyone away, because I truly, madly, deeply want people to come to this class. Not only because it was a fun, addicting, crazy hard work out, but because it could mean DanceBody becomes more than just a pop-up in Dallas.
Pryce, who has organically grown her fitness empire without the help of investors up until now, just raised a million dollars in her first round of investments to build a New York City flagship (the team has been dancing around New York City neighborhoods teaching packed classes in rented studios since 2013), but she plans to bring her concept beyond that bubble. "New York City has the best of the best of everything," says Pryce. "But everyone else wants the best of the best too, so it's really important that we expand."
An easy way the brand has done this is with [email protected], a streaming platform that allows users anywhere to choose between hundreds of DanceBody classes or even video conference in for a one-on-one with Pryce. But the pop-ups, which will also head to Los Angeles, Boston, and Atlanta, are a way for DanceBody to gauge interest. "We have three days to see who's going to show up. Who wants it?" says Pryce. "If they do, is there an investor that wants to work with us? I'd like to think that we'll find the right area at some point, because I know there's a market here."
Dear readers, dancers, and the barely coordinated alike, please go! I'd to one day master that "Finesse" choreography.