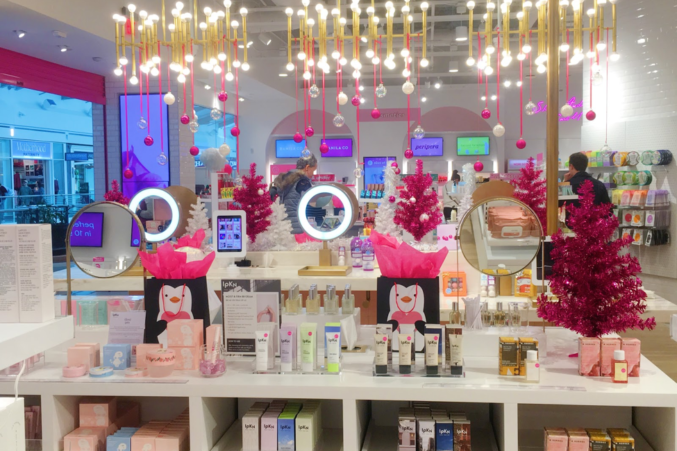 Forever 21 Introduces Shoppers to Riley Rose, a Cosmetics Wonderland for Millennials
Where else can you buy $50 skin care products and Laffy Taffy?
Walking in, I had a general idea of what to expect. Like any big-name beauty store, there would be high-end products, all of which I couldn't afford, loud techno music, white walls, and bright, fluorescent lighting.
However, at Riley Rose, which opened last month at Frisco's Stonebriar Centre, I found myself introduced to a different kind of shopping experience, tailored to the modern, millennial woman—one such as myself.
With endless aisles of luxurious but affordable beauty, skin, and hair care products, home decor, succulents, stationary, quirky novelty gifts, and an exclusive candy section, Forever 21's new spinoff takes a fresh approach to the complex, ever-changing beauty industry. Forever 21 has chosen to stray from fashion-exclusive retail, focusing on a new breed of young shoppers via a world of glitter, female empowerment, and pink panache. 
The atmosphere is fun and girly, and screams "treat yourself!"  With products ranging from $5 to $150, Riley Rose comfortably accommodates almost any budget, making it hard to leave empty-handed. The offerings extend beyond cosmetics into home decor, novelty gifts, stationary, and candy. Yes, candy. Where else can you buy $50 skin care products and Laffy Taffy?
The unconventional inventory appears to be targeted toward a specific audience: tech-savvy, multi-tasking, attention seeking MILLENNIALS. (Hence the store's plethora of "millennial pink.") At each location you will find a photo wall, selfie stations, and iPads located at the beauty bar, loaded with instructions on how to DIY a certain look. Further enticing shoppers is the high-end products. Young adults here are meant to take their beauty endeavors with all seriousness, but at the same time, Riley Rose encourages a much-needed celebration of youthful bliss and simplicity. You're never too young for gummy bears and neon shampoo. Technology, glamour, and candy—everything a millennial woman wants.
If you neither care for nor identify with women "millennials," fear not. Riley Rose's provision of excellent skin care products can be appreciated by shoppers of all ages and walks of life. There are international, world-renowned brands like Dr. G, Grown Alchemist, and Korean luxury skin-care items from Klavuu, Huxley, and One O Seven, plus dozens more.
Being young and broke, I've never been one to swipe plastic for high-end cosmetics, but concluding my visit, some hour or so later, I found myself leaving Riley Rose with the Egg Cream Hydration Mask by Too Cool For School, and Goodal Vital Lip Oil, a Korean product I was unfamiliar with, but felt empowered to try. I was unable to purchase everything on my mental wishlist, but Riley Rose made a fan out of me—a savvy, multi-tasking, often, attention-seeking millennial. Give Riley Rose credit for knowing its audience.