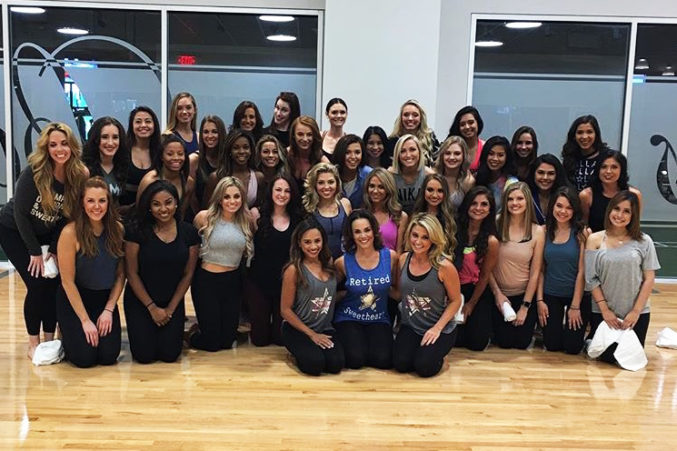 The Time I Was a Dallas Cowboys Cheerleader Hopeful, Just for a Night
My experience achieving a childhood dream, at 31 years old.
Thanks to the mammoth brand power, an iconic ensemble, and a popular CMT show, many little girls cling tightly to the dream of becoming a Dallas Cowboys Cheerleader. Although an NFL cheerleader was never the path I followed, I appreciate the allure associated with this group of women.
So, when the DCC organization launched a brand new six-class series to help hopefuls before auditions, I decided to sign up to see how it all goes down. I recruited a good friend—a legitimate trained dancer—to join me. I thought I could at least hide behind her pirouettes, flip my long hair, and try to blend in. This was my plan, but my nerves were getting the best of me.
As we walked into The Star in Frisco, and I noticed a couple of other gals who definitely looked the part. One, sporting booty shorts and a bra top, was dropped off by a woman I can only assume was her mother. I immediately started panicking, thinking, "How will my 31-year-old self look against these leggy 18-year-olds?" But I mentally slapped myself out of it, and armored myself with confidence, and stood up tall.
A veteran DCC, Jenna, escorted us to the class. She was welcoming and smiley, and I could feel the butterflies in my stomach shrinking as we stepped off the elevator and into a hall of DCC magic. Life-size images of cheerleaders were plastered along the walls where a large amount of class attendees were snapping selfies that were surely landing directly onto their Instagram stories. In the midst of it all, my eyes landed on an encased DCC uniform, boots and all, and I swear I could hear a choir of angels faintly humming "aaahhhh." In that moment, I was fully able to grasp how surreal this experience must be the true hopefuls.
As we walked into the studio where the DCC practice each week, you could feel about 60 attendees' eyes swiftly shift to size up potential competition. I wanted to raise my hand and say, "Don't worry, gals, you'll feel great about your skills after you see mine!" But I refrained, still acting cool and trying to draw inspiration from this hallowed space.
A few minutes after 7 pm, Shelly Bramhall, former DCC and current assistant choreographer, called the room to attention and explained that this six-class series is intended to help great dancers become stronger kickers, a defining factor for making the team.
I was flooded with relief that I chose to attend the first class if the series, where we would only be stretching and kicking. (Later on, attendees will be learning snippets of actual sideline choreography.)
For the first hour, we focused on core exercises and stretches, which is the key to more powerful DCC kicks. I almost felt as if I were in a barre class, except for the moment when everyone nailed a perfect split aside from me.
After we were warmed up and stretched out, we retreated to one side of the room and were instructed to kick our way down to the other end. The studio was long and narrow, and I swear it was the length of an actual football field. This was absolutely the most nerve-wracking bit of the class. You executed your kicks in groups of four, so a lot of eyeballs were situated on you while you hoisted up those legs and pointed your toes. The sequence was kick, relevé walk for two, kick, relevé walk for two. I felt clumsy and heavy-footed, but at least I didn't trip—in my book, that's nailing it.
A long road of training awaits the actual DCC hopefuls before this spring's auditions, but as my friend and I walked to my car after class, I felt pretty incredible. This was my own personal milestone, and though I wasn't perfect, I felt I conquered it.
SaveSave
SaveSave
SaveSave
SaveSaveSaveSave
SaveSave