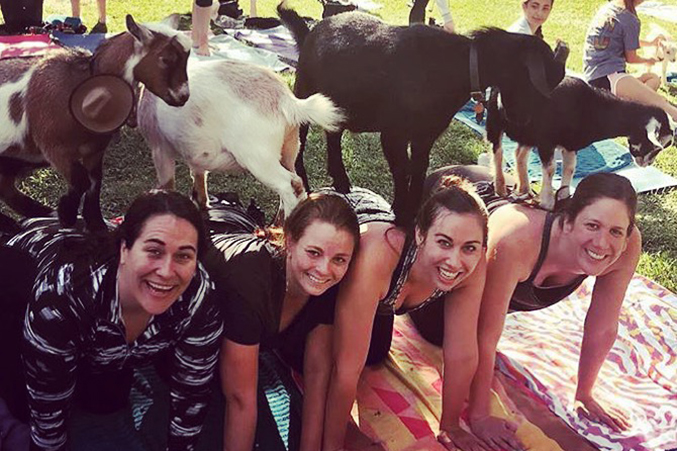 9 Out-Of-The-Box Fitness Events to Hit This October
People are still digging those goats.
Remember the days when there was only one goat yoga class in Dallas? It sold out almost instantly based on novelty and adorability. Today, our cuteness cup runneth over with a cornucopia of goat-filled workouts. One can only hope a porg yoga class is on its way, but until then, we have plenty of unique fitness events (with and sans goats) to mark your calendars for as the holidays approach.
These are feel good goats, you guys. Ticket sales support Here's Your Reminder Project, a mental health advocacy group, and Lone Star Ranch and Rescue, the home of the guests of honor. Don't expect an intense yoga session, but do expect tiny hooves on your back as you hold downward dog. After class, explore the Dallas Farmers Market and enjoy beer and wine, live music, and dinner options from Rex's Seafood at the Market.

Friday, Oct. 13. 6:30pm to 9:30pm. $45 (join the waitlist for the class and after party) or $30 (just the after party)
Night Hiking Cedar Ridge Preserve with REI
Take in the stars with expert hikers from REI as they lead you on a twilight hike through Cedar Ridge Preserve. The trail is closed to the public at night, so the lush trees and rocky paths will feel especially secluded.

Saturday, Oct. 14. 7pm to 10pm. $60 (non-members) or $40 (members)

Pilates Party in October at Arts Mission Oak Cliff
This fuss-free Pilates series is lighthearted and casual. Whether you're a beginner or trying to perfect your skills, Arts Mission will welcome you. Commit to the four-week series or just drop in for a solid evening workout.
Thursdays: Oct. 12, Oct. 19, and Oct. 26. 7:30pm to 8:30 pm. $40 (all classes) or $15 (single class drop-in)
The idea behind The November Project, an international movement, is simple: locals gather to work out together (for free) at a set time each week. Members range from marathoners to slow walkers, but all are encouraging and ready to hold you accountable. (Flake, and you'll risk getting called out on their website.) The community feel will help you make friends, not excuses.
Wednesdays and Fridays at 6:15am. Free
BAD Hip-Hop at Arts Mission Oak Cliff

We've written about Arts Mission's Beyoncé Ballet classes, and now we're into their BAD (Beginning Adult Dance) Hip-Hop class. If the thought of doing hip-hop publicly gives you intense social anxiety, fear not. Apparently, "BAD Hip Hop will give you a great cardio workout [with] small combos you feel confident busting out in your living room and not ever embarrassing your kids or significant other." Sounds good to us!
Wednesdays: Oct. 4, Oct. 11, Oct. 18, and Oct. 25. 6:30 to 7:30pm. $40 (all classes) or $15 (single class drop-in)

In what may be the first barefoot HIIT class in Dallas, City Surf is heading to Deep Elm's Sandbar Cantina and Grill for a killer workout followed by drinks. Proceeds will help send baby formula and food to a Puerto Rican community that's struggling in the wake of Hurricane Maria.
Saturday, Oct. 21. 11am to 1pm. $10
If you're craving a true challenge, Everyday People Combine delivers. The field-day style competition includes a 40-yard dash, bench pressing, deadlifting, and more. Coaches from studios like Equinox and Crossfit will push your limits and correct your form. In other words, get ready to sweat.
Saturday, Oct. 21. 10am to 4pm. $115

We don't always run, but when we do, we like to do it in costume while supporting Dallas Tennis and Education Academy, a non-profit that provides after-school tutoring, and instruction on tennis and life skills development to under-served youth. Props for anyone who comes dressed as Emma Stone dressed as Billie Jean King.
Saturday, Oct. 28. 8:30am to noon. $25 
Halloween Costume Edition: Goat Yoga Richardson
Baby goats Tommy, Drake and Gary will be sporting their finest Halloween costumes (you're encouraged to wear yours, too) as they prance all over participants. The class is open to yogis of all levels, though we highly doubt anyone will be focusing on their form.
Tuesday, Oct. 31, 7 pm to 8 pm. $16
SaveSave
SaveSave