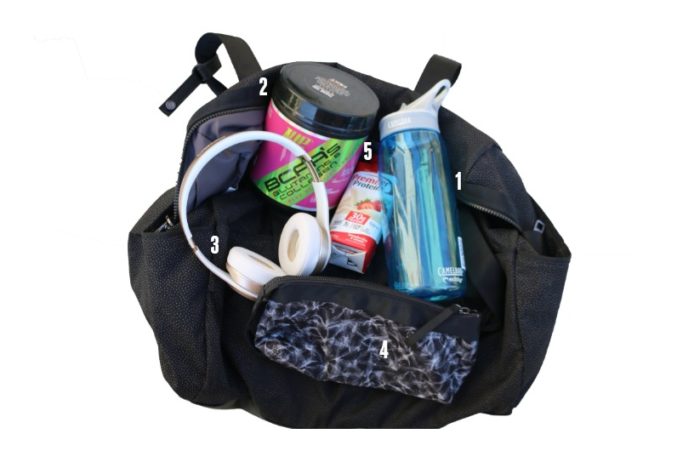 What a TCU Cheerleader Keeps in Her Gym Bag
Kylie Holsted shares the essentials that help her handle her crazy schedule.
Being a college student is a full-time job, but being in college and a D1 cheerleader is a whole new ball game. TCU cheerleader, Kylie Holsted, has a strong passion for not only cheerleading but also staying fit. "It's definitely a challenge to get my workouts in between classes and practices, so I like to keep a gym bag in my car that has all my essentials," Holsted says.
Holsted is about to be a junior, and she believes she has finally mastered the art of packing her gym bag. Let's take a peek!
Camelback water bottle
I have two Camelback water bottles. The one I take with me everywhere, and one I always keep in my gym bag just in case. The Camelbacks are my favorite because they are huge and keep me hydrated throughout my workout without having to go to the water fountain a million times.
BCAA's
BCAA's stand for branch chain amino acids. Amino acids are the building blocks of protein, so I drink them during my workout to make sure I'm keeping as much muscle as possible when I weight train. I typically have class from early in the morning until the late afternoon, so I don't have time to go home and get them. At the beginning of the week, I will fill up a little bag with a few scoops and throw them in my gym bag. Preparation is key.
Wireless headphones
I swear there is nothing worse than when I get to the gym and realize I forgot my headphones. I am really picky about my headphones when I work out because I don't like when the cord gets in my way, so I keep my wireless ones in my bag and take my basic apple ones to class with me.
Hygiene essentials
I have a small little bag from Lulu that I keep the hygiene essentials in like deodorant, perfume, extra socks, and feminine products. It's my emergency stash, but instead of keeping it in my car I keep it in my gym bag. It puts my mind at ease knowing that if I forget to put on deodorant that day I have a backup.
Protein shake
I like to drink a protein shake within 30 minutes after I finish my workout, but I don't always go home right after. I like to pack the Premier Protein shakes in my bag if I know I have a busy day. They are small, they keep me full, and they taste so good.