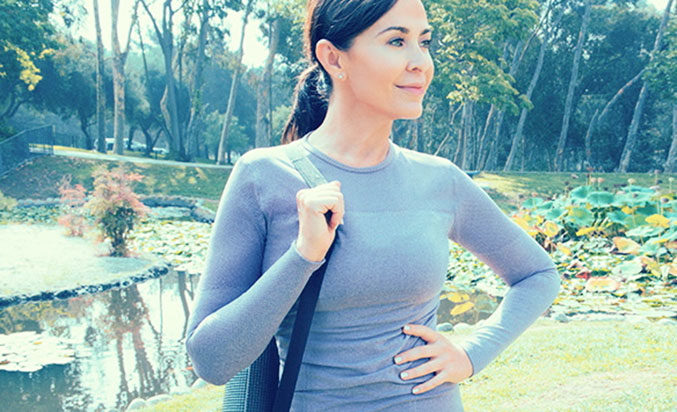 Kate Hudson's Personal Trainer Talks Motivaton and the Actress' Fitness Routine
We've all wondered how Hudson gets her rockin' bod, and thanks to Nicole Stuart, we have all the details.
Los Angeles native and personal trainer, Nicole Stuart, has been working with Kate Hudson since the Almost Famous days. Stuart was kind enough to visit our offices during her trip to the new Fabletics location in Dallas—and consequently, was wearing these very adorable Fabletics leggings—to give us some insight on how the actress, entrepreneur, and mother of two achieves and maintains her healthy lifestyle and fit physique.
How does Kate balance working out, eating, and running Fabletics? 
Working out and exercising is a big part of her life. I met her when she was 20 and it's just always been a way of life for her. Working out, eating, sleeping, and taking care of her kids is all a part of the day. I think she's a master at balancing everything. She can't do everything every single day but the diet and exercise is something she always makes time for.
How long does Kate usually prep for a movie or photoshoot?
It depends. If it's a movie where she's going to be in a bikini, I would probably travel with her. Right now I think she's doing a movie where she's dancing and singing, so if she's dancing a lot in rehearsals she probably wont be doing Pilates that much.
Does Kate focus on endurance training, resistance training, or a mix of both?
She has lifted weights, but she always tends to go back to Pilates. Pilates and dance have always seemed to be her go-to. For her and her body type, she responds super quickly to that kind of training.
What does a typical day of eating look like for Kate?
She isn't on a super strict diet where she measures all of her food. She typically eats small meals consistently throughout the day consisting of tiny portions of brown rice, chicken, sashimi with no rice, and a lot of big salads.
What are some good tips for workout motivation?
You have to find what you love to do and just push yourself. Honestly, as a trainer, I have days when I just really don't want to work out, but I do it and I feel so much better. You have to push aside the negative thoughts and just do it.