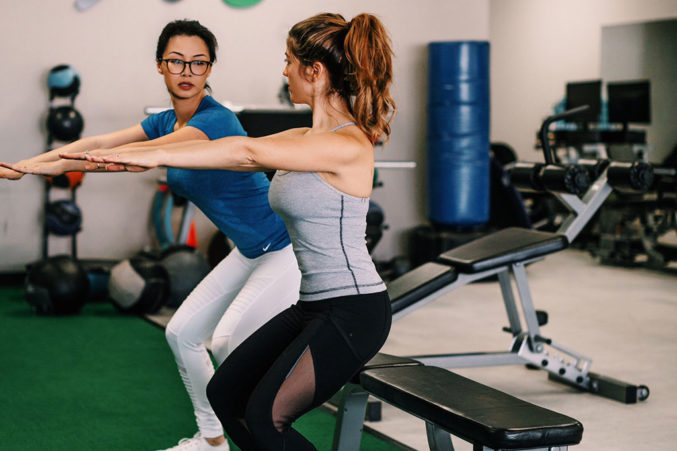 Dallas Workout Tips That Travel With You
Because you worked hard for that summer bod.
June is here. Which means summer vacation is here too. All those squats, planks, pliés burpees and lunges have brought you to this moment. You are ready to embark on your summer getaway feeling fit and accomplished. But you've worked too hard to leap into a spiral of fitness negligence for an entire week.
To help, we've called upon trainer and owner of Fit180, Julie Hoang, for tips on ways to battle that stubborn vacation weight gain. Hoang keeps her students accountable on vacation by assigning them "workout homework," and makes them check in with her upon completion. Things may not be that intimate with your fitness instructor or trainer, but here are some useful tips to help you from falling off the workout wagon completely.
Tip 1: Preemptive planning. Pack in extra workouts prior to your vacation. It's also important to clean up your food a week or two before you leave for your trip. While on your trip, you can engage in modified mini-workouts to keep up the healthy habit, and avoid completely falling off the wagon.
Tip 2: Create a plan. Just as you plan your excursions, activities, and outfits before you travel, plan your workouts into the daily schedule. It can be as simple as 20 minutes in the hotel room every other day.
Tip 3: Take a gratitude walk. Even if you don't feel like working out. Have a mindset that you're just taking some time to reflect and rejuvenate. The walk serves a purpose beyond just working out.
Tip 4: There's an app for that. There are actually countless apps for that, from Sweat with Kayla to 5 Minute Ab Workouts. Dallas fitness instructor and studio owner, Brit Rettig, has even developed her own app that makes you feel like you're at a Grit by Brit class. The 25-minute workouts can easily be done anywhere, at any time of day. Look our for the app when it debuts this July.
Top 5: Integrate fitness into your trip. Many cities have free running tours. You can experience all the sites while getting your workout in simultaneously. Or take advantage of what new landscape you have at your fingertips. If you're visiting the mountains, see if the city has mountaintop yoga. If you're visiting the lake, consider some paddle boarding.
Tip 6: Three easy moves to do in your hotel room. Hoang even shares three of her go-to moves she offers clients to stay in shape while they are out of their weekly routines. And no fitness trainer supervision required!
Go-To Move #1 
Air squats with arms put in front of you and pausing at the bottom for two to five seconds. Make sure you keep most of the weight on the heels to activate the glutes.
Go-To Move #2
Push-up with hands on the edge of the bed with a two-second hold at the bottom. Remember to relax your shoulders while doing the push-up so you avoid using your neck.
Go-To Move #3 
Grab a lightweight resistance band and step on it to do bicep curls or upright rows to keep the arms toned while on vacation. Remember to keep your chest up and neck and shoulders relaxed while doing this exercise.
It's important for your mental health to unplug, refresh and enjoy your vacation. You may not be busting your rear in the gym like you do at home and that's okay. Setting yourself up for success by scattering in workouts while you're away makes for a seamless transition when you return home to your daily gym grind.