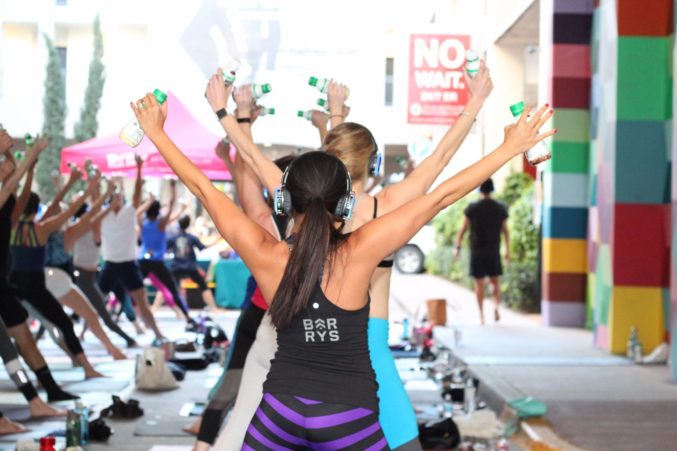 How to Work out for Free in Dallas This Week
From silent discos to something called ZYN & Juice, we've got your workouts covered this week.
Endorphins make us happy. Free stuff makes us happier.  
Each Tuesday, Outdoor Voices blesses us with a cool, early-morning workout. For those who tend to hit snooze, the Knox District spot added an evening bike ride through their picturesque 'hood this week. Refreshments will be provided, but be sure to BYOB (bring your own bike).
Maybe you tried the whole silent disco thing in San Fran once and have been dying to sway in seeming silence ever since. Maybe you just want to switch up your Pilates routine. Regardless, Dallas Fitness Ambassadors' West Village-based event sounds like a good time complete with great vendors, samples, giveaways and — for what it's worth — an excellent Instagram op.
Kick off your three-day weekend with some sun salutations courtesy of We Yogis' Sabra Hanson. Outdoor Voices has been known to hand out a coupon or two at these events, so plan on following up those salutations with a little shopping.
It's a 60-minute dance party hosted by Grit Fitness, a studio where the playlists are always on point. What more do you need to know?
The only thing better than the name of this event is the thought of two free spin classes at ZYN22. So great is this thought, actually, that the event is already full. But if you're interested, keep your eye on it. Spin studio bikes always seem to free up last minute.
Klyde Warren Park  // All Weekend
There's something for everybody this week. From dancing in the park to a class characterized by the word "intense," they've got you covered.
FRIDAY
Dancing in the Park | 6:30-7:30pm
SATURDAY
Intense Workouts with HD3 Sports & Fitness | 9-10am
Yoga with Dallas Yoga Center | 10-11am
SUNDAY
Barre with Barre Code | 9-10am
Yoga with Exhale | 10-11am