Texas Indie Beauty Spotlight: Hard Night Good Morning
Get acquainted with the all natural skincare line by the newest member of The Real Housewives of Dallas.
For the first time, Indie Beauty Expo will head to Dallas. Co-founded by 15-year esthetician Jillian Wright and professional entrepreneur Nader Naeymi-Rad, the event aims to put the spotlight on independent brand owners in the beauty and wellness industry. Though the event is an opportunity for buyers to learn more about the brands, all beauty lovers are invited to shop the expo on Wednesday, May 10, at Sixty Five Hundred  from 5-9pm.
Each week leading up to the event, we're putting our own spotlight on local brands. Today, we got the scoop on Hard Night Good Morning, the natural, plant-based skincare line founded by D'Andra Simmons—the new addition to The Real Housewives of Dallas Season 2.
Why did you decide to branch out with your own beauty line?
When I started Hard Night Good Morning in 2008, I had been in the nutrition and skin care industry for over 12 years, full-time and part-time, working with my mother's alternative medicine company Ultimate Living International, Inc. After working in new product development and as a formulator in the labs, I felt I had gained enough experience to develop my own products and share with women and men of all ages what I have learned about anti-aging and healthy skin care from my knowledge of nutritional ingredients.
At that time nobody was really interested in what ingredients are in skin care products. Nobody understood parabens, sulfates, phosphates, phthalates, anything that was harsh or harmful or had a high chemical content. I think in the last five years people have become more aware.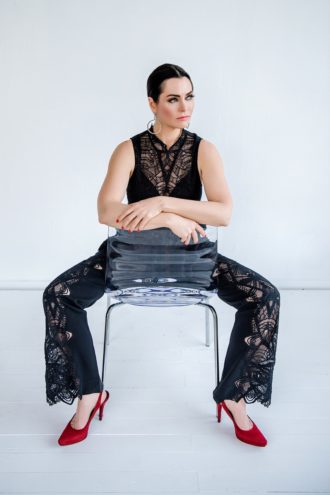 How did your nutrition background assist you in creating Hard Night Good Morning?
Hard Night Good Morning was the result of my years of hands-on experience in the lab, my meetings with raw material providers, as well as my research discovering new and unique ingredients when traveling around the world.
After over 12 visits to Africa, I've been able to learn a lot about ingredients that come from that continent, and how the natives use them in their beauty routines. For example, the Himba ladies cover their bodies with Ochre and that is why they have that rust color to their skin. Ochre contains Hematite, which I use in our Nighttime Moisturizer formulation because it is a collagen synthesis booster and wrinkle reducer. I also use ingredients from South America, Asia, India, and the Red Sea in Israel.
Hard Night Good Morning is an interesting  brand name. Where did it come from?
While musing over names for my new skin care line, I realized that all women have hard nights and good mornings. Whether a woman is a CEO on the go taking frequent red eye flights like I am; a stay at home mom with sick kids, dinner to make, and activity schedules to manage like many of my girlfriends; a young sorority party princess; or a hot flash hottie like my mom, Dee, every woman can relate to feeling overwhelmed, stressed, and under rested. Thus, Hard Night Good Morning was born…the solution to looking like you had a full night's sleep even if you barely caught a wink or two!
What sets Hard Night Good Morning apart from other brands?
It's a story. Mine is a story of being a daughter—the only one in my family that has not had cancer—and searching for healthy ways not only to give my body the nutrition it needs to prevent having cancer, but also to put good things on my skin.
What should we look for from Hard Night Good Morning at the Indie Beauty Expo?  
Right now we're launching new products in the line, so that's exciting. We'll have a new product at the show—a new serum called L22 elixir. L22 makes your skin have the same lipid level as if you were 22 years old. The elixir also has snow algae, an ingredient from the Swiss Alps that promotes performance activating longevity in the cells. It makes the skin cells live longer, preserves collagen, and helps with dark spots. We're going to have samples at the expo, and we'll also have Hard Night Good Morning detox sheet masks. The mask is anti-inflammatory, so it's perfect if you've had a "hard night." It also has charcoal, which detoxes and hydrates your skin.
Hard Night Good Morning products can also be purchased at Whole Foods Market, Central Market and on Amazon.
Emily Esleck is a D Magazine Editorial Intern.