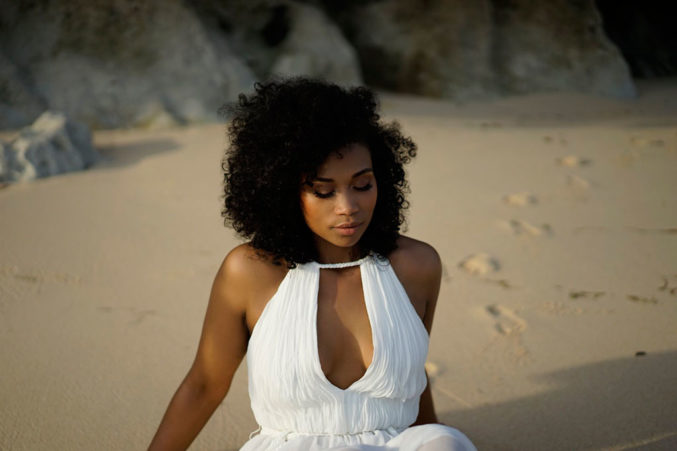 Texas Indie Beauty Spotlight: Beneath Your Mask
A life-changing diagnosis ends with healing and a new chapter for Dana Jackson.
For the first time, Indie Beauty Expo will head to Dallas. Co-founded by 15-year esthetician Jillian Wright and professional entrepreneur Nader Naeymi-Rad, the event aims to put the spotlight on independent brand owners in the beauty and wellness industry. Though the event is an opportunity for buyers to learn more about the brands, all beauty lovers are invited to shop the expo on Wednesday, May 10, at Sixty Five Hundred from 5-9pm. 
Each week leading up to the event, we're putting our own spotlight on local brands. Today, we share the inspiring story of Dana Jackson, Houston-based founder of Beneath Your Mask.
Your company was inspired by a very serious health scare. Can you tell us about that? 
In 2011, I was living in Atlanta and was working in entertainment business management. I had what I thought I wanted. I worked around the clock. It's kind of this on-call lifestyle and you don't have any time for yourself. You're taking care of everyone else, but you really don't take care of yourself.
I ended up going to the dermatologist in February and they prescribed me Bactrim. I started having all these issues, so I tested and was diagnosed with Lupus. I went to doctors all around the country because I couldn't accept that this was happening to me. By June, most of my hair had fallen out. I had gained 100 pounds in water weight. My eyes were swollen shut. I could barely move, I was in all this pain, and I was pretty much alone in Atlanta.
I packed up one pair of shoes, and I went to Los Angeles to see this doctor from Abu Dhabi. They thought I only had a few weeks to live, so they put me on all these Chinese herbs and juices. They really taught me about toxins and how to eat right. That's when I began thinking about what I was putting on my body. I've had skin issues all of my life, and I was taking antibiotics and topical treatments that are so toxic and damaging to immune systems. Our skin absorbs everything. Would you pour toxic chemicals directly onto any other organ? Probably not.
I needed something to help soothe the pain, stretch marks from gaining and losing water weight, and the thin skin I now had from all the medication. I'm a cosmetic junkie and I was looking for stuff online, but I couldn't find anything that fit what I was looking for. I started creating products for myself back in 2012. I never intended to launch this brand back then.
What changed your mind? 
The company I worked for was acquired, and I was given the opportunity to take over our clients. I knew I couldn't do my own line at the level I wanted while taking care of my health and revolving my life around my clients. It was my time to finally pursue my own dreams, passions, and what was going to fulfill me. Beneath Your Mask officially launched December 2016.
How did your products end up satisfying your needs? What sets them apart?
Beneath Your Mask tackles the misconception that organic, natural healing cannot feel luxurious and sexy. Products that are safe to absorb and don't challenge the immune system don't have to feel and smell medicinal.  Our formulas not only appeal to all your senses, but the pure, potent ingredients make them effective as well. The same approach I took with my healing journey, I've taken with Beneath Your Mask.
How did you end up in Texas? 
Houston is one of the places I visited to see doctors when I was living in Atlanta. Some of the best doctors in the world are in Houston. I went home to Chicago after my diagnosis because I needed to be with my family, but I wanted to find a city that offered a little slower of a pace. That's what I like about Houston. It's still very progressive but you can have more of a balance.
What's your bestselling product?
Our bestseller is the Heal: Whipped Skin Soufflé, which was actually the first product I created. I source ingredients from all over the world. None of our products contain water. You're getting only pure and potent therapeutic ingredients.
What do you expect from showcasing your products at the Indie Beauty Expo in Dallas? 
I didn't even want to look at any other expos. I wanted an expo that really paid attention to your brand and cared. I'm excited about meeting buyers and engaging with people to share my story one-on-one, letting them experience and feel the products. It's a totally different moment when you touch it, feel it, and smell it for yourself.