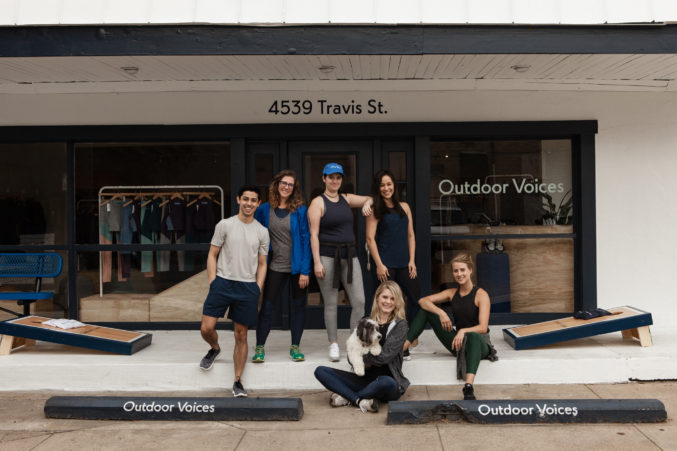 Fitness First Takes: Outdoor Voices' Sip, Shop, & Sweat Event
You're never too old for a game of dodgeball.
In case you've been living under a rock, or somehow haven't heard of Outdoor Voices (which shall hence forth be referred to as OV), it's time to check out this Austin-based company's "technical apparel for recreation" movement. Flashy, neon activewear is nowhere to be found in their Katy Trail-adjacent Travis Street pop-up. Instead, racks of chic, neutral clothes (made with OV's insanely soft, high-quality fabric) line the racks of the Knox District space, which also just so happens to partner with local companies to host fantastic free fitness events almost every week. 
Last weekend, with OV's charming outpost practically in my backyard, I convinced myself to abide by their popular slogan, "Doing Things," and join their Field Day-themed event on Saturday morning. The event promised "sweats, sips, and bites" and did not let me down.
First, we started with a steady warm-up and quickly got into the classic field games like a three-legged race and adult dodgeball. Now keep in mind, I'm extremely uncoordinated, but luckily the light-hearted games were nothing like the darks days of fourth grade PE. OV sneakily had us successfully living one of their mission statements: to free the fitness from performance. We were rewarded with participation ribbons, bubbly beverages, healthy bites, vouchers, and a worthwhile giveaway (I'll be back next time to snag that first place ribbon).
If you missed out on this event, fear not! Outdoor Voices have plenty of active community events that you can take part in. A few pieces of advice—bring a buddy to keep you company and avoid some too close for comfort partner-workout moves with strangers. It's likely that the event will be hosted outdoors, so check the weather forecast to plan your ideal workout attire.
SaveSave