Since opening in the Design District last summer (and subsequently on Henderson Avenue last fall), Pie Tap's selection of pizzas, pastas, salads, and cocktails—and ability to deliver all the above—have made it a neighborhood staple. But owner Rich Hicks and chef Giovanni Mauro's aspirations went far beyond a good-looking menu. The duo wanted to do pizza right.
We sat down with Chef Mauro (a native Sicilian) to see what sets Pie Tap apart and—brace yourself—why their gluten is good for you.
Where did the concept for Pie Tap come from?
Recently, there's been a mass hysteria about gluten. I became obsessed with dough about five years ago. Rich and I started contemplating a concept around pizza about three years ago.
How did dough become such an obsession?
Bread has always been a huge passion of mine. I'm a big guy by nature, but I used to be a lot bigger. About 10 years ago, I weighed 340 pounds. I've lost 120 pounds. I went into two different kind of surgeries before I decided enough is enough. Now I eat everything and anything (in moderation), and focus on food made with natural, wholesome ingredients. I don't mean super foods or anything trendy, just holistic stuff. I always think, "Would my grandmother have eaten this on a regular basis?" If the answer is no, I'm not eating it.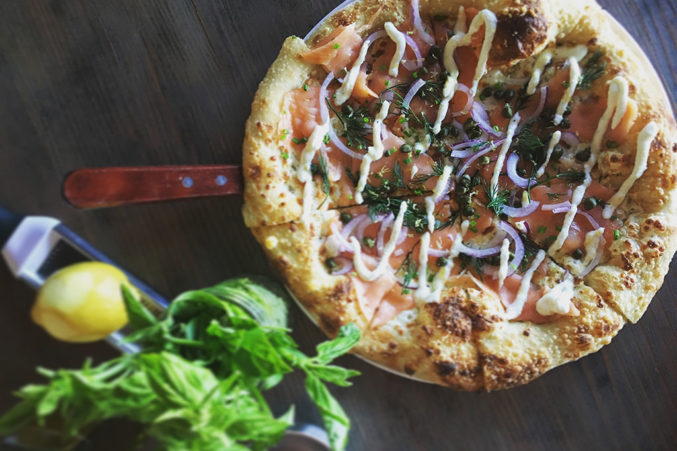 What makes Pie Tap's dough "healthy?"
It's in the fermentation process. It takes us five days to make the dough and to properly ferment it. What that does is soften a lot of the gluten strands, and it breaks down the starches, making it easier to digest. The dough doesn't sit in your system.
There are three ingredients in our dough—the fourth is auxiliary. There's water, flour, and salt. That's it. At the very end we put a dash of olive oil. Our flour is unbleached and it isn't bromated, and that's an extremely important point. Bromated flours (adding a chemical to help dough rise) are waning, luckily.
What about the yeast?
This is naturally fermented dough. We capture it in one of our cultures. There's no lab chemicals or anything like that. Commercial yeast is a single strain of yeast. They hone in on one particular one, and they multiply it, and that's what they package. When you do a natural dough, you have about 25 or 30 different kinds of yeast and different strands of yeast. It imparts an incredible flavor, and it also breaks down things to make it easier to digest and doesn't sit in your stomach for three days. That's the trick.
Why should people embrace gluten at Pie Tap?
Gluten is just two vegetable proteins (one looks like a spiral, the other is like a hook). When you mix them together they hook together and form a sort of netting. This netting is what holds the carbon dioxide in. Without it, you can't have leavened products. So when people make things gluten-free, they have to put all kinds of gums in to hold the gas in there.
This is not to say that there isn't a percentage of the population that has celiac disease. That is the real deal, and I feel for them. For everyone else, dough becomes hard to digest when people aren't treating it properly and start pushing it to rise too fast. You have to ferment it, and you have to let it leaven.
What's been the greatest joy about opening Pie Tap?
People that are doing this kind of stuff with dough are little mom-and-pop shops or small artisanal shops. That we're able to reach such a vast audience is such a point of pride. We're influencing people's lives that way. They can come enjoy something that they love, and it's actually good for them.
Get the SideDish Newsletter
Dallas' hottest dining news, recipes, and reviews served up fresh to your inbox each week.