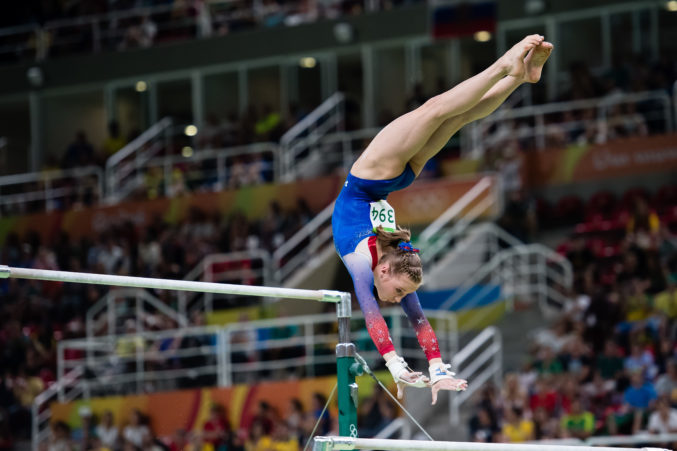 What Olympic Gymnast Madison Kocian Eats For Breakfast
The Final Five member and Plano native dishes on her time in Rio.
By Susannah Hutcheson
Published in Health & Fitness
September 29, 2016
9:00 am
Photos by John Cheng/USA Gymnastics
Plano native Madison Kocian has quite the schedule. Between packing for college, unpacking from Rio, and being an all-star Olympic gymnast, the Final Five teammate doesn't have much free time. Even though she has rock-hard abs and a gold medal under her belt, she can't say no to some chocolate chip ice cream.
What's your go-to pre-workout snack?
Usually before afternoon practice, I stick to an apple with almond butter. I also made homemade trail mix with almonds, raisins, walnuts, and dark chocolate bits that I took to Rio.
What's your favorite healthy breakfast?
Leading up to the Olympics, I always had oatmeal with a banana on top and some scrambled eggs. In Rio, the oatmeal was different, so I would have yogurt and granola with scrambled eggs. I just always try to get some kind of carb and protein.
Tell us your Olympic playlist:
• "Something Big" by Shawn Mendes
• "Today's the Day" by P!nk
• Any Carrie Underwood song
What's your cheat meal?
Ice cream, for sure. Give me some chocolate chip or cookies and cream!
What was the best moment of the Olympics for you?
It was standing on the podium, listening to the National Anthem during the team finals.
What did a typical day in Rio look like?
We would wake up, go over to breakfast, and catch the bus to the training gym. We would usually do our short workout in the morning because of competitions at night, and then do our normal strength/conditioning work. We had a set schedule, so I usually did bar and beam routines. We would go back to the [Olympic] Village, do our therapy and recovery, and I would usually take a nap. Then, we would catch the bus for our afternoon workout and practice all four events. We would usually have dinner, watch Modern Family or the other Olympic sports all together, and go to bed.
What was your typical strength and conditioning routine like?
Since bars is my strength, I did a lot of core work, and I also had to keep my legs strong. We also did our normal camp conditioning: handstands, handstand holds, cast on the bar, and flexibility stuff like kicks.
What is something no one knows about the Final Five?
We would all hang out at night and talk in accents we would make up, and then talk in English accents and Brazilian accents—just having fun and laughing a lot.
How will it feel to perform in Dallas?
It will be so nice to be around the girls and fans from the gyms that I know, and it will be exciting because we are more well-known now than we were. This is more of a show than a hard competition, so there will be a lot of cheering. We will be having fun.