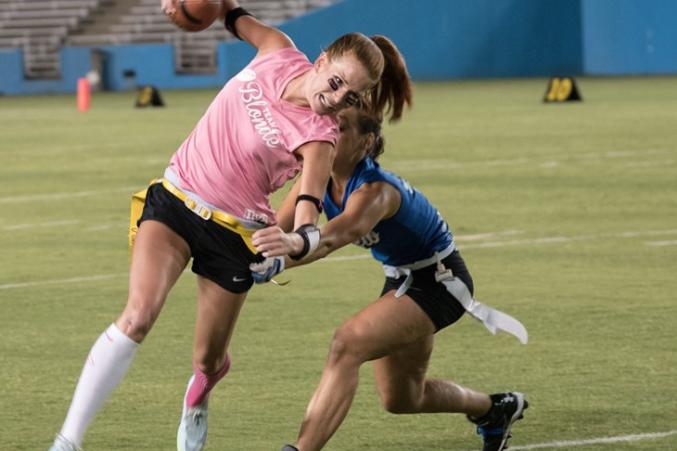 Gym Bag Spill: BvB Edition
See what fuels both the players and coaches to get in the game.
By Kimber Westphall
Published in Health & Fitness
August 11, 2016
8:30 am
Photo by Staci Parks
Powder-puff football is an experience many high school girls anticipated, and many young professionals in Dallas are still experiencing the time-honored tradition. Blondes vs. Brunettes Dallas, a nonprofit that raises money and awareness for Alzheimer's disease research, encourages young women to take to the field with purpose. Throughout 10 weeks, players and coaches work toward a $500,000 goal to fund local research for Alzheimer's disease.
Erin Finegold, director of corporate communications and events for the Dallas Mavericks, is responsible for the football fun. Finegold launched BvB Dallas in 2008 as a way to honor her grandmother, who died of Alzheimer's, and her grandfather, who cared for his wife. Since its inception, BvB Dallas has raised more than $2.3 million for Alzheimer's research and has recruited more than 1,000 volunteers for the cause.
Prior to the ninth annual BvB game, we took a look inside gym bags from both teams.
Jared Cloud, Team Blonde Head Coach
Hot Pink Glitter. This is used for the glitter bomb at the afterparty, which takes place on the steps of the Cotton Bowl immediately following the game. "It's a Team Blonde tradition, and, after the 10-week season and raising half-a-million dollars, we like to throw one heck of a party," says Cloud, who's a football coach for Plano ISD.
Mr. Potato Head. As this beloved childhood toy is not a common gym bag prop, intrigue was prevalent. "The Mr. Potato Head is awarded to our best offense huddle [at] each practice," Cloud says. This is an esteemed honor for Team Blonde's members, and it's added incentive to hustle in practice.
Star Patches on the T-Shirt. Each star is a symbol for how much money each player or coach personally raised for the season. One star equals $3,000 and two stars equate to $5,000. Cloud says his goal for the season is to collect three stars, which would mean he raised at least $7,000. "I coach in memory of both my grandfathers, who battled this disease," Cloud says.
LizStrong bracelet. This is in honor of one of BvB Dallas' board members, who has been battling stage IV colon cancer. She is also a former player for Team Blonde. "She has been a huge influence in my life, as she helped me when my mother passed away last September from pancreatic cancer," Cloud says.
Jessica Pantano, Team Brunette Captain
A Photo of Her Grandmother. "Francis Merendino was a spitfire of a woman," says Pantano, who's a recruitment and human resources manager. "When she was in high school, she was voted 'Most Ladylike,' but in the distant future taught me curse words in Italian at the gentle age of 6. She was real, and she was honest." After losing her grandmother to Alzheimer's in 2009, Pantano researched ways she could honor her memory in Dallas. She found BvB Dallas and quickly became involved.
Glitter TOMS. In addition to Pantano's knee-length socks she wears at every practice, the sparkly footwear is her way of adding her own fashion flare to her after-practice gear. "I know my Jersey roots, and I love animal print and anything shiny and blinged out," Pantano says.
Batman Gloves. Her favorite comic series leading lady is Julie Newmar as Catwoman. The Batman gloves are a warm nod to Newmar and her dauntless superhero ways. To accompany her Batman gloves, Pantano also wears a Batman sweatband and knee-high Batman socks on game day.
BvB Wallet. When BvB Dallas team members raise a designated amount of money toward the fundraising goal, they earn BvB-branded gifts. Pantano earned the wallet last year when she achieved her fundraising goal. This is Pantano's second year as captain, but she has played with the organization for seven years.