As recently as the beginning of May, the lack of development upon the land that held the ruins of Valley View Mall was a bone of contention between the city of Dallas and property owner Scott Beck. Each party blamed the other for its sorry state. But on Tuesday morning, surrounded by city officials, media, and neighbors, the developer sought to bury the hatchet beneath the rubble of the mall that is now being carted off to a landfill.
"We have turned over a new leaf," Beck said during a press conference to announce the first phase of development for the site. "We're not going not be talking about what has happened in the past or hasn't happened in the past. We're gonna just move forward from today … and we're just excited about the next 10 years."
But it's difficult to not talk about what transpired over the last few months that led to this moment, especially when Dallas City Councilwoman Jaynie Schultz was sitting in the front row. Just last month, Schultz and Beck quibbled about the demolition of the site. Beck frequently blamed Schultz for other issues surrounding the project, including his belief that the city should pay for infrastructure improvements to connect the private property to the city's sewer system. He also denied responsibility after Dallas police labeled Valley View a habitual criminal property following numerous break-ins and three recent fires, one of which sent two firefighters to the hospital.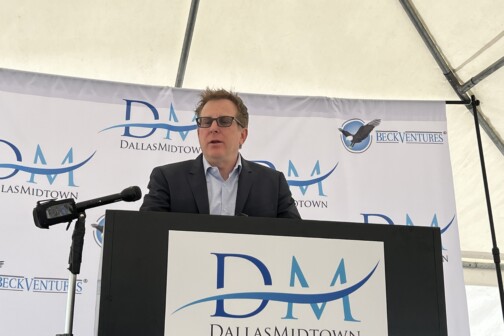 All of that, Beck and Schultz indicated Tuesday, was in the past. Schultz, who represents Valley View's district, and fellow council members Gay Donnell Willis and Jaime Resendez sounded hopeful that the city would be able to work with Beck.
The journey to Tuesday's parking lot press conference actually began in 2013, when the city first envisioned what it called the Valley View-Galleria Area Plan. That informally became known as Midtown, and the city has since branded the surrounding neighborhood as the Dallas International District.
While the entire district is no longer referred to as Midtown, both Beck and Schultz said that there is room for Dallas Midtown at the Dallas International District (even if it is a mouthful). The entire 440-acre district stretches from the Dallas North Tollway, Lyndon B. Johnson Freeway, Preston and Alpha roads, and includes the Galleria and the now-demolished Valley View site.
"The Galleria is not renaming themselves the International District," Beck said, adding that, "we'll still be called the Dallas Midtown project."
There are now 100 empty acres at Valley View, which also contains parcels owned by Seritage Growth Properties and LTF Real Estate. Beck says his property is just about shovel-ready. Last month, Beck said that the sanitary sewer line had been completed and the storm line work was continuing.
Tuesday, he said that he expected that Anthem Development—the joint venture firm he created in 2021 with fellow developers Ross Frankfurt and Will McNutt, formerly of Frankfurt Properties—would begin seeking permits for the first phase of development within the next 90 to 120 days. He said they plan to use the Dallas Development Services' specialized Q Team to expedite the review of their plans.
"That process should have us in the ground no later than the first quarter or the beginning of the first quarter," Beck said.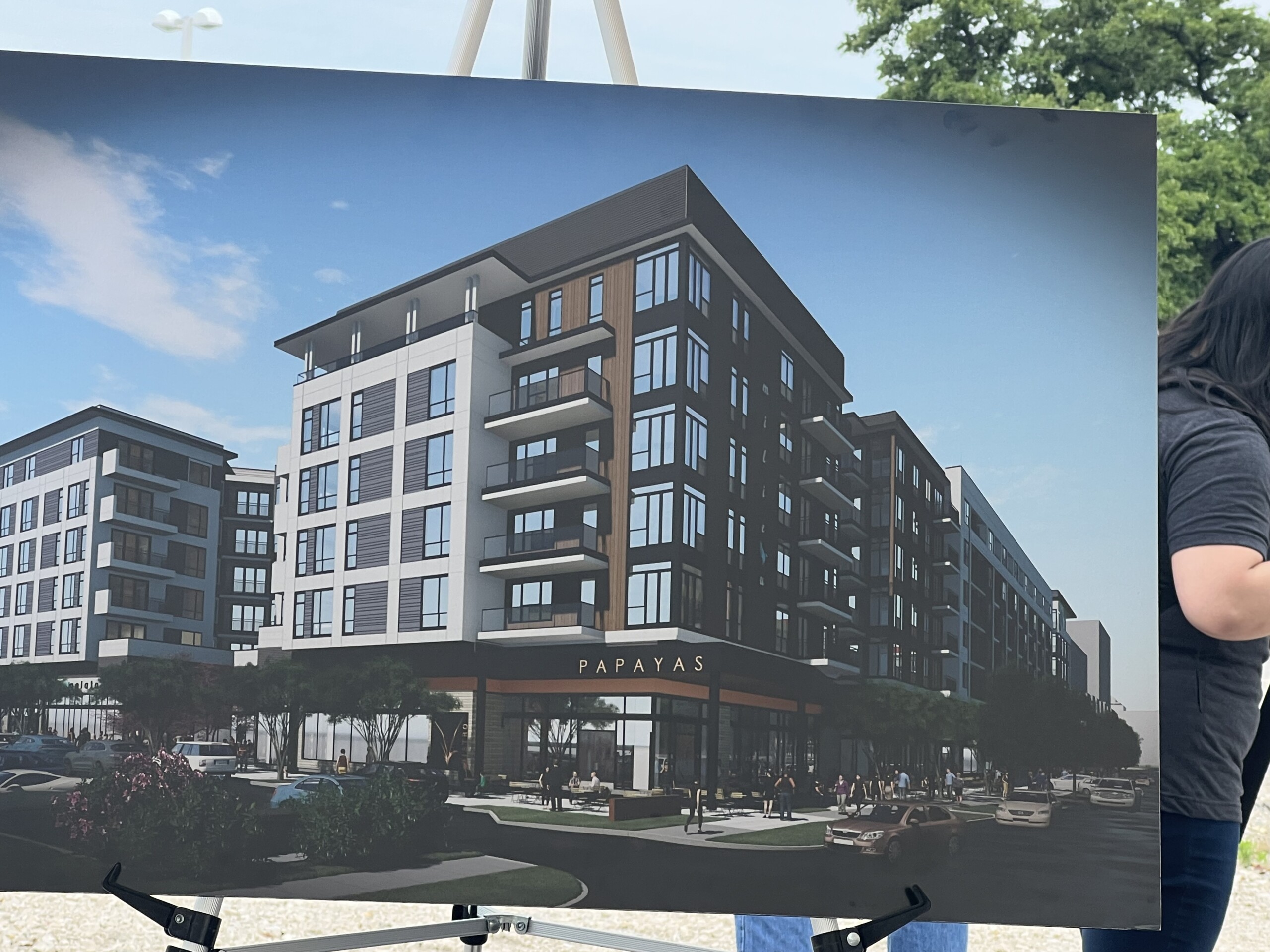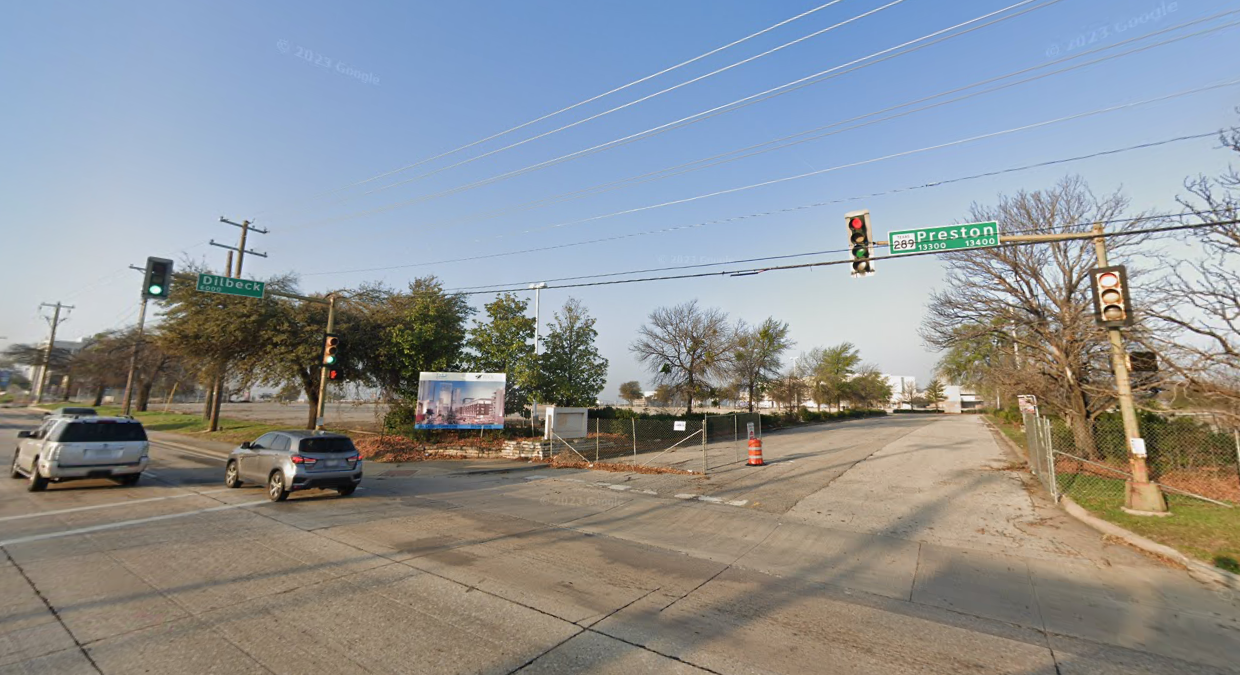 The first phase will be a mixed-use development at Dilbeck Lane and Preston Road, the former mall's main entrance. Frankfurt said the six-story structure would feature 26,000 feet of ground-floor retail, 10,000 feet of amenities space, and 275 luxury residential units.
"We view this project as the much-needed activator that will bring energy to this area and kickstart the entire development," he said. "We couldn't be more excited to get this project going."
Beck said that Beck Ventures owns its 100 acres, debt-free. He expects the first phase to cost $80 million. "There are multiple term sheets and multiple debt providers that are interested," he said, but qualified the timeline. "Interest rates are rising, and you never know what happens from the marketplace perspective. But as of right now, it's full bore, green light, we're moving forward."
Beck said he would not be seeking assistance from the city for the development, because doing so would require him to include affordable residential units. The area sits in a tax increment finance (or TIF) district, but Beck believes delivering luxury and market-rate units first will juice the tax base and increase the money available to offset the cost of affordable units within the broader 440-acre Dallas International District.
"Nothing's been built here yet, so there's no 'increment' in our TIF, and there's ultimately no funds actually available," he said. By building newer stock at market rate or luxury rate, "you'll have an increment you can actually spend to put in place apartments that have affordability in them."
Attendees for Tuesday's press conference sat in plastic chairs in the middle of a crumbling parking lot. Schultz asked them to envision something different.
"Picture looking at the east at the blocks of pedestrian-friendly shops and restaurants with residences, hotels, and office towers," she said. "Picture Preston Road with a continuous transportation service that enables residents to simply hop on and off as they run their errands. Look west toward Montfort and see the beautiful new street, lined with trees and connectivity to (DART's) Silver Line, which will take North Texans to DFW Airport and bring visitors to the Dallas International District."
High on both Beck and Schultz's discussion points was the Dallas International Commons. It includes a 20-acre park anchored by the city-owned Prism Center on Peterson Lane, and Dallas ISD's planned pre-K through 12th grade International STEAM academy slated to open in 2025. It also has been allocated a $10 million grant from the North Central Texas Council of Governments that will turn the entire 440-acre area into a transportation innovation zone that plans to include an automated people mover. The latter, along with connections to hike and bike trails, public transit, and wider sidewalks, are exciting because they will improve walkability for the entire district as well as the Midtown development, Beck said.
It's been 10 long years since Dallas began imagining how to replace the aging mall at Preston and LBJ. With both the literal land and the metaphorical air finally cleared, both Schultz and Beck seem determined to make the next decade's course look decidedly different.
"We're not lighting off any fireworks," Beck said during Tuesday's announcement. "But when we do actually break ground on the first project, we'll invite everybody back."
Get the D Brief Newsletter
Dallas' most important news stories of the week, delivered to your inbox each Sunday.
Author
Bethany Erickson is the senior digital editor for D Magazine. She's written about real estate, education policy, the stock market, and crime throughout her career, and sometimes all at the same time. She hates lima beans and 5 a.m. and takes SAT practice tests for fun.