The Dallas City Council today gave the state of Texas permission to pursue funding to remove and trench I-345, the currently elevated 1.4-mile highway separating downtown and Deep Ellum. The Council's vote was delivered with the energy of a sigh despite weeks of parliamentary backroom wrangling among some council members who wanted more time to study the plan before approving it.
It was a near impossibility to convince the Texas Department of Transportation to do anything that altered the amount of traffic lanes that slice through Dallas' urban core. TxDOT owns the 50-year-old highway, not the city of Dallas. It is among the shortest on the national highway network, a stub that connects to Central Expressway, Woodall Rodgers, and interstates 30 and 45. It is, more than anything, a concrete connective tissue that allows freeway traffic to flow in all directions, a traffic engineer's dream. TxDOT cites traffic counts of 180,000 cars on the roadway per day. Powerful transportation officials don't seem capable of imagining a world in which the highway doesn't exist.
Partly that is because they understand the game. Vehicle capacity on highways is the top transportation priority of Gov. Greg Abbott, whose edicts dictate which projects are funded and which are not.
There have been grassroots calls for nearly a dozen years to remove I-345 and replace it with a boulevard and a reconfigured system of surface streets that would absorb the traffic. But because of its status—a state-owned thoroughfare on the National Highway Freight Network—the city had no power to pursue something so radical. The most the City Council could do was stall by voting against the resolution, a move that had little support among the 14 council members who were present for Wednesday's vote. (Mayor Eric Johnson was absent because he was speaking on a panel about sports in Qatar.)
The City Council voted unanimously to support TxDOT's preference for the highway, which it calls the "hybrid plan," with some caveats.
"This is not a perfect solution, in my opinion, but at the end of the day, what we can say if we support this is that today, TxDOT and the city of Dallas have decided to take down a highway and are going to put something better there in its place," said Councilman Chad West, the loudest and loneliest pro-boulevard voice on the City Council.
The basic plan for the roadway will cost at least $1 billion, which the state will pay for. First, the highway will come down. The trench that replaces it will be about 65 feet deep. The highway's widest portion will accommodate a total of 10 lanes, which include six north-south traffic lanes and four shoulders, two in either direction. You can see what it will look like in this TxDOT video. Plans include lanes for vehicles entering and exiting the freeway from other highway interchanges and city streets, according to TxDOT spokesman Tony Hartzel. Existing streets will fly over the highway, providing connectivity between the neighborhoods on either side, similar to Central Expressway. The other freeways that flow into and out of I-345 will be modified to make the ramps on and off the highway easier to navigate.
Pro-removal advocates focused their argument on the economic development possibilities if the highway were no longer there. TxDOT instead suggested creating a little less than 10 acres of decking over the freeway, which could potentially hold some sort of commercial development or public parks. (Klyde Warren Park is the most often used example.) The so-called "hybrid plan" would eliminate ramps and other infrastructure that frees up another 8 or so acres of surplus right of way that the city could purchase.
The state will not pay for the decking, and Dallas will have to pay fair market rate for the land. City staffers expect it to cost about $430 million to both acquire the land and design and build deck caps. (The city reached those estimates based on present-day land values near downtown and Deep Ellum and the cost of the decking of Interstate 35's Southern Gateway project, near the Dallas Zoo.) The North Central Texas Council of Governments, the organization that helps cities and counties find money for large infrastructure projects, vowed to help the city pay for it all.
"We're good at finding money," said Michael Morris, the transportation director for the NCTCOG. "We would continue to pledge our support to enhancing as best as this council wishes a hybrid 345."
Deputy Mayor Pro Tem Omar Narvaez added an amendment to the resolution that gives the city more oversight power and the ability to walk back its support if TxDOT doesn't do what it has promised. (The city would have to reimburse TxDOT for any engineering work that it has to scrap, however. That could be as much as $20 million.)
The state will brief Council on progress every six months. The city's approval is "conditioned" on the state incorporating structural engineering for the decking into the design phase. Council has also directed TxDOT to study rerouting freight and trucks from the freeway. And the city manager is directed to explore federal grants to pay for a study that would explore "alternative design options" that could create a better project.
"Pursuant to the results of the studies and based on the availability of alternate sources of funding, the city reserves the right to fully or partially withdraw its support" of the project, the amendment reads. The resolution also requires TxDOT to ensure that its final plans are in line with the goals set out by recent housing, racial equity, environmental, and economic development policies.
Ceason Clemens, TxDOT's district engineer, agreed to the city's language and said the resolution was sufficient to pursue funding for the project and move onto the next design phase. The best-case scenario is that construction begins in five to six years, after the state completes its federally required environmental review and locates construction funding. Construction will take another five to six years.

I-345 became a touchpoint because of its location and its history. The lasso of highways around downtown and Deep Ellum affect connectivity and potential development beyond its immediate area, encouraging sprawl and siphoning activity from neighborhoods like South Dallas. When TxDOT began exploring a future for the highway as it realized how much money it would cost to maintain it as it aged—the state recently had to spend $30 million rehabbing the existing structure—urban planners, advocates, developers, this magazine's late founder, and some elected officials began thinking through the possibilities if it were removed.
Like many urban Dallas highways, the construction of I-345 decimated a thriving Black center of commerce. Ross Avenue, near its northern border, was known as North Freedmantown. Deep Ellum and Short North Dallas—another Freedman's town in modern day Uptown—were connected by a sliver of a Black neighborhood called Stringtown. I-345 opened to traffic in 1973, and it was the death knell for these communities and carved into the eastern edge of Deep Ellum.
Instead of this land holding neighborhoods, it has housed a piece of infrastructure that fuels regional transportation despite being located in the downtown of the ninth-largest city in America. As southern Dallas suffered through generations of disinvestment, residents who lived beneath Interstate 30 have now become part of the argument for why the road is necessary: they need it to get to their jobs, officials argued, and the suggestion of anything different could violate their federally protected civil rights. Never mind that highways like I-345 helped fuel the disproportionate investments to the north.
"I-345 should probably have never been built," said Councilman Jaime Resendez, who represents southeast Dallas. "It is a tragedy that it destroyed minority neighborhoods when it was constructed 50 years ago. But turning the highway into a boulevard would not bring those neighborhoods back or guarantee equitable development."
Relying on a highway to access jobs means requiring lower income Dallasites to own a vehicle. As Councilwoman Gay Donnell Willis posed during Wednesday's meeting, what if the city is successful in bringing jobs and economic development to southern Dallas in the coming decades? Would the highway still be essential? "What will our city look like?" she asked.
Morris, the transportation director, spoke frequently of how I-345 is "part of a system." The highways that crisscross Dallas, he argues, are essential to accommodate the growth his organization anticipates in the next two decades. "We're growing at a million people every seven years," he said.
Dallas proper is not. Despite adding nearly 9,000 people last year, Dallas has actually lost people since 2019 and has stagnated in population since 2017. The people are moving to the suburbs. Reversing that trend will be an important challenge for the city of Dallas.
Tuesday night, the evening before the vote, about 60 people packed into the Southern Classic Daiquiri Factory on Ross Avenue, so close to the highway that you could hear the cars hurtling above. Organizers included groups new and old: Downwinders at Risk, the long-running environmental activism organizers, and the relative newcomers Dallas Neighbors for Housing, which advocates for pro-density and policies that would increase housing affordability.
The speakers explored a different system, of how communities once flourished where highways now exist. How Central Expressway eliminated Short North Dallas, how I-35 split Tenth Street from the rest of Oak Cliff, how I-30 created South Dallas by separating it from East Dallas.
"I-345 should probably have never been built."

Councilman Jaime Resendez
But it is still trying to fix the damage within the confines of the very infrastructure that transportation planners now rely upon. We can put a park over a freeway, but we cannot bring people back.
Officials from TxDOT's Dallas district have been more collaborative with City Hall than districts in other parts of the state, many stakeholders will say, showing a willingness to work with officials to find ways to depress highways and place bridges and decks atop them instead of simply building a new highway. That's what's happening with Interstate 30. S.M. Wright in South Dallas is being removed and turned into a boulevard, but only because the adjacent Interstate 45 could absorb its traffic. The freeways must stay and cars must move.
After a dozen years, the push to remove I-345 appears dead. But Tuesday night, some of the advocates called for holding the state and city to account by watching and advocating for what goes on those decks and in the excess land. They vowed to keep pressuring the city to push back on the highway, to lift up neighborhoods and people.
"This history is not far, Dallas is a very young city. Which means we have opportunity," said Jerry Hawkins, one of the evening's organizers and the executive director of Dallas Truth, Racial Healing, and Transformation. "The opportunity is to determine the identity we want as a city, and I believe that you all believe that is one of justice."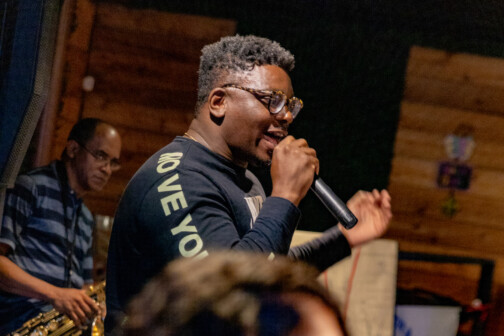 What is good for the region is not always good for the city. Caleb Roberts is an urban planner with a company called Gap Strategies. He lives within a mile of the highway, at Ross Avenue and Hall Street, and was one of 13 public speakers who urged the city to slow the resolution vote and commission an independent study. "This has been miscast as just a transportation issue," he told the Council.
"The biggest weakness right now is a lack of traffic counts in areas that are big enough to build sites on," said his colleague, Paul Carden. "I-345 is draining traffic away from South Dallas."
The push to remove the freeway had foundational goals: bring jobs and housing closer to where people live, connect neighborhoods, focus development on people who have been historically marginalized, improve pedestrian infrastructure, and activate land for which the city could collect new tax revenue.
Now that the City Council has decided to move forward, its next push will be a matter it does have control of: deliver the neighborhoods the necessities—jobs, groceries, healthcare, entertainment—that they apparently need the freeway to access because their communities do not presently have them.
Get the D Brief Newsletter
Dallas' most important news stories of the week, delivered to your inbox each Sunday.
Author
Matt Goodman is the online editorial director for D Magazine. He's written about a surgeon who killed, a man who…